Akron comes to life in new children's mysteries podcast produced by English professor
12/06/2017

Imagine what would happen if a little girl stumbled upon a human bone while walking through an Akron park on a crisp, snowy winter night.

You can find out on Tuesday, Dec. 19, by listening to episode one of "Bones in the Dark" – the pilot season of the "Akron Adventures" podcast.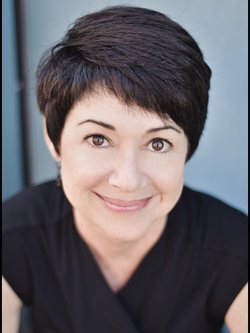 Dr. Julie Drew
The series of fictional children's mysteries is the first project produced by Snow Day Productions, the latest business venture by English Professor Dr. Julie Drew. Also a young-adult novelist, Drew has partnered with professional writers and UA alumnae Casey Shevlin and Marlia Weisse to form the production company in Akron, which launched earlier this year. The team of experienced editors and teachers has previous work in marketing and professional voice work.
"Podcasts are huge, but there are relatively few written specifically for kids, and of those that are, most are science-related, or short, individual stories without a recurring cast," says Drew. "We are deeply committed to writing stories that kids find wildly entertaining, but that also encourage empathy, curiosity and community."
The women write and produce original children's stories in a podcast format in a home studio. Episodes for "Bones in the Dark" will stream every Tuesday. The season contains a single mystery solved by a group of middle-school friends over six episodes.
The "Akron Adventures" podcast takes place in Akron, and each story is based on a location and historical event around the city that is then fictionalized. Listeners may find themselves in a city park where bodies lie buried beneath the soccer field or downtown in a seemingly haunted old theatre.
"As writers, readers and podcast listeners ourselves, we know how much richer a story can be when the setting is deeply drawn and important enough to serve in some ways as a character itself, a generator of events and atmosphere," says Drew. "Akron is filled with diversity in every sense — her people, her topography, her mix of urban and rural, industry and arts."
Listeners will have the chance to hear an early preview of "Bones in the Dark" from 3 to 4:30 p.m. Saturday, Dec. 16, at Chill Artisan Ice Cream at 21 Maiden Lane in downtown Akron. The event is free and open to the public, with ice cream, goodie bags for the kids, prizes and more.
The season one trailer for Akon Adventures is available online. Episodes can be listened to on iTunes, SoundCloud or your favorite podcast app. You can find Snow Day Productions on Facebook and Twitter, and at SnowDayProductions.com.
---
Media contact: Alex Knisely, 330-972-7429 or aknisely@uakron.edu.