Esports 2020 Online Kids Summer Camp
— Due to coronavirus, this year's Summer camp is online. —
Due to the coronavirus we will be moving our kid's summer camp to all online this year. Although it may be a bit different than we planned, The University of Akron, which is hosting its second Esports Summer Camp – is the only camp of its kind in the entire Midwest, and we plan to deliver another great summer experience.
Our summer camp is open to middle and high school aged children (12-17 years old). Below is our tentative schedule, but detailed daily schedules will be provided before camp begins.
Two one-week camps for any skill level:
July 13 - 17
July 20 - 24
Cost: $100/per week
Required Hardware & Programs
Must have a PC — all games and programing will be completed on PC.
Your PC must be capable of running the following: Overwatch, League of Legends, Hearthstone, Fortnite and Rocket League.
You will also need a keyboard, mouse, headset and camera/webcam.

A controller is preferred but not mandatory.

You will need to have the following games on your PC:

League of Legends — Free
Hearthstone — Free
Fortnite — Free
Rocket League — $19.99
Overwatch — $19.99
Please note: The games requiring a purchase, can often be found on sale. We will provide links to sale pages and downloads in June.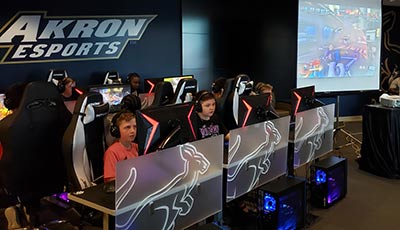 SUMMER CAMP DETAILS
Career Opportunities and Training:
The UA Esports staff will offer 2-3 classes per day to help campers learn about professions in the realm of esports, with topics ranging from broadcasting to PC building. Campers are expected to spend around two hours each day learning practical, IT-related skills.
Growth in gaming potential:
Campers will also be able to take classes from players on the Akron Esports varsity team, who will analyze campers' gameplay and provide one-on-one assistance and coaching.
Team-based and coached gaming sessions:
Each camper will be placed on a team upon arrival. Each team will be coached by an Akron Esports varsity player, who will lead in-game and out-of-game team-building exercises, focusing on individual and cooperative success.
Communication skills:
One of the largest indicators of success in esports is the ability of a team to communicate effectively both in-game and out-of-game. Each session will therefore focus on improving communication and teamwork skills.
Physical education:
Physical health is crucial to the Akron Esports program and to success in esports. Campers will spend an hour each day exercising and participating in activities.
End of week live show match:
Parents and friends will be invited to watch campers play a live match at the end of the week.
DAILY CAMP SCHEDULE
Monday - Thursday
| | |
| --- | --- |
| 9 - 11 a.m. | Esports/IT/College Mini Classes along with game specific introductions |
| 11 - 11:40 a.m. | Workouts |
| 11:40 - 12:30 p.m. | Lunch (no class) |
| 12:30 - 2:30 p.m. | Game focused play with coaching and strategies |
| 2:30 - 5 p.m. | Group free play and streaming interaction |
Friday
| | |
| --- | --- |
| 9 - 11 a.m. | Esports/IT/College Mini Classes along with game specific introductions |
| 11 - 11:40 a.m. | Workouts |
| 11:40 - 12:30 p.m. | Lunch (no class) |
| 12:30 - 2:30 p.m. | Tournament and Streaming Preparation |
| 2:30 - 6:30 p.m. | Tournament Streaming with student commentary (parents invited to watch online) |
Questions?
Parents or students, if you have any questions or want more information, please contact Nate Meeker.