EX[L] Center for Experiential Learning
We strive to enable students to emerge as civically engaged, skilled and adaptable leaders, ready to take on real-world challenges.
---
OPPORTUNITIES
Fall 2019 Pitch Competition - You could win $10K
Calling all students with business ideas to participate in UA's $10,000 Startup Challenge. A top prize of $10K will be awarded to the winner, with additional prizes awarded to runners-up. The pitch competition, open to all UA students, is focused on promoting entrepreneurship over the fall semester through mentorship, business development events and pitch practices.
Fall Community-Engaged Course grants
For fall 2019, faculty can apply for support of up to $1000 for teaching classes that engage the greater Akron community through community-based research or service-learning. See grant guidelines.
Internship openings
Through the Akron Community Internship Program (ACIP), students spend 100 hours and earn $1,000 working on a specific activity with a clear deliverable. You may be eligible to earn academic credit through the internship, depending on your department. View current openings.
Spotlight
The 2019 EXL Awards
The 2nd annual EXL Awards Ceremony was May 3rd. See the award recipients and more details about the program.
Be the Change $10K Winner Zach Gerdes
Congratulations to Zach Gerdes and his company LIFT for winning the grand prize $10,000! #BeTheChange
See photos from the competition.
News
Announcing New EXL Co-Director
The EXL Center is very pleased to announce the appointment of new Co-Director, Dr. Christin Seher. Dr. Seher is Associate Professor of Practice in the School of Nutrition and Dietetics with research emphasis in public health nutrition, health equity, educational policy, and community-based teaching and learning.
She previously served as Co-Chair of EXL's Faculty Steering Committee and has been involved with EXL-sponsored community engaged courses. Dr. Seher will focus her work this year on broadening opportunities for the Akron Community Internship Program (ACIP) and on connecting community partners to UA faculty, staff, and students through community-driven initiatives.
She will be joining EXL as a half-time Co-Director. Current Co-Director Anoo Vyas remains full-time while Co-Director, Carolyn Behrman, returns part-time to the classroom.
Coolest Internship Award
Northeast Ohio Student Venture Fund (NEOSVF), an ACIP who employs EXL student Alizeh Khalifa, received the "Coolest Internship" award at the 2018 Expys - an event that honors excellence in experiential learning.
EXL co-director attends prestigious summit
Dr. Carolyn Behrman was selected to participate in the inaugural DELTA Summit by DCAL and NSEE. Educators and program directors described as "highly imaginative, passionate leaders and big-thinkers in the field of experiential learning" were brought together to explore big questions and challenges in higher education.
Student Success
UA student drops out, rebounds with EXL Center in this student success story. EbaNee Bond recalls the self-doubt that led her to drop out of UA, and the unexpected call that brought her back. She credits the EXL Center for restarting her academic career and opening up a future of endless possibilities.
Remembering Ian Schwarber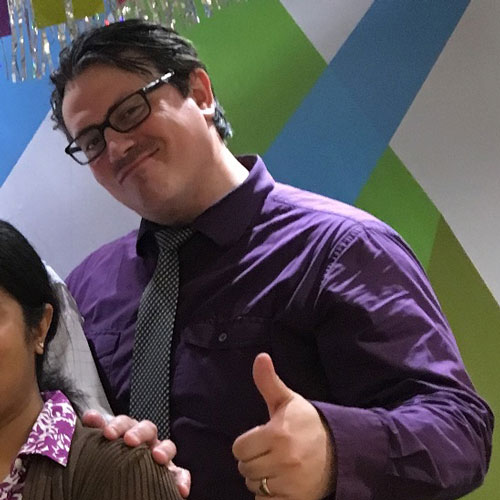 Today we learned that EXL's Founding Director, Ian Schwarber, has passed away. Our hearts are heavy. Ian was a tour de force of ideas and energy, and our Center would not exist without his incredible vision and indefatigable passion. Countless University of Akron students called him a mentor and a friend -- a true testament to his kindness and generosity.
We will miss his intelligence, wit, energy, and ideas. Our community is immeasurably less bright today than it was yesterday. Our deepest condolences go out to his family.
(posted: 9/17/2019)