EX[L] Research Groups and Fellows
---
Resilient Communities Working Research Group
Synopsis | A working group helping to organize low income communities to prepare for disaster scenarios using horizontal communications technology, community preparation and education, and small scale renewable energy.
GROUP MEMBERS
Dominic Bruno is an Electrical Engineering student at the University of Akron with specialties in renewable energy, sustainable design, biomimicry, and humanitarian work. As one of the founding members of the RCWG, he is also the Senior Electrical Engineer. His duties include oversight of power generation, energy storage, and communications technology and aiding in resource acquisition.
Project role: Lead Electrical Engineer
Phone: (724) 431-8506
Email: dominicmbruno@gmail.com
---
Scott Alexander Michaud, Design Engineer from the University of Akron class of '16 with a background in green building design, prototyping and engineering education. As the sole Mechanical Engineer on the RCWG team he oversees the design of physical systems, community outreach education, and resource acquisition.
Project role: Lead Mechanical Engineer
Email: scott.a.michaud@gmail.com
---
Vincent Cox considers himself a "Jack of All Trades". He worked as a laborer for most of his career. He no longer works, but likes to tinker around with technology.
Project role: Citizen volunteer working with lead engineering team
Email: vcox430@yahoo.com
---
Gary Robinson is a resident of the neighborhood where the deployable unit is being tested. He and his son joined the team to assist with testing.
Project role: Citizen volunteer working with lead engineering team
---
Terry O'Sullivan is a political scientist and Director of the Center for Emergency Management and Homeland Security Policy Research. Before joining the faculty at U. Akron, he was a research associate at the Center for Risk and Economic Analysis of Terrorism Events (CREATE), at the University of Southern California – the first Department of Homeland Security Center of Excellence.
Project role: Political scientist
Email: tmo@uakron.edu
---
Carolyn Behrman is an anthropologist whose research involves understanding the ways that residents in lower-resourced communities create effective organizations and work to support and sustain community strength. She is also the co-director of the EX[L] Center.
Project role: Social scientist with a focus on informal education for resilience
Email: behrman@uakron.edu
PROJECTS
Off The Grid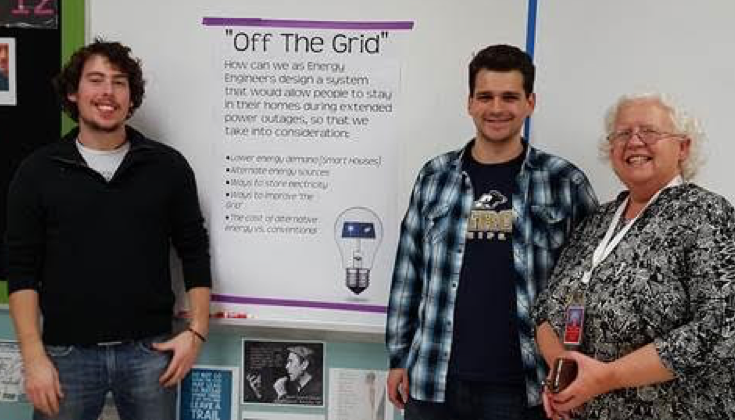 Dom Bruno and Scott Michaud of the EXL Center's Resilient Communities Working Group worked in partnership with the Akron Stem High School in order to develop a semester long project based learning exercise for the student's called "Off The Grid." This project focused on educating students on where electricity comes from, the cost of its uses and how we need it. Students from the Stem High School were given the chance to think creatively on how to deal with long term power outage on the local community level. Recently the students presented some of their creative solutions to the local community during a school open house, where they received critic from engineers Dom, Scott and their Teacher Sharon Kaffen.
---
Rooftop Project
The team set out to perform a proof of concept test on training community members to utilize electrical technologies while also gathering practical data on energy generation capabilities of the Akron area. A solar panel array module, constructed by Scott and wired by Dominic, and a 400 watt wind turbine were utilized to test the potential for a hybridized system. Two men, Vince and Gary, who were strangers to the workings of renewable energy were taught by Dom and Scott to set up the system and how the energy flowed, was stored, and was eventually converted for practical use. Both gentleman were enthusiastic about the potential applications for the system and have volunteered to teach others in their community about the benefits and design of hybridized renewable energy system.
---
Generating Connection
Exploring the issue
In the event of catastrophic power failure in low-resource neighborhoods - engineering students and A&S professors explored issues of resilience
Survey of residents finds communication is a central concern
The students prototype a deployable unit that can generate power with a plan to create a communication network
Two community members join the team to explore informal education and the building of community resilience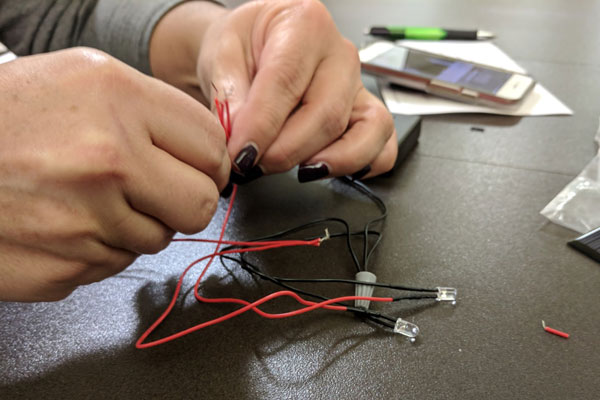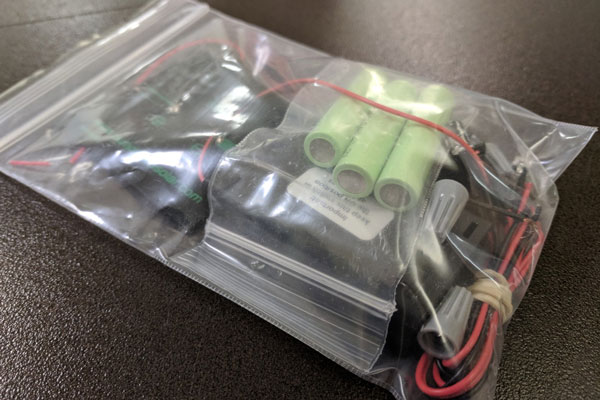 Event | November 2017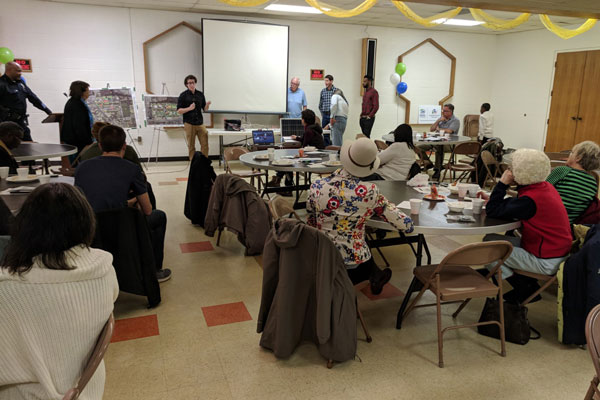 A community meeting of 25 people in a low-resource neighborhood of Akron, learn about the project and the deployable unit.
Thanks to the support of the UA Libraries' MakerStudio, they work together in small groups with mini-solar kits.
The pre-post survey findings showed 100% of the participants began with or gained confidence in their ability to logically construct a functioning circuit relying on solar energy to generate power.
THE IMPACT - Contribution to the "The Big Picture"
In an era of "unprecedented" weather events: 6 rules for rebuilding infrastructure
"...Invest in and redesign institutions, not just infrastructure. When analyzing breakdowns in infrastructure, it is tempting to blame the technical design. Yet design parameters are set by institutions and shaped by politics, financing and policy goals."
How to rebuild after natural disasters in the age of climate change
Failures in infrastructure are not just technical failures; they are institutional ones as well. They are failures in "knowledge systems, or the ability to generate, communicate and utilize knowledge within and across institutions." – Terry O'Sullivan
By setting out to create horizontal communications, the Resilient Communities Working Group acknowledge the limitations of infrastructure and institutions and work to create technologically advanced communities able to endure natural disaster.
Devastion from climate change in Dominica
A project like RCWG could change the community to be better equipped to handle emergency situations.
---
Good Food For Thought
---
EXL Fellow - Matthew T. Lee, PhD
Professor of Sociology (Secondary Appointment in Criminal Justice Studies)
EX[L] Faculty Fellow, 2016 - 2018
Dr. Matthew T. Lee has been involved with the EXL Center since its inception in 2016. In addition to serving as an EXL Faculty Fellow, he received its Faculty Award at the 2016 EXL Innovation Award Ceremony, he was funded (along with Sociology colleague, Dr. Rebecca Erickson) by its Faculty Driven Initiative grant program in 2016-17, he served as Chair of the Steering Committee of its Faculty Advisory Council in 2016-17, he served as a course consultant for two "UnClasses," and he developed four EXL-assisted courses. One of these courses will be co-instructed with Dr. Penny Owen (Anthropology) in the spring of 2018 and will incorporate a theatrical approach to experiential learning about the criminal justice system.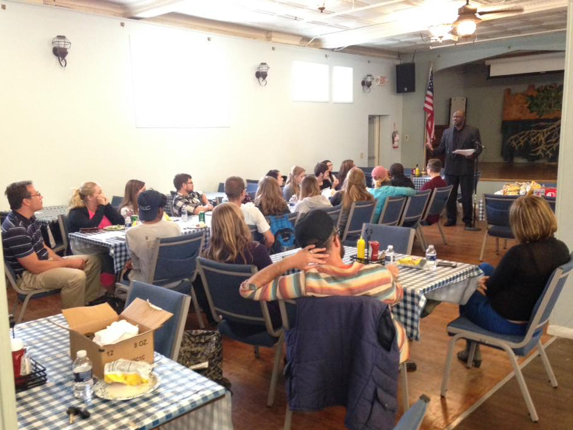 Dr. Lee's Professional Development Leave in the fall of 2017 focused on helping UA, through the EXL Center, enhance its capacity for experiential and community engaged learning. As part of this work, he co-presented a workshop titled, "From UnClasses to Faculty Renewal: A Workshop on the Power of Creative Prototyping" at UA's Institute for Teaching and Learning with EXL Co-Director Dr. Carolyn Behrman and Dr. Peter Niewiarowski, a Professor of Integrated Biosciences and Biomimicry.
This brief summary highlights one of Dr. Lee's collaborative projects with the faculty, students, and community partners that have been facilitated by the EXL Center. This example demonstrates how the EXL Center can help faculty members reimagine their professional identities and engage in creative work that better connects students to each other and to the community.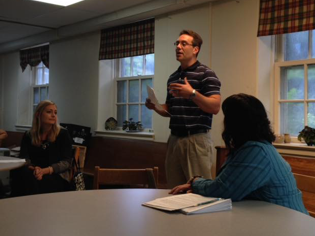 In the spring of 2016, Dr. Lee was reminiscing about the educational process with Jeremy Lile (Executive Director, Heart to Heart Communications, Inc.), which led them to consider the question, "What was it about our education that we valued and what was missing?" They recalled that oftentimes they were developing intellectually but not as a whole person. This led them to inquire, "How could university courses connect the Head (academic learning), the Heart (personal growth and ethical learning), and the Hands (experiential learning with community partners)?" They then started talking with the Knight Foundation about the other "H," which is "Home." "How do we connect the head, heart, and hands in a way that would lead students to want to call Akron 'home' after they graduate because of the meaningful community relationships they have built?" Dr. Lee and Mr. Lile wanted to create a meaningful engagement for students with community partners as part of their regular coursework, not just in an Internship, Capstone, or extra-curricular activity. They believed that it would be mutually beneficial if the students were able to take some specific action in order to help community groups solve real problems while also helping themselves grow in the process.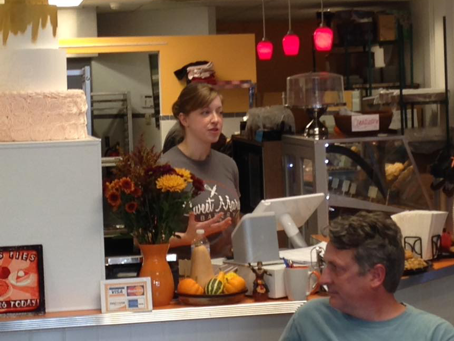 As a result of these conversations, Dr. Lee's fall 2016 classes (a senior-level Sociology course titled "Organizations, Community, and Social Action," and a junior-level Honor's Colloquium titled "The Meaning of Life") featured a range of experiential and community-engaged activities supported by the EXL Center and with external funding from the Knight Foundation. Dr. Lee and Mr. Lile co-developed and co-taught these courses, with the guidance and support of EXL Co-director, Dr. Behrman. Mr. Lile brought Heart to Heart Communications' many decades of experience into the classroom through the use of innovative experiential activities. He also coordinated a series of community site visits to break down some of the "invisible walls" (to use the words of one student) that often separate students from the Akron community.
Four site visits were held during the semester, involving the leaders of 16 community organizations, representing both for-profit and nonprofit organizations. Some of the participating organizations include: Akron/Canton Foodbank; Akron Honey Company; Akron Masjid; Downtown Akron Partnership; International Institute of Akron; South Street Ministries; and World Relief. A number of guest speakers also spoke with students at the university. The purpose was to connect inner development and compassion with both entrepreneurship and civic engagement by having students collaborate with leaders of community organizations that have used an entrepreneurial model to compassionately address local social and economic issues. Global learning was enhanced because many of the issues affect immigrant populations in the Akron area. Students in the Honors course developed a "Personal Growth Plan" that connects with community issues. Students in the Sociology course developed community-based projects to address a local issue that they identified and that engaged with their deepest values.
---