Financing Options
Some students may find that their expenses for the academic year exceed the amount of financial aid they are eligible for after completing the FAFSA. By using the financing worksheet, you should be able to determine if you need resources above and beyond what you are eligible for on your own (grants, scholarships, and subsidized/unsubsidized loans).
There are two resources available through the Office of Student Financial Aid for these situations:
Federal Direct Parent Loans for Undergraduate Students (PLUS) - apply online at studentloans.gov.
Private education loans - apply online. Start here.
Other financing options, such as direct payments, 529 plans, and an installment payment plan, are arranged through the Office of Student Accounts.
In the chart below, you'll find the key points to the three of the most popular financing programs: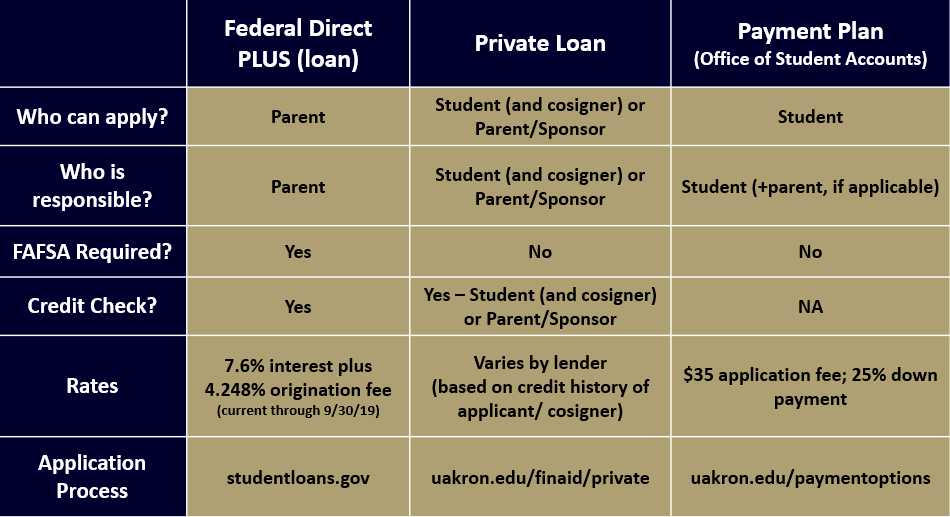 Be sure to note:
Only parents of dependent students may apply for a PLUS loan. Parents, make sure your student is logged out of studentloans.gov before you start the processing of applying for this loan. A credit check is required.
Students may apply for a private loan. Students without an established credit history may be required to have a co-signer or co-borrower in order to be approved for this credit-based loan.
Other key points about PLUS and private loans:
You can use any combination of financing options - you are not required to use only one.
Students cannot "accept" these loans through MyAkron. Separate applications are required. The amount offered in in MyAkron is the total amount available to you, up to your cost of attendance, after all other aid is considered.
Before applying, be sure to include any indirect expenses that you may have, such as books, supplies, transportation, and other personal expenses.
All funds from PLUS and private loans are credited to your student account at UA. If you applied for more than what is needed to cover your bill, the overage will be available to you/your parents through a credit balance refund from the Office of Student Accounts. Sign up for direct deposit for faster refunds.
Want to estimate repayment of a loan? Finaid.org has a great loan calculator.
Return to "Next Steps."