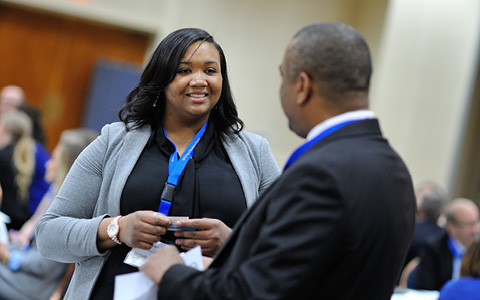 Increasing Gender and Overall Diversity in Financial Planning and Wealth Management
A one-day symposium to examine ways to attract more women and people of diverse backgrounds to the financial planning profession
THE FINANCIAL PLANNING INDUSTRY is thriving in so many ways, but it lags in the diversity of its professionals.
This symposium will bring together three key groups – career influencers, current industry leaders, thought leaders in diversity – to explore ways to attract more women and people with diverse backgrounds into the field.
Download the latest white paper on diversity from InvestmentNews that features this program and several panelists, speakers, and sponsors.
Join us for what's sure to be a stimulating and informative day.
DETAILS
WHO: Career influencers (people who advise and encourage both students and career-changers about career choices), AND financial advisors who are the best source of information about the career and attributes that make it a great career choice.
WHAT: A daylong symposium to examine how to attract more women and people of diverse backgrounds into the financial planning profession.
WHEN: Thursday, April 26, 2018
Registration begins at 7:30 a.m. Program: 8 a.m. to 2 p.m.
WHERE: Quaker Square Hall Ballroom, (map) on The University of Akron campus. Address: 135 South Broadway.
COST: $35 for financial advisors. Free for career influencers. Includes free parking, lunch and materials.
CONTINUING EDUCATION: Contact Hours Available for Educators (4.5 hours)
REGISTER
If you work for a financial firm, please register as a financial advisor.
Career influencers: Registration is now closed.
Who are career influencers? Teachers, guidance counselors, curriculum directors and others from schools districts. Academic advisors, admissions personnel, faculty and others from higher ed. Community leaders of all stripes. See full list.
Financial advisors and financial firm employees: Registration is now closed.
Who are financial advisors? Anyone who is employed by a financial advisor, RIA, broker/dealer, custodian, bank, trust company, or other financial firms.
SPEAKERS AND SESSIONS
7:30 - 8 a.m., Registration & Continental Breakfast
8 - 8:10 a.m., Welcome & Recognition
8:10 - 8:20 a.m., The Need for Diversity in Financial Services
8:20 - 8:30 a.m., The Need for Financial Literacy: The Power of Educators and Financial Professionals Working Together
8:30 - 8:35 a.m., Scholarships - Introduction of Carina Diamond Endowed Scholarship Recipients
8:35 - 9:20 a.m., A Profession in Need of Diversity
9:20 - 9:35 a.m., Break
9:35 - 10:20 a.m., Careers in Financial Services
10:20 a.m. - 11:20 pm, Roundtable Discussions: Meet the Real Financial Service Professionals
11:20 - 11:30 p.m., Break - Transition to Lunch
11:30 -11:50 p.m., Lunch
11:50 - 12:20 p.m., Keynote: Suzanne Siracuse presents "The evolution of the financial advice profession: How now, more than ever, diversity will be the key to future success."
12:20 - 12:30 p.m., Break - Transition to Session
12:30 - 12:40 p.m., CFP Board Center for Financial Planning - Resources for Diversity Initiatives
12:40 - 1:20 p.m., Clients Helped by Planners
1:20 - 1:40 p.m., Students & Career Changers - The Changing Face of Financial Planning
1:40 - 2 p.m., Call to Action: Financial Literacy & Financial Planning Resources
2 - 2:15 p.m., Departure
SPEAKERS AND PANELISTS
Join Suzanne Siracuse, right, vice president at Crain Communications and publisher of InvestmentNews and Investmentnews.com — and other thought leaders, career influencers and financial advisors in a one-day, industry-changing event.
Suzanne Siracuse is a vice president at Crain Communications and the publisher of InvestmentNews and Investmentnews.com, where she oversees the business, editorial strategies and operations for each brand.
Published weekly, Investment News is the leading information source for financial advisers. Her leadership responsibilities include the newspaper, website, e-newsletters, webcasts, research, data and conferences.
Ms. Siracuse has been with InvestmentNews since its launch in 1998, and formerly held the position of Advertising Sales Director and Associate Publisher before being named publisher in January of 2006. Ms. Siracuse is also the publisher of Crain's Wealth. Launched in 2013, Crain's Wealth provides investing, financial planning, retirement and wealth management strategies for high net worth individuals.
Ms. Siracuse began her career at the Philadelphia Business Journal in 1987 where she held several sales and sales management positions. She holds a B.S. in Business from Rider University. She, and her husband Lee reside in New York City.
REGISTER
Career influencers: Registration is now closed.
Financial advisors: Registration is now closed.
HOTEL
Courtyard Marriott Downtown Akron
Last day to book: April 6, 2018
Marriott hotel(s) offering a special group rate of $122 USD per night.
UA'S FINANCIAL PLANNING PROGRAM
The Financial Planning Program offered by UA's College of Business Administration has perennially been included in Financial Planning's list of the top financial planning programs.
This program and major are carefully designed to support the mission and goals of the Certified Financial Planner Board of Standards, Inc. (CFP Board), the organization that grants the CFP® certification and upholds it as the recognized standard of excellence for competent and ethical personal financial planning. Our graduates leave our program qualified to sit for the CFP® certification and ready to enter the profession and contribute immediately.
THANK YOU TO OUR SPONSORS
Lead Founding Sponsor:
Charles Schwab Investment Management
---
Gold Sponsors
Plante Moran
21st Century Financial
Silver Sponsors
Merrill Lynch
Table Sponsors
Cetera Advisors LLC
Hartland & Co.
MAI Capital Management
Sector SPDR
VALIC Financial Advisors, Inc.
---
In-kind Sponsors
Gold
CFP Board Center for Financial Planning
LJFF College of Education Barker Center for Economic Education
ValMark Financial Group
InvestmentNews
Silver
Women's Money Empowerment Network
FPA Northeast Ohio Chapter