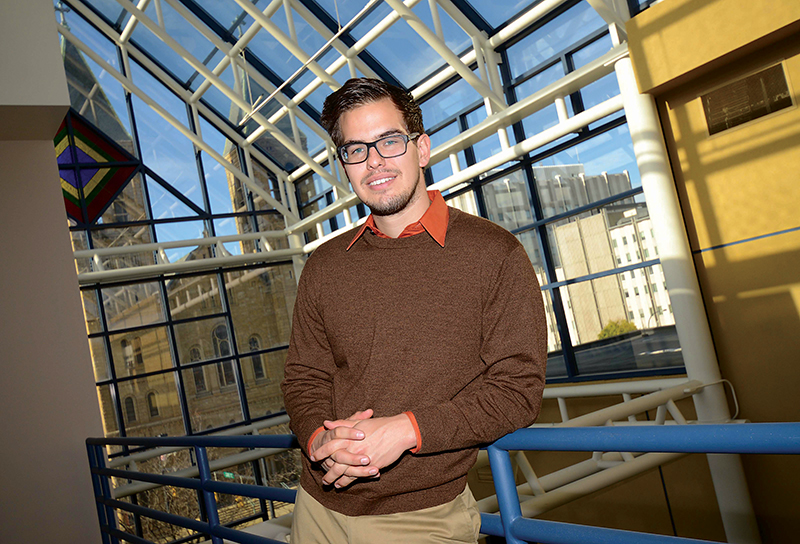 Richard Angeletti: Balancing career goals with love of travel
Richard D. Angeletti III will be the Fall Commencement ceremony on Friday, Dec. 16, at 7 p.m. He is a Williams Honors Scholar graduating with a B.S. in Accounting, summa cum laude, and a B.A. in Economics.
Hometown: Green, Ohio
High School: Green High School
What's next?
Joining the accounting firm of Ernst & Young in its Risk Advisory Practice.
Q: How are you going to spend your time between graduation and what's next?
A: Upon graduation, I will be dedicating my time to passing the Certified Public Accountant Exam. With the expected completion of the exam in April 2017, I plan to spend the remainder of my year traveling throughout Southeast Asia until I start my job with Ernst & Young begins in July.
Q: Have you done study abroad? Tell us about it and its impact on you?
A: This past summer I created my own study abroad experience by spending 80+ days backpacking Europe. Visiting 16 countries and 44 cities during the experience, I learned more about the world, life and myself than I thought possible in one summer. Traveling alone allowed for me to constantly be out of my comfort zone, fully embracing the local cultures, traditions and the people at every turn. This trip would not have been possible without the timing of my academic curriculum, the support of the faculty at the University and my family.
Additionally, while it wasn't abroad, I was able to complete a Wilderness Emergency Medical Technician program in Kelly, Wy., in the spring of 2015. This experience allowed me to obtain the 150-credit requirement to sit for the CPA Exam in 2017 without deferring my graduation date.
Q: What's your advice to incoming freshmen?
A: There are key three lessons that I would share with new freshmen:
Time is your most valuable resource. It can be your greatest friend, your greatest tool and your greatest enemy.
Remember why you are here, you can get caught up in a lot of things, but at the end of the day it's all about that piece of paper, the degree.
Get involved, step out of your comfort zone, do something different, make connections and have fun.