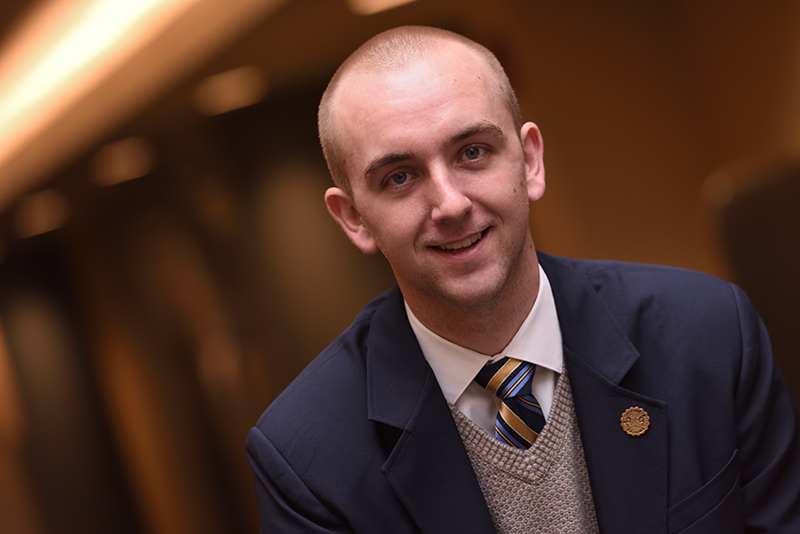 Class of 2018: 'Mr. Michel' prepared for a life in the classroom
Zachary Michel will be the student speaker at the Spring Commencement ceremony on Sunday, May 13, at 2 p.m. He is a double major in AYA Education and History. He is finishing his two-year term as a Student Trustee on UA's Board of Trustees.
Hometown: Canton, Ohio (Jackson Township)
High School: Jackson High School
What's next?
Currently searching for teaching positions within Northeast Ohio.
Q: How are you going to spend your time between graduation and what's next?
A: This upcoming summer before the next school year when I begin teaching will be extremely busy. My older brother is getting married in mid-June where I am the best man. I also plan on heading to Pittsburgh for an extended weekend to see Kenny Chesney in concert at Heinz Field. Besides that, the rest of my free time will be devoted to work to help pay off school loans, along with affording date nights with my girlfriend and many trips to see the Indians play in Cleveland with friends.
Q: Favorite campus activity?
A: My favorite campus activity is attending the various Zips athletic home/away games. There is nothing better than being an AK-Rowdie on The Hill cheering for the best men's soccer program in the country! Going to a basketball game in the JAR to see the Zips beat Kent State. Or, this past year, driving up to Detroit to see the Zips play for a MAC Football Championship. I grew up a fan of the Notre Dame Fighting Irish, blue and gold through and through, but I graduate a proud Zip and my blue and gold alliance changes. #ForeveraZip
Q: How have you changed during your years at UA?
A: It is truly incredible to look back on my time here at The University of Akron. When I was just a young freshman coming into the University from Canton, Ohio, I was shy and certainly unsure about life. Through my involvement on campus through student organizations, my education program, advice from faculty advisors (Dr. Brad Maguth) and mentors (Willy Kollman), and working on campus, I have grown tremendously into someone who has surpassed all of his goals and expectations. The investment that the University makes into the students reaps tremendous benefits. I certainly am glad looking back when I was deciding between colleges to call The University of Akron home. UA will certainly be home to me forever as I come back to attend sporting events, performances at E.J. Thomas Hall, and attend various other events on campus.
Q: Where's your favorite place on campus?
A: One of my favorite spots on campus is sitting on the third floor of Zook Hall on the balcony to eat lunch or do homework. First, it has a beautiful view of campus; second, there is hardly anyone there to bother you; and third, on those perfect sunny and 75 days in Northeast Ohio, you can even get a nice little tan.
Q: What's your advice to incoming freshmen?
A: Be involved in something on campus. There is no greater feeling than being involved in something far greater than yourself, and that group or team of people accomplishes something remarkable. When you get involved on campus, you are connected with friends, faculty, staff, administration. You find your best friends and mentors through being involved through service, student design teams, or club sports. Through being involved here at UA, this is when I fell in love with The University of Akron and it became my second home! #LoveUAkron