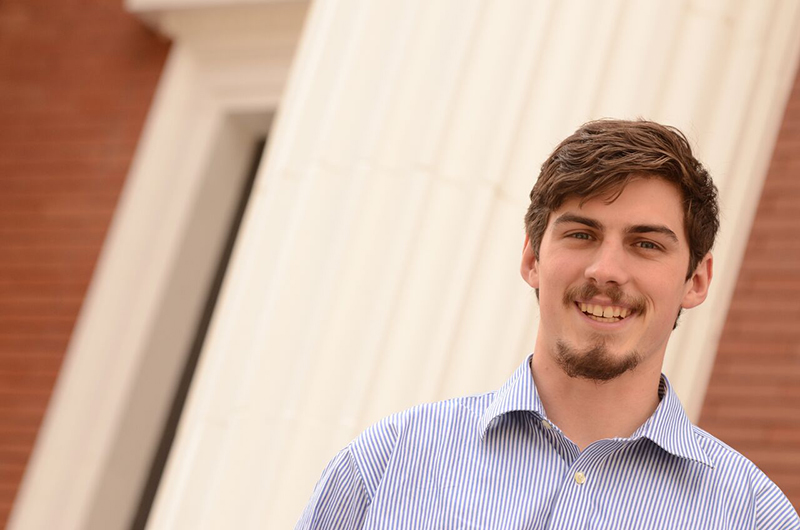 Class of 2017: Co-op experiences will kick-start this test engineer's career
Lucas Gsellman will be the student speaker at the Spring Commencement ceremony on Saturday, May 13, at 10 a.m. He is a Williams Honors Scholar graduating with a degree in biomedical engineering, summa cum laude.
Hometown: Medina
High School: Highland High School
What's next?
I will be moving to Kalamazoo, Mich., to begin work as a full-time test engineer in the R&D Robotics Division of the Stryker Corporation. I plan to pursue a part-time master's degree at Western Michigan University while working for Stryker.
Q: How are you going to spend your time between graduation and what's next?
I am the oldest of four siblings and have always been very close to my family. My younger brother is also graduating and moving away. As a last hoorah, my family will be taking a trip out West before we both move away. We plan to do a lot of hiking and fishing in the national parks. My wife and I will also be moving to Michigan and doing some repairs to our new home. We are very excited to get started on the many summer projects we will be working on.
Q: Campus involvement?
My most rewarding experiences were those that I invested the most into. The University of Akron is filled with opportunities to find something you're passionate about and get involved.
I played for the UA ice hockey team and acted as a captain and treasurer. There will always be a core group of dedicated people that keep groups like the hockey team, or engineering design teams alive. The work of these people often goes unnoticed. If you are one of the people putting in the work, you should be very proud of what you have invested and the experiences you gain. I found that people do notice and it will propel you forward in your career.
I was also heavily involved in undergraduate research. My work was published in the Journal of Investigative Ophthalmology and Visual Science (IOVS) and presented at the Summer Biomechanics, Bioengineering & Biotransport Conference (SB3C) in Salt Lake City. The week that I spent at the conference was one of my favorite undergraduate experiences. My professor/advisor also grew to be a trusted mentor and friend. Developing strong mentor/mentee relationships proved to be one of the largest contributors to my success in college.
Q: Did you do an internship or co-op? How did that help you prepare for a career?
I had multiple co-ops and part-time jobs while in college, each experience built off the previous. I traveled for all of my co-ops, which helped me appreciate the Midwest. My employers gave me responsibility for impactful projects and and I was able to build my professional reputation. Along the way, I worked with a lot of cool technologies — like 3D printers, 3D scanners and robots. I also got to see some incredible manufacturing processes, like the titanium casting of hip implants. My co-ops kick started my career and the practical experience helped me to hone in on what I wanted to do.
My final co-op was for Stryker in Kalamazoo, Mich., and this is where I accepted a full-time positon. When I made the decision to go to Kalamazoo, I was focused on making an impression and getting an offer by the end of the co-op rotation. I always found it important to be intentional in the decisions I made, and to move forward with a plan. Plans can change, but knowing that I had thought every decision through and given everything I had gave me peace when struggling with the uncertainty of starting a career.