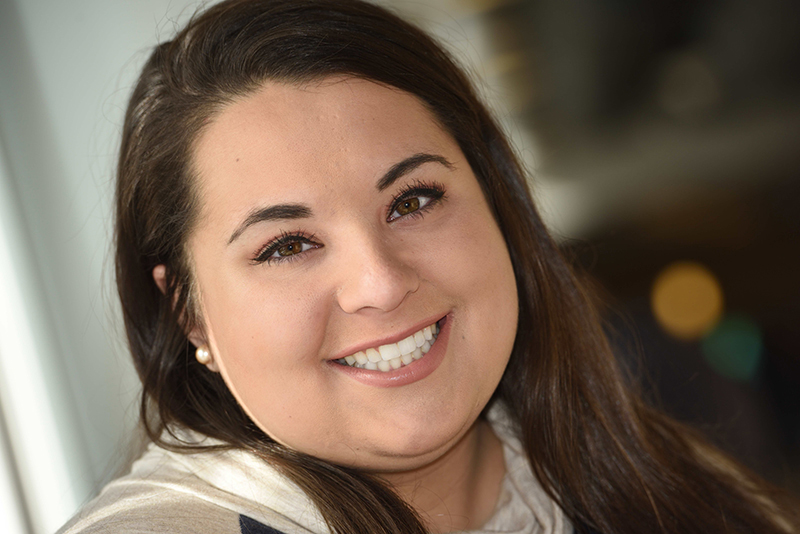 Class of 2017: After earning two degrees, she's set on career in health field
Kelli Morisak will be the student speaker at the Fall Commencement ceremony on Saturday, Dec. 16, at 2 p.m. She is graduating with a Master of Science in Biology.
Hometown: Akron
High School: Coventry High School
Undergraduate School: The University of Akron, where she earned a B.S. in Biology in 2015.
What's next?
Dental school upon admission, or a medical laboratory tech program.
Q: How do you think your opportunities to do research here will benefit either professional school or your career?
A: I have learned so much by being able to do hands-on research. I have not only learned about research techniques, but also about problem-solving, which I think is a skill that will be valuable in any career path I choose to follow.
Q: How are you going to spend your time between graduation and what's next?
A: After graduation and before I begin what's next, I plan on working to save some money until I start working toward my next goal in life, which is ultimately to enter a professional program. Whether it be dental school, or a medical laboratory technology program to get a certification; my career options are open. Until I find out which route in life I am going to take, in addition to work, I would like to travel in my free time since I have been so busy with school the last few years.
Q: What's your advice to incoming freshmen?
A: My advice to incoming freshmen is that even though it may not seem like it, you will adjust to the differences of college vs. high school. At first, it is going to be a big adjustment from high school, but as long as you stay determined, you will adjust. Also, The University of Akron offers free tutors; do not hesitate to use them. Although you may have not needed a tutor in high school, college is very different, and receiving help from a tutor could not only be the difference between passing and failing a test, but you will learn so much from someone who knows the subject. Never be afraid to ask for help, whether it be your professor, a teaching assistant, or tutor, because there are so many resources the University offers to help you succeed in your classes; you just have to also be willing to put in the work as well. Also, good grades will be something for which you have to work. They're not as easily achieved for most as they were in high school, but with hard work they are very possible.
Q: How do you describe your Akron Experience?
A: My Akron Experience, from starting in the junior year of high school as a postsecondary student to completing my master's degree, has been nothing short of exceptional. The University of Akron has changed so much since I have started, however I feel most of these changes have been for the better of not only the university, but have positively affected the Akron community as well. Akron is always putting its students first, and finding ways to accommodate them. Whether those accommodations are having dogs in the library during pre-finals week to relieve some stress, or offering counseling services to students who find themselves having a rough time, to hosting positive, fun events such as carnivals, with tons of freebies on Coleman Common. Even as a commuter student, I have enjoyed my time spent on campus.