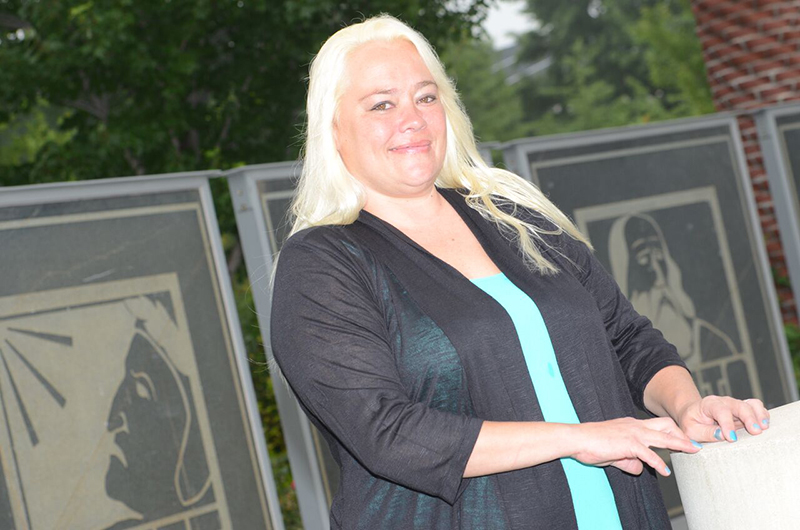 Kristina Winkler: Nontraditional route to degree opens new world
Kristina Winkler will be the student speaker at the Summer Commencement ceremony on Saturday, Aug. 20, at 2 p.m. She is graduating with a B.S. in Biology, magna cum laude.
Hometowns: Santa Cruz, Calif., and Colorado Springs, Colo.
High School: Harrison High School, Colorado Springs, Colo.
What's next?
I will be a teaching assistant in the Department of Biology as I earn a Master of Biology degree, beginning this fall. I will be working with Dr. Don Ott, professor of biology, and Dr. Teresa Cutright, associate professor of civil engineering, on a study of toxic algae blooms.
Q: Why did I come back to school after raising a family?
A: I was unhappy and I felt stuck. I wanted to feel better about my current situation. I have seen too many moms and dads say, "I wish I could go back to school, but (insert excuse here)."
I wanted to be inspiring to my kids. I wanted to show them it is never too late for improvement! It is OK that if you do not like your current situation, you have the power to change it. I'm here to say, do something for yourself, so your kids can watch you succeed. Never let yourself feel stuck! You've known you were capable of more this whole time, so step out of your comfort zone and try something new.
Q: Advice for nontraditional students?
A: Take advantage of the resources here at The University of Akron. Apply for scholarships offered at the University and take advantage of all of your grants. Use UA Adult Focus to help you schedule your classes in a way that works for your busy life. If you are financially struggling, like me, then learn where the microwaves are so that you can bring your own food and warm it up. Find the private study rooms in the basement of the Science Library in Auburn Science and Engineering Center so you can study in a quiet place, alone, away from your children when you have to. Use your Zip Card to ride the RTA Metro bus for free, every time your car breaks down, so you don't miss any classes. Find ways around any excuse you may think of so that you can finish your degree. Work one extra weekend night to save some money so that you can take that class that goes to the Bahamas or the Rocky Mountains. It's totally worth it!
Q: Have I studied abroad?
A: I guess you could say that. I did not study abroad in a traditional sense. For two years now I have taken biology courses offered at The University of Akron that included a week in Sal Salvador, Bahamas, over spring break. The courses cost a little more, but I worked an extra night a week in order to save for them and it was the best decision I have ever made.
After snorkeling and classifying algae off the coast of San Salvador, I decided to study algae further while earning my master's degree. Since my trip, I have learned that The University of Akron offers study abroad in many countries for different periods of time, from Spain to South America! I would recommend to start saving for your next traveling course now. Some of them offer scholarships!