100 Years of UA Law
05/13/2022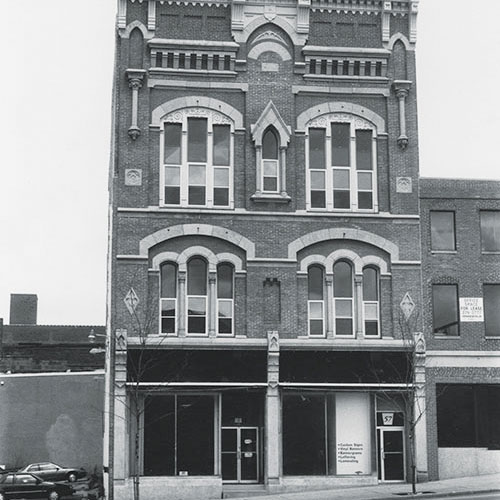 The first Akron Law building on E. Market St.
For the last 100 years, University of Akron law students and alumni have contributed significantly not only to the School of Law, but to jurisprudence, the legal and court systems, and justice.
Akron Law graduates have served in the U.S. House of Representatives and in the legislatures of Ohio and other states. More than 200 have found distinction as members of the judiciary, including on the Ohio Supreme Court, the U.S. Court of Appeals for the Sixth Circuit, the U.S. District Courts and the courts of at least 14 states.
More than 8,500 graduates have worked in large and small law firms, corporations, nonprofits and government agencies in 50 states and 14 foreign countries.
Founded in September 1921, the School of Law welcomed its first class of 30 part-time students to its space in a handsome, but modest, three-story building that still stands at 57 E. Market St. In 1959, the school merged with the then Municipal University of Akron, becoming what is now The University of Akron School of Law.
Celebrating its centennial anniversary during the 2021-2022 academic year, Akron Law and its alumni, students, faculty, staff and friends have hosted several events for its stakeholders. You can find commemorative features on its webpage—uakron.edu/law/100—including an interactive timeline featuring milestones from 1921 to the present, and a short documentary of the School's history.

In October, the Honorable Joan L. Larsen, a judge of the United States Court of Appeals for the Sixth Circuit, delivered the keynote address during Akron Law's celebration of its 100th anniversary.
True to its founding mission, Akron Law continues to offer a legal education that is innovative, practical and affordable. With a strong base and a continuing emphasis on diversity, inclusion and equity, UA's School of Law is well-positioned for another century of service.

by Alex Knisely


Share