Akron Rocket League earns second-consecutive national championship with undefeated record
11/14/2019
The Akron Zips steamrolled the Collegiate Rocket League 2019 National Championship competition on Nov. 9 with a dominant 20-0 win record to secure the team's second-consecutive national championship. The three players will bring home $15,000 of scholarship prize money in addition to first-place medals.
More than 79,000 viewers watched the championships live on the popular video game streaming site Twitch.tv and almost 2,000 cheered the teams on live from the Esports Stadium in Arlington, Texas. The team's progress through nationals was documented by the popular esports TV show "ELEAGUE" and will be shown on national television on TBS at 11 p.m. EST Dec. 6.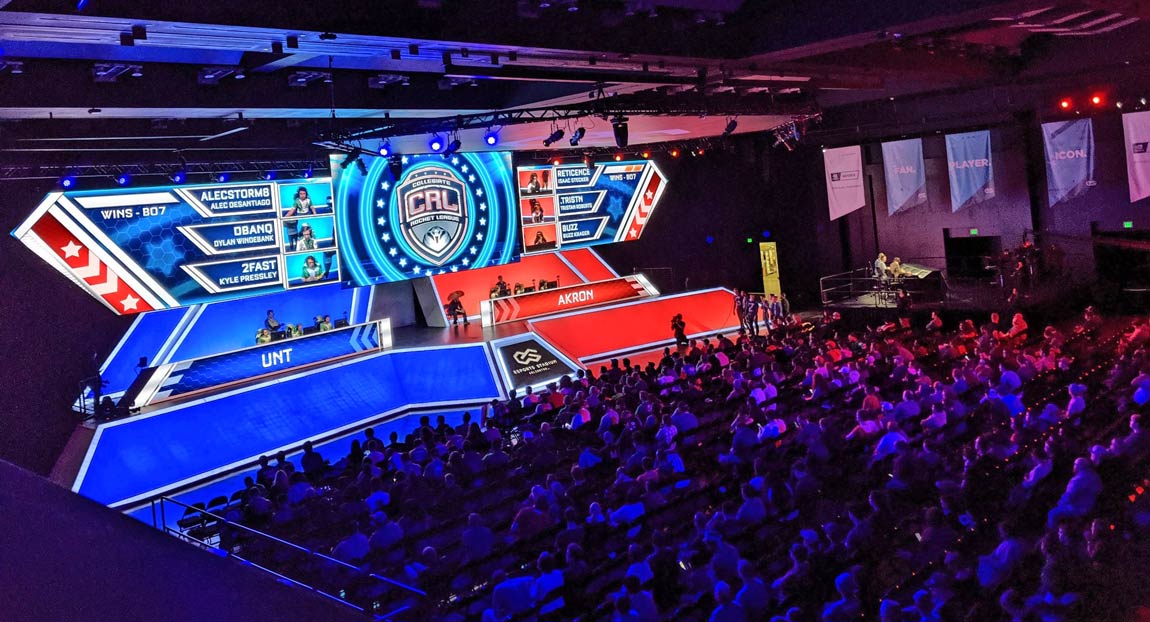 Akron Rocket League competing against the University of North Texas at the Esports Stadium in Alrington, Texas.
Akron Rocket League Gold team members Isaac "Reticence" Stecker, Buzz "Buzz" Krager, and Tristan ".Tristn" Roberts started off the quarterfinals with a triumphant 3-1 victory against the University of Arizona, a team that had previously knocked Akron down to the losers' bracket in the quarterfinals in the Fall 2018 season. The Zips then faced off against the University of North Texas, the team that had knocked Akron out of championship contention in the semi-finals last year. This time around the Zips posted a 4-2 victory over UNT. However, this wouldn't be their last match against UNT as the Mean Green eliminated Arizona in the losers' bracket and returned to face Akron with a hometown advantage. Ultimately, the Zips were met with nothing but cheers as UA won the national championship with a commanding 5-0 victory against UNT.
RELATED: Visit Esports at UAkron online to learn more about our varsity and club teams.
"This is the magic that can happen when world-class talent meets robust university support: maintain an undefeated record into a bracket of the best teams from conferences across the nation, and in a best-of-nine match — the longest best of series ever held in competitive Rocket League," said Michael Fay, director of esports and head coach at UA. "These are results that could only happen when the tremendous hard work of these players is met with equally tremendous support from UA and its campus community. The players and I are extremely grateful for that."
"We're a solid, well-rounded team, and there's no other Collegiate Rocket League team you can say that has all three players that you know that are solid and can compete at the top level," said Krager.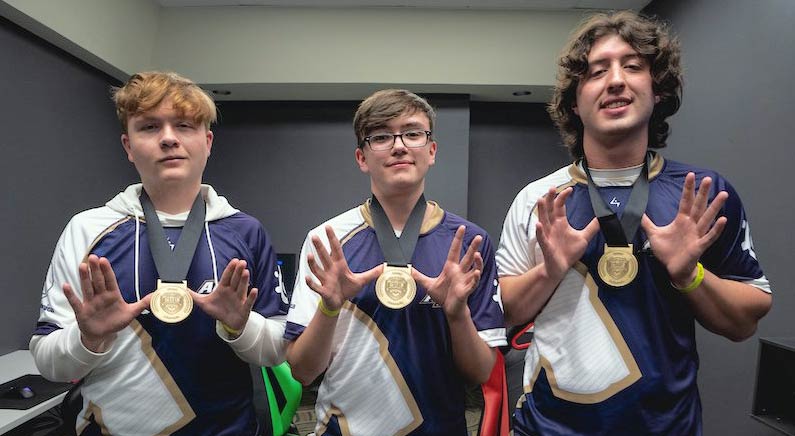 Akron Rocket League Gold team members, from left, are Tristan ".Tristn" Roberts (left), Buzz "Buzz" Krager, and Isaac "Reticence" Stecker.
---
Related
---
Media contact: Alex Knisely, 330-972-6477 or aknisely@uakron.edu.
Share