Alumna creates world record for yoga pose
02/04/2021

How long can you hold the mermaid yoga pose?

If it's anywhere near a half hour, you're on the verge of breaking a new world record, recently established by UA alumna Prerna Narayanan for the Asia Book of World Records.

On Jan. 5, 2021, Prerna, who graduated from UA in 2020 with a bachelor's degree in marketing management, created the first world record for the longest time holding the mermaid yoga pose — a position that opens the hips and arches the back into what resembles a mermaid's tail arch. In the world's first official attempt to hold the pose, Prerna held her contorted body in place 30 minutes and eight seconds.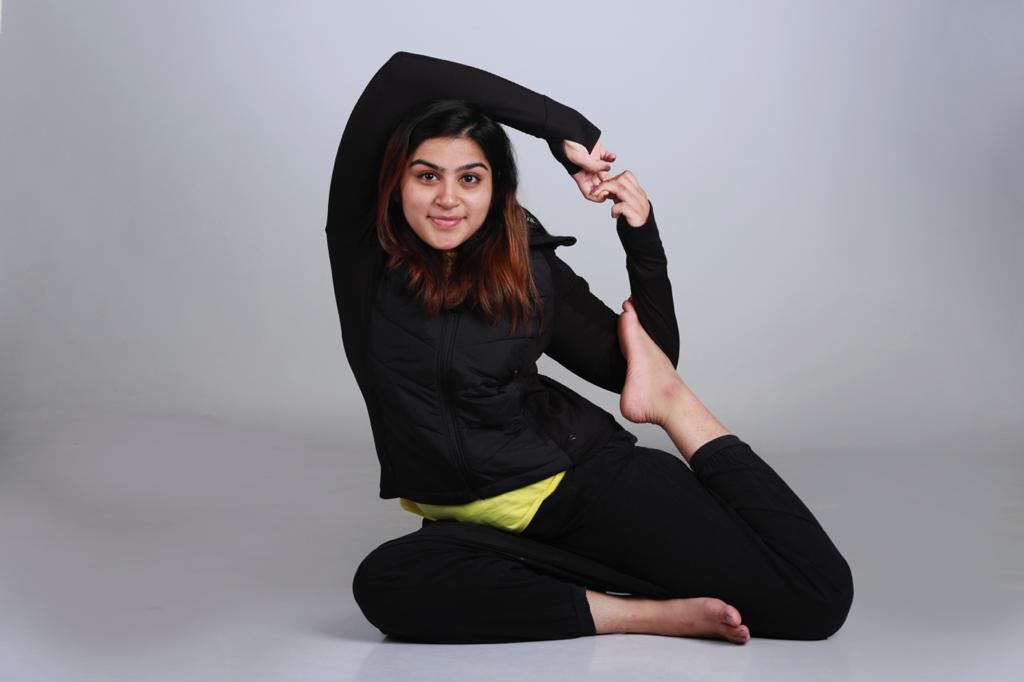 UA alumna Prerna Narayanan '20 in the mermaid yoga position.
"The mermaid pose is not an easy posture as it involves using all your limbs," says Prerna, a resident of Chennai, India. "Doing it for five minutes might be easy, but beyond 20 minutes is difficult. You feel like sneezing and your nose itches, but you cannot scratch your nose as your arms are intertwined; your back aches but you cannot lean back."
Though a trailblazer in making world records, Prerna only recently learned the mermaid pose. She rigorously practiced it three or four times a day for a month to get her desired results of holding the pose for longer than a normal amount of time.
Then, when she felt ready to show off her strength to the world, Prerna held the mermaid pose at her yoga studio in Chennai. A panel for adjudication comprised of a senior member from the Asia Book of World Records, two Judges, two timers and Prerna's yoga teachers were there to witness the event. The event was recorded live in front of local, regional and national media members, including those for social media.
Watch a video of Prerna holding the pose on YouTube.
As Prerna held the pose, her arms turned blue after becoming numb. Her palms became sweaty, which meant she might lose her grip.
"In spite of all that, with a dogged determination, I did it," Prerna says. "All that was going through my mind was, 'Prerna, you got to do it, you got to do it!' And I did it."
A video of Prerna holding the pose was sent to Guinness World Records. The application process included filling out required documents, statutory forms and providing various credentials.
Empowered by yoga
Although Prerna learned the mermaid pose over month ago, her experience in yoga goes back to when she learned the physical, mental and spiritual practice at the young age of 6.
"Yoga interests me because it brings out the inner potential in me," she says. "Yoga has been derived from the Sanskrit word 'Yuj,' which means 'to unite.' I found that when I did yoga, I was able to unite all my senses and bodily components. Yoga can control your body and direct it with your mind. And this is what interests me in doing yoga."
Prerna eventually took a break from the practice to focus on her academics but found it easy to renew her yoga skills during her recent visit to India for winter break.
"Being an expert of Bharatanatyam, a South Indian classical dance form and having learned yoga earlier, it was easy to pick up where I left off," says Prerna. "I found to my amazement that my basic foundation in yoga and dance had left me with good muscle memory and flexibility."
Creating a new world record with a yoga pose learned in only a month had Prerna doing hard work, diet control, exercise and multiple practice sessions. She encourages anyone wanting to accomplish a goal to use the same thing she did – determination.
"That was what this is all about," she says. "Knowing you can do it and prove it. I want everyone to understand their inner potential and empower themselves as I did with yoga."
---
Media contact: Alex Knisely, 330-972-6477 or aknisely@uakron.edu.