Keeping Off-Campus Neighborhoods Safe
05/15/2022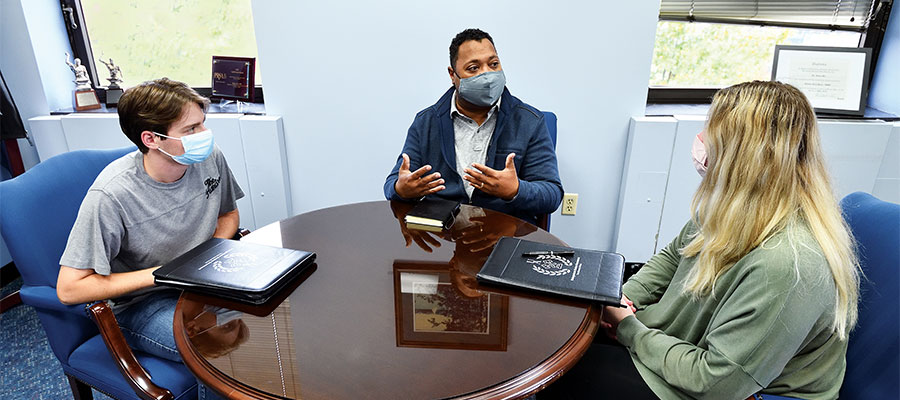 Director of Off-Campus Safety Kerry Jackson talks with two student leaders.
by Cristine Boyd

Sitting on a hill just a stone's throw from downtown, The University of Akron is sprawling and beautiful. And while it benefits from the city's dynamic entertainment and cultural offerings, it shares in the realities that go with an urban location.
That's where The University of Akron Police Department (UAPD) steps in, not only providing law enforcement services on campus, but assisting the City of Akron Police Department with patrolling neighborhoods on the outer ring of campus. While large apartment complexes have sprung up over the past 10 years, a good percentage of students live in individual rental homes located in the South of Exchange (SOE) neighborhood.

During the pandemic, when most students moved home, some landlords began renting houses to non-students to keep the units occupied, thus changing the dynamic of the neighborhood. And when communities change, new issues often arise.
For that reason, UA President Gary L. Miller hired 13-year UAPD veteran Kerry Jackson as the inaugural director of off-campus safety. In this position, Jackson is working to help build partnerships, communication and connections with landlords, students, members of the City of Akron Police Department (APD), local businesses and elected officials.
"Although we are responsible for safety on the UA campus, we also see adjacent neighborhoods in the City of Akron as part of our footprint," said Jackson. "Many of our students live in off-campus rentals and we have to make sure they feel safe and secure there."
Shining a fresh light
One of the first projects in that vein, which involved updating lighting in the SOE neighborhood, is designed to help students feel safer walking at night. The effort is a joint collaboration between the University, the City of Akron and FirstEnergy.
Another initiative came after the tragic loss of UA student Maya McFetridge to gun violence in September 2021. President Miller, in reiterating the University's commitment to safety, doubled down on its efforts by working with the Ohio State Highway Patrol to provide additional patrols.
The University also reopened the Block by Block office on Exchange Street to provide more eyes and ears (and student escort services), hired additional police officers for the SOE area, and worked with Summit County and the City of Akron to invest in a new camera system for that neighborhood.
"I am personally committed to doing whatever it takes to secure the safety of every person who comes to this university to learn, work or visit," Miller said in an address to campus. "There is nothing more important to me and this university community."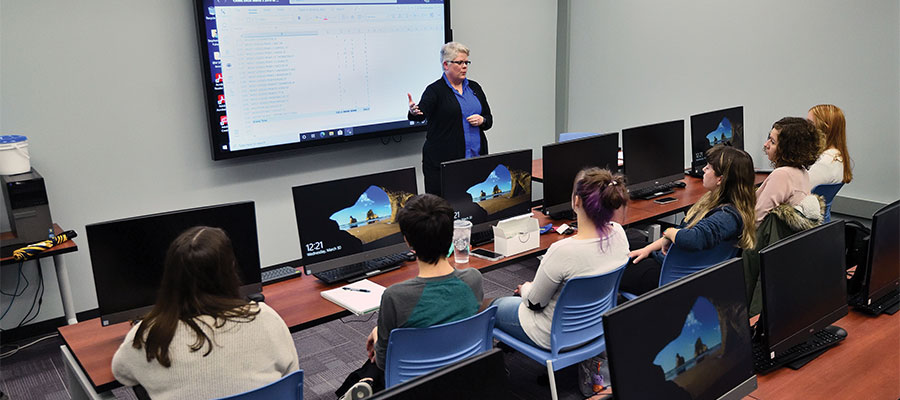 Stephanie Yuhas leads a Criminal Justice class.
Professor leads property project
Students and faculty alike have joined in the effort. Stephanie Yuhas, a practicing attorney and former magistrate, serves as an associate professor of practice, criminal justice studies. She's now leading a group of five UA undergraduate criminal justice studies students in a special project to help Jackson identify nuisance properties in the SOE neighborhood that are causing safety issues.
Nuisance properties can be noisy, abandoned or neglected properties, be the location for fights or other violence, or have alleged criminal activity taking place such as the sale or use of drugs and guns on the property.
Here's how the project works: a nuisance property is identified, students conduct a crime analysis on it which is then verified through public records, and a package of information is created and given to local authorities. They, in turn, may issue a nuisance letter to the property owner who would be assessed the cost of police response if they are called to the property for certain kinds of activities.

This not only saves the community money, but it also pressures the property owner to do a better job monitoring renters and activity on the property and incentivizes them to clean it up.
Students lend a hand
Angelena Dorbish and Faith Fox are among students currently organizing a database in a way that some 50,000 Akron Police Department records can be sorted and understood. Other students working on the project, Braden Schaffer and Kayla Copiskey, are using public records to obtain additional information needed in generating a nuisance report. All say they value the experience.
Dorbish hopes to work with a police department and maybe even a federal agency after graduating. "I like the crime analysis part—and this project is an amazing opportunity for me. I enjoy it even more than I thought I would."
Another set of students is working on a survey that will gauge perceptions of safety and how the University can improve it. Hanah Ramsey and Emily Starkey created questions for this survey after conducting a research review about perceptions of crime. Starkey will be conducting analysis of the data as part of her honor's work associated with this class. After the data come in from the survey, the reports will be presented to President Miller and his team.
Making a difference
Yuhas realizes the importance of this work and hopes others do as well. "UA is an important part of the community, and this program shows our students that every decision has real-world impact."
Fox loves the idea that her work might change the community, and she wants more students to be aware of the project. She believes the campus survey will show students that the University is taking their concerns seriously by asking for their feedback.
"I am thankful to be part of this project to learn about and apply research skills," said Fox. "But ultimately we are all trying to make South of Exchange a better place to live."
Both Jackson and Yuhas understand that their work won't bring about an immediate fix. But they are both dedicated to the effort.
"We hope to put in place a system where the city, community and University can work together in a cohesive way to address safety," Jackson said. "By opening communication, we can work together to find solutions. If we can get this right, it benefits everyone."
---
Related:
Share