Light bulb moment: Army intelligence analyst turns patent attorney
11/05/2019
For someone as brainy as Nick Buchmuller '18 — a former intelligence analyst for the U.S. Army Reserve and chemical engineering major — attending The University of Akron School of Law was a no-brainer.
The idea of studying intellectual property (IP) law first entered his mind at a career seminar he attended while studying chemical engineering at the University of Utah.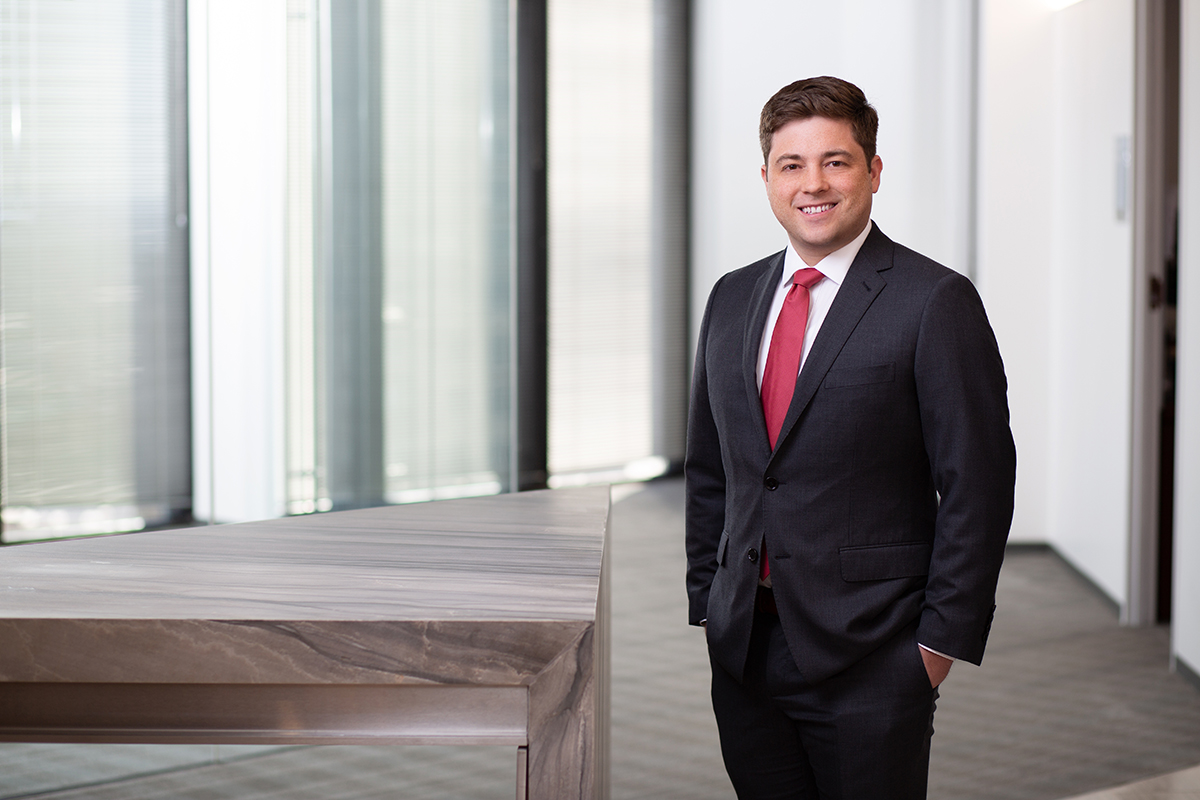 Nick Buchmuller '18, joined the Houston-based international law firm Bracewell LLP in October 2018 as an associate on the intellectual property team.
"They brought in a patent attorney who had majored in chemical engineering like me," Buchmuller recalled. "He talked about what he liked about his job and how he worked closely with inventors and stayed on top of developing technologies. It all sounded really enticing to me. I decided this was something I'd want to do."
The "light bulb moment" was a conversation he had with Matthew J. Wilson, dean of Akron Law at the time, at a University of Utah law fair in 2014.
"He was an alumnus of the University of Utah, and we talked about the school's intellectual property program," said Buchmuller. "That got me to think about Akron. I did a little research on the school and found they had a really good IP program. That was one of the things that brought me there, and I just focused on intellectual property throughout law school."
An intelligent transition
It was not only his background in chemical engineering that made law school a natural fit. A member of the U.S. Army Reserve, Buchmuller had served a tour in Iraq as an intelligence analyst, where he practiced many of the cognitive skills — such as gathering, analyzing and evaluating data — that would serve him well in law school, and eventually as a patent attorney.
At Akron Law, Buchmuller took advantage of many facets of Akron Law's robust intellectual property program, from moot court competitions to professional networking events and student leadership opportunities. He also worked as an IP law clerk at the Cleveland firm Fay Sharpe for seven months and at Bridgestone Corp. in Akron for two years.
Professor Daniel H. Brean first got to know Buchmuller in the fall of 2016 when he was enrolled in his "Patent Law & Policy" course.
"Nick quickly set himself apart for his exceptional preparation and his thoughtful perspective. In the course of our classroom discussions, he would identify strategic opportunities and policy concerns that were often not on his classmates' radar.
"Over the next two years, I was able to see Nick develop into a talented researcher and writer. First, I was his faculty advisor for an individual studies research paper. Nick chose to write about how the nascent field of additive manufacturing (a/k/a 3D printing) could benefit from applying some of the legal principles that arose in the context of open-source software licensing. It was a challenging topic, but Nick approached his paper with remarkable insight and creativity."
Buchmuller graduated in spring 2018 with a J.D. and a Certificate in Intellectual Property, signifying a specialization in that area.
Houston, we have a problem-solver
Following his second year, Buchmuller worked as a summer associate at Bracewell, an international law firm based in Houston. He was then offered a full-time position, which he has held since October 2018.
"I had focused on intellectual property in law school, so getting straight into what I had been studying was nice," Buchmuller said. "Several of the classes I took were directly on point with the kind of work I ended up doing, so it made the transition as smooth as it could be."
Given his training in chemical engineering, a lot of his projects at Bracewell have been related to chemicals and oil and gas.
"But I've worked on a number of different things too — a patent for dental implants, a patent for, well, I don't know if I can say, except that it's something related to fish," Buchmuller added.
A number of Akron Law graduates, especially those who specialized in IP, have joined large law firms outside Ohio, but Buchmuller is the only Akron Law graduate currently at Bracewell. The majority of Bracewell associates come from Texas schools, along with Vanderbilt, Virginia, and a few from Harvard and Yale, he said.
"Bracewell is fortunate to have Nick on its team," said Brean. "I have no doubt that, as he did during his time at Akron Law, Nick has earned the respect and confidence of his peers and supervisors alike. He is already an exceptional patent attorney; we are all excited to see where he goes in his career."
Share