New research center at UA benefits manufacturing industry, contributes to workforce development
04/08/2021
The University of Akron (UA) has officially launched The Center for Precision Manufacturing — a research center for UA faculty and graduate students to develop new finishing technologies for the manufacturing industry. These process technologies such as grinding, hard machining and superfinishing are the backbone of many manufacturing companies today but have not experienced much innovation in the last few years. This center will benefit industry by improving traditional manufacturing processes while providing a learning environment for engineering students.
"This Center demonstrates our mission as an urban public research university relevant to the needs of the region, state and the nation," says UA President Gary L. Miller.
Initially, research activities will occur at various existing labs across campus with the plan to open a state-of-the-art dedicated physical space in the future. Siamak Farhad, Ph.D., associate professor in the Department of Mechanical Engineering, is serving as interim director.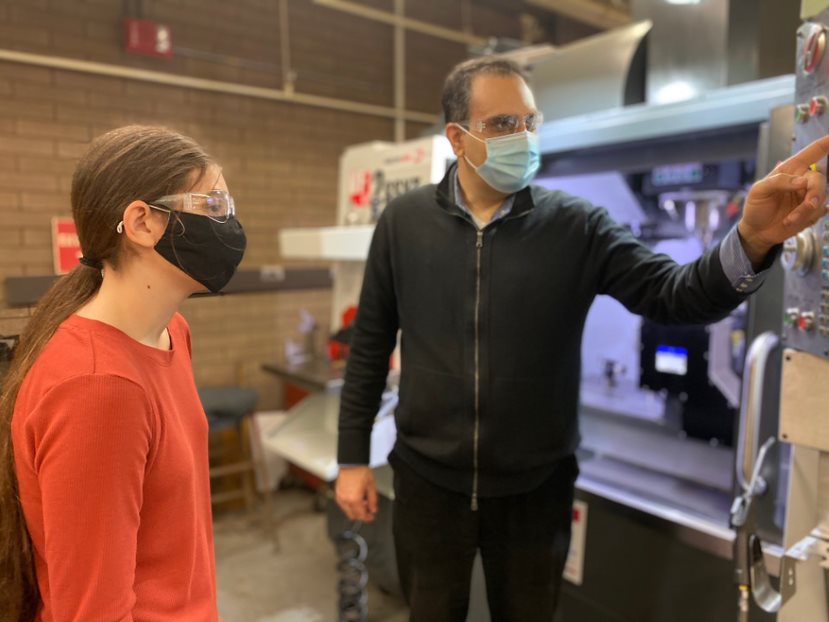 Dr. Siamak Farhad is training Michala Dauterman on a CNC machine. Michala received her undergraduate degree in biomedical engineering and is currently pursuing her graduate degree in mechanical engineering.
"In the last few years, university research centers focused on finishing technologies have closed as faculty have retired and the focus has moved to additive manufacturing," says Craig Menzemer, Ph.D., interim dean of UA's College of Engineering and Polymer Science. "Innovation in these traditional areas is critical to manufacturing competitiveness and can lead to shorter lead times, cost reduction and quality improvements. We believe that research and innovation in improving these areas will have a dramatic impact to manufacturing overall."
​Shared risk, shared rewards
UA is partnering with manufacturing giants such as The Timken Co., Swagelok, and Schaeffler Group USA Inc. to launch the Center by contributing to the financing of the labs and associated equipment where students and faculty will work alongside industry experts in process and materials engineering. The goal is to conduct research in these critical areas to help UA's industry partners increase their global competitiveness and help UA students to be prepared for the needs of employers.
The equipment, instrumentation and technology that exist in these labs will be useful to companies looking to partner with UA in research and development. The concept of open innovation recognizes that many companies cannot bear the risk of investing in fundamental research alone. Working in partnership with a university reduces that risk. With an expertise in commercializing research and intellectual property law, UA can help manufacturing companies develop new products and technologies and yet protect the proprietary nature of the process.
Companies can conduct this type of research happening in the Center at their own facilities but doing so may be cost-prohibitive and companies may not have the specific expertise or machinery required. Universities, like UA, are often more suited at conducting basic research, doing it more affordably and training the next generation of students along the way.
Meeting the need
The U.S. manufacturing industry relies heavily on finishing processes for everything from automobile and aircraft parts to food and beverage processing equipment. Highly stressed functional components used in manufacturing, such as rolling element bearings and gear systems, need finishing processes to achieve final geometry, surface texture and material properties required to deliver the necessary product performance.
These components are at the heart of most industrial machinery, encompassing everything from chemical plants to oil and gas, primary metals, agriculture, food and beverage, and transportation.​
In 2018, Stephen Johnson, Ph.D., retired director of research and development at The Timken Co. and champion of the Center, approached UA to discuss designing an on-campus research lab focused on improving manufacturing technologies, and involving students in the process.
"Currently there are no university-level research programs in these critical manufacturing technologies in the United States," says Johnson. "If not addressed rapidly, this threatens the long-term competitiveness and viability of U.S. manufacturing."
Industry pipeline
The ultimate outcome of open innovation is shorter times for research to get to the market and the creation of new jobs. The Center will allow undergraduate students to gain valuable experience while assisting graduate students and faculty with experiments, data collection and analysis. With this approach, more students will be exposed to critical manufacturing technologies and will be introduced to a broader range of career choices and options in manufacturing.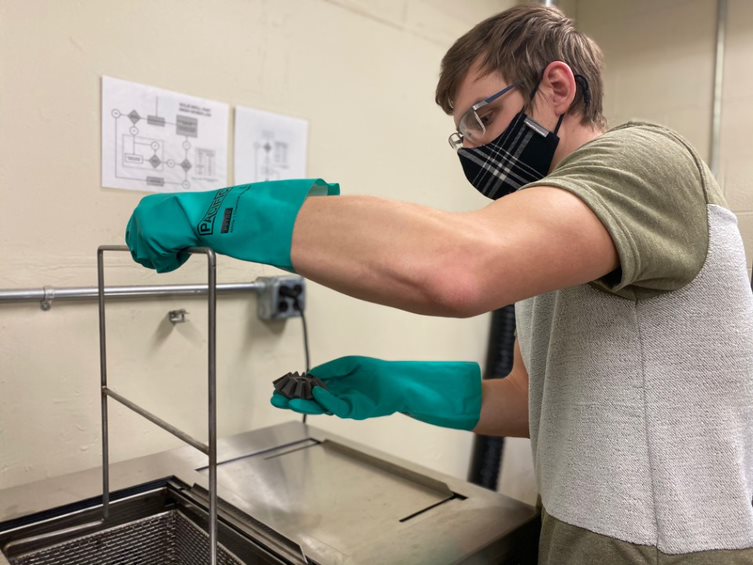 William Wenzel Jr., majoring in mechanical engineering, is pulling parts out of the wash station for the metal 3-D printer. UA plans on the 3-D metal print system being an integral part of the Center for Precision Manufacturing.
"What we are hearing from industry colleagues is that it is almost impossible to recruit engineering talent with expertise and knowledge of the types of processes we will be studying at the Center," says Johnson.
"UA has always worked well with industry to help improve their bottom line and create value, and we look forward to many companies joining the Center and benefiting from its activities," adds Ajay Mahajan, Ph.D., associate dean for research and industrial engagement for the College of Engineering and Polymer Science. "We are open for business."
Companies interested in working with the Center should contact Siamak Farhad, Ph.D., interim director, at sfarhad@uakron.edu.
About The University of Akron
Celebrating 150 years in 2020, The University of Akron (UA) is one of Ohio's most influential public urban research universities, offering unique, top-ranked and in-demand associate, bachelor's, master's, doctoral and professional degree programs in engineering, business, healthcare, the arts and sciences, education and law. As a STEM-intensive institution, UA has strong connections with industries such as polymers, advanced materials and engineering.
The University's beautiful campus, located in the heart of Ohio's fifth-largest city, is surrounded by thousands of businesses, including Fortune 500 companies, giving students access to internships, co-ops and careers. With award-winning residence hall groups and programs, hundreds of student organizations, NCAA Division I sports teams, and a nationally renowned Student Recreation and Wellness Center, UA provides the full campus experience.
---
Media contact: Alex Knisely, 330-972-6477 or aknisely@uakron.edu.
Share