Nursing students help with COVID-19 contact tracing
07/24/2020

Several undergraduate students from The University of Akron's (UA) School of Nursing gained unique experience recently as they worked with the Stark County Health Department to help break the chain of infection associated with COVID-19 through contact tracing.

Contact tracing is a public health tool used to support those who have been infected with the virus or have been exposed to the virus. Through contact tracing, these individuals are assessed for access to care and are taught how to limit contact with others to slow the spread of the disease.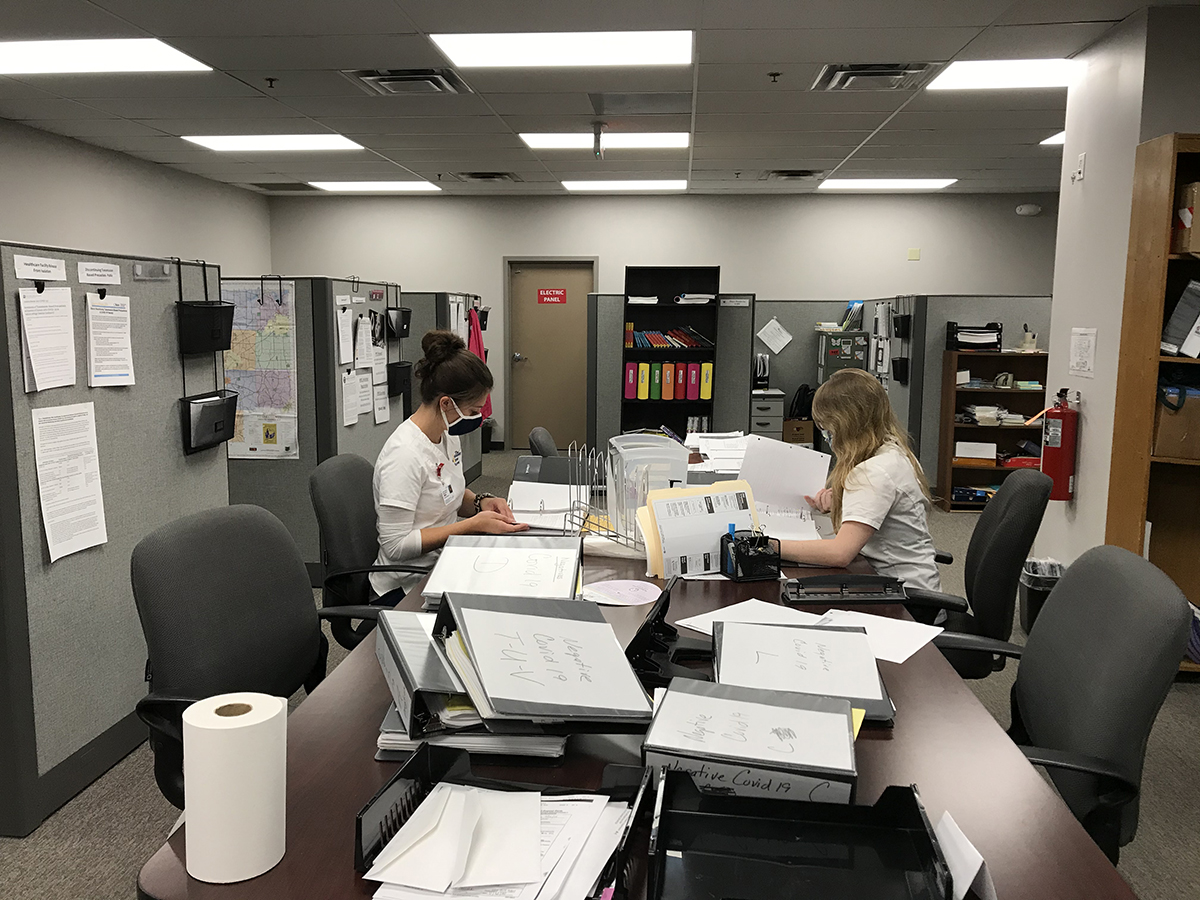 Nursing students Alexandria Appledorn (left) and Rachel Amos file paperwork related to COVID-19 contact tracing information at the Stark County Health Department.
Students in the senior level "Nursing of Communities" course were trained on the process of contact tracing by the Stark County Health Department. Over a five-week period, 16 students worked day or evening shifts to help with contact tracing phone calls. This service-learning opportunity arose when the School of Nursing was contacted by Amanda Uhler BSN, RN, a 2011 alumna of the school, who is now working for the Stark County Health Department as a unit manager.
More than 100 calls are made daily to Stark County residents who may have been exposed to COVID-19. During calls, the students, under the supervision of a public health nurse, asked the caller for details on their symptoms and educated them on the virus progression, the infectious period and quarantine guidelines. During the phone call, the students were able to utilize the effective communication skills they learned in class such as establishing rapport, active listening and maintenance of confidentiality.
"During a typical call, we would initially establish if the person was aware that they had been exposed to COVID-19 and if so, we'd then discuss if they were having any symptoms or not," said senior nursing student Cherie Flowers. "We also would go over with each person what they should look for in terms of symptoms over the next 14 days. We also asked who they may have exposed the virus to and gather demographic information for those 'contacts.'"
As of July 21, Stark County has 1,325 confirmed COVID-19 cases, 396 of which are labeled as active/open cases. The county also has 222 hospitalizations of confirmed and probable cases of COVID-19. These statistics make up the state of Ohio's current confirmed cases of 75,819 and nearly 10,000 hospitalizations.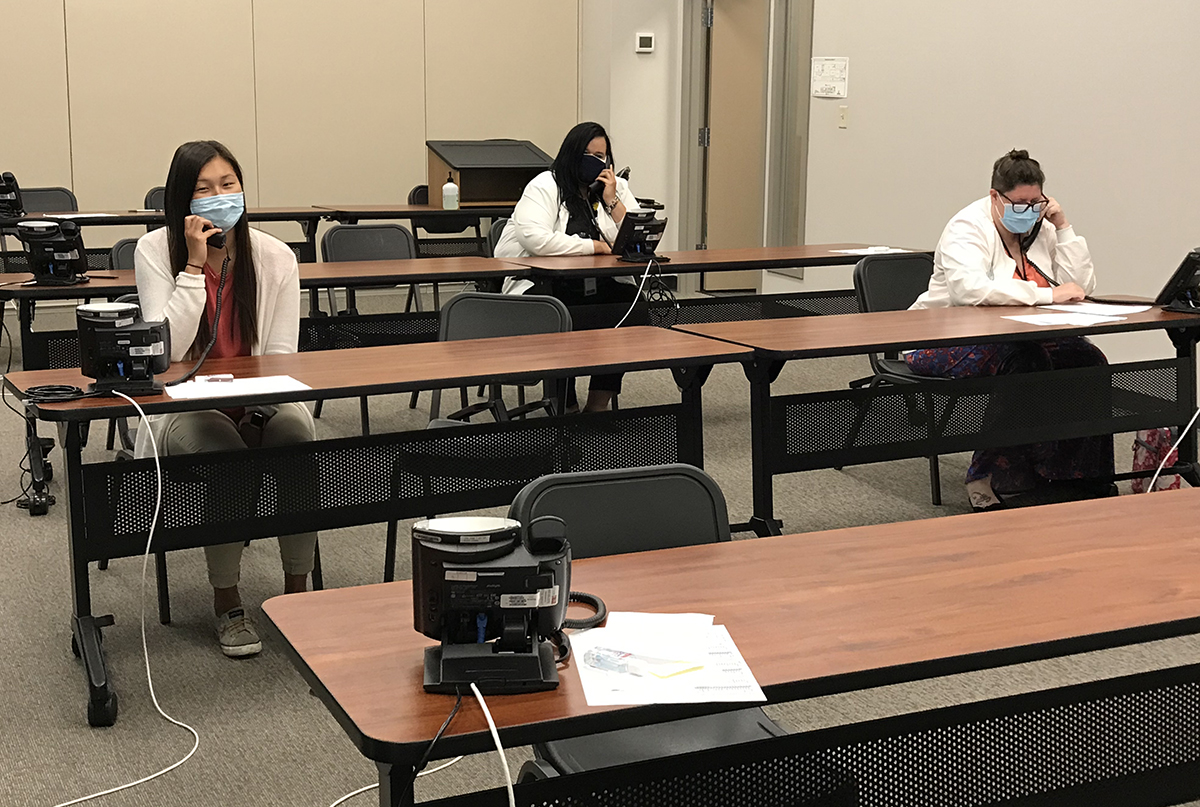 Nursing students Noel Johnson (left), Cherie Flowers and Kelly Watson participate in COVID-19 contact tracing phone calls at the Stark County Health Department.
Flowers said the experience taught her how easily a pathogen can spread.
"My biggest take away from this experience was the realization that we are still so dependent on one another," she said. "I had gotten to a place where I felt because of technology we were all disconnected from one another on a personal level. Tracing has shown me, although not under the best circumstances, that we are indeed still very much connected, and we must take care of each other. I think it is the duty of the strong to protect those most vulnerable and while wearing a mask and social distancing is uncomfortable and inconvenient, it's an incredibly effective way to protect each other and ourselves."
---
Media contact: Alex Knisely, 330-972-6477 or aknisely@uakron.edu.