Ohio's Pride marches on
05/23/2023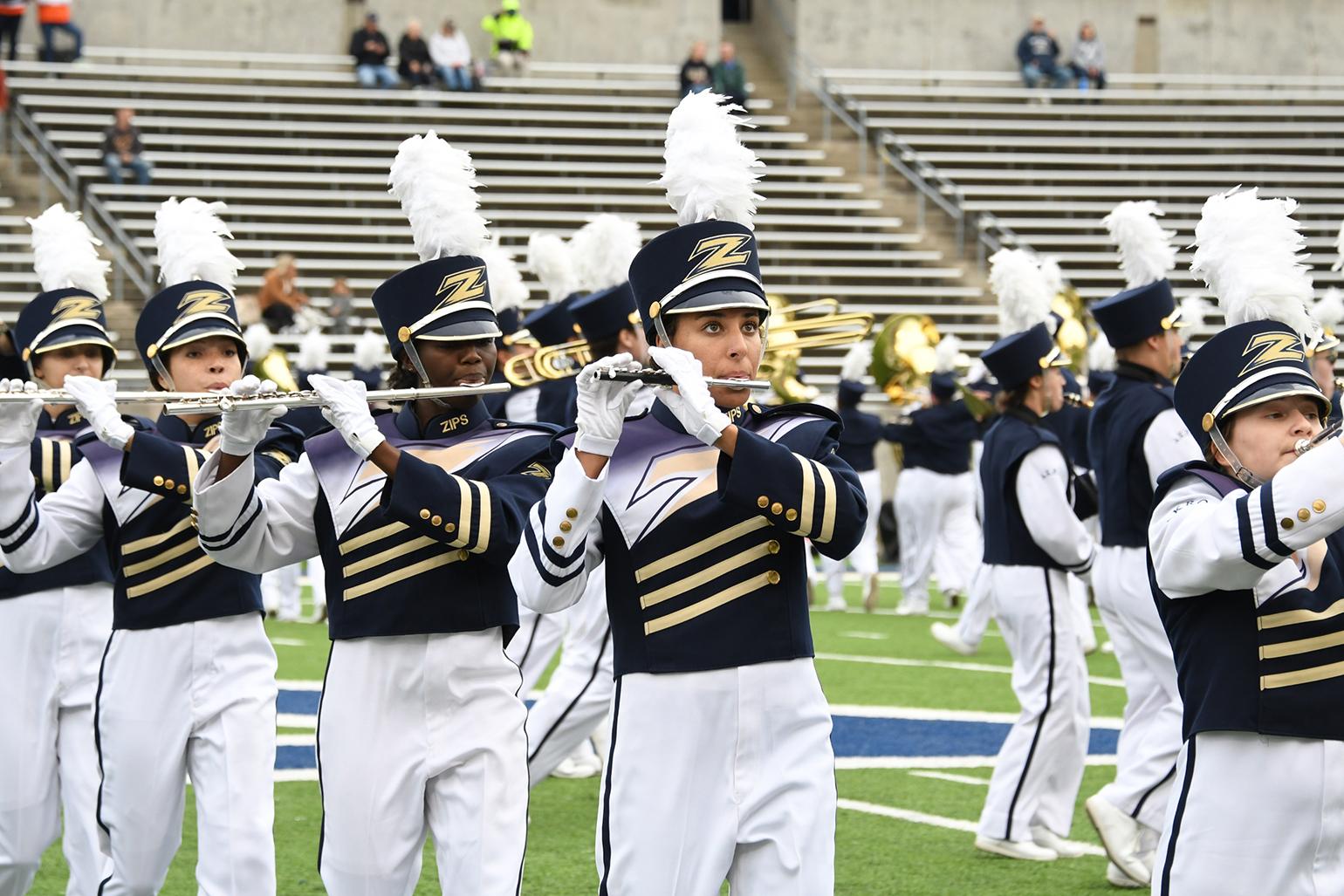 For more than 120 years, The University of Akron's (UA) marching band has been one of the most visible student organizations on campus.
From intricate pre-football game marches on InfoCision Stadium's Summa Field to rousing appearances at major University events and beyond, the marching band, known as Ohio's Pride, fills crowds with UA spirit.
There is so much more to the band, however. It's an educational experience for hundreds of students eager for careers in music education. It's an outlet for non- music majors who want to stay active, be engaged and cheer for the Zips. It's a recruiting tool for the University.
For students in the program, band offers more than an opportunity to play music, said UA Director of Bands Galen Karriker, who has been with the program since 1999.
"Some love to perform. Some love football. Some just want to hang out with friends in the stands," he said. "It's a fascinating thing about a band. You celebrate the diversity in the individual because that's important to the makeup and fabric of the organization, yet we're striving for uniformity in everything we do."
Growing the Band
In addition to its visibility in the community, the marching band is also one of the University's most enduring student programs. The band was founded between 1900 and 1910, and in 1938 it began to perform at Zips football games.
Numbers climbed steadily over the decades — the addition of a small stipend in the 1970s boosted numbers, as did the University's decision to allow marching band to fulfill the physical education requirement. There are now around 240 members, and the stipend is $1,000 a year per student.
The band performs at all home football games and one Mid-American Conference away game each season.
The band also hosts recruiting events. The Zips Invitational High School Band Show features marching bands from all over the state. Zippy's All-Star Marching Band offers individual high school marching band members the opportunity to play alongside the UA band during a halftime performance at a football game. During High School Junior/Senior Day, prospective students can sit with the band in the InfoCision Stadium stands.

Marching into a Teaching Career
A portion of the current members intend to pursue a career in music education. That means the band program is a vital learning experience for students who want to teach and is the reason the band uses a few different styles of marches in its programs. Karriker wants students to be prepared for a range of marches they might encounter in any program.
UA band members also have an opportunity to learn important lessons by becoming involved in the organization's student leadership structure. Each spring, band members apply for positions, such as squad leaders, who teach marching fundamentals to groups of four in their instrument groups, and music leaders, who focus on performance techniques for their instrument groups. The students who are selected go through leadership training in the spring and summer.
Kristen Flinner, a flute player and third-year instrumental music education major from Louisville, Ohio, said she's learning both classroom and life lessons she intends to pass on to future students.
"Being involved in marching band inspires me to be a better music educator, teammate and person," said Flinner, who was part of the leadership in 2022. "The lessons we teach and rally behind in marching band, such as 'Leave it better than you found it, 'Go to class! (and sit in the front row),' 'Who we are, what we do,' I will carry with me and those will become lessons I will teach my future students."
There are plenty of non-music majors in the band, however. Students come from nearly every college of the University.
"One of the things that is beneficial about this experience is you can have friends [in the marching band] that are in your major and in class with you," said Harley Nunez, a third- year dual instrumental music education major and percussion performance major from Canton, Ohio, who plays the tenor drum, known as the quad. "But it's healthy to have another group of friends that aren't, so you're not just talking about what it is you're majoring in."
Building Bonds in the Pre-Season
UA marching band members spend many hours with each other during home football game days, but the first bonds of friendship and team spirit are established well before the season has started.
Each summer, the band gathers for a weeklong pre-season camp. It's an intense experience of 12-hour days when all band members learn the music and marching fundamentals for the 11-minute pre- game show. First-year members realize they have a lot of new traditions and marching styles to take in, and almost everyone is exhausted by the end.
It's also the week during which the band becomes a cohesive unit.
"Pre-season camp is very important," Nunez said. "Our members come from all different backgrounds and styles of marching, so we have to unify what our style is and teach that to everyone. It is a tough week, but there's something special about knowing
the couple hundred people around you have the same goals and desires and are in it with you even if you hardly know anyone there yet."
The band also spends a session learning about how to function in the stands during the games — what happens when the Zips score, for example.
"That's always a cool night, because that's the first time they get to play the fight song together," Karriker said. "These are just more moments on their journey. You know, marching band is not easy. But these students have a lot of pride in what they do."
Story by Jessica Whitehill
Share