Polymer professor recognized for his research on 2D materials
03/10/2022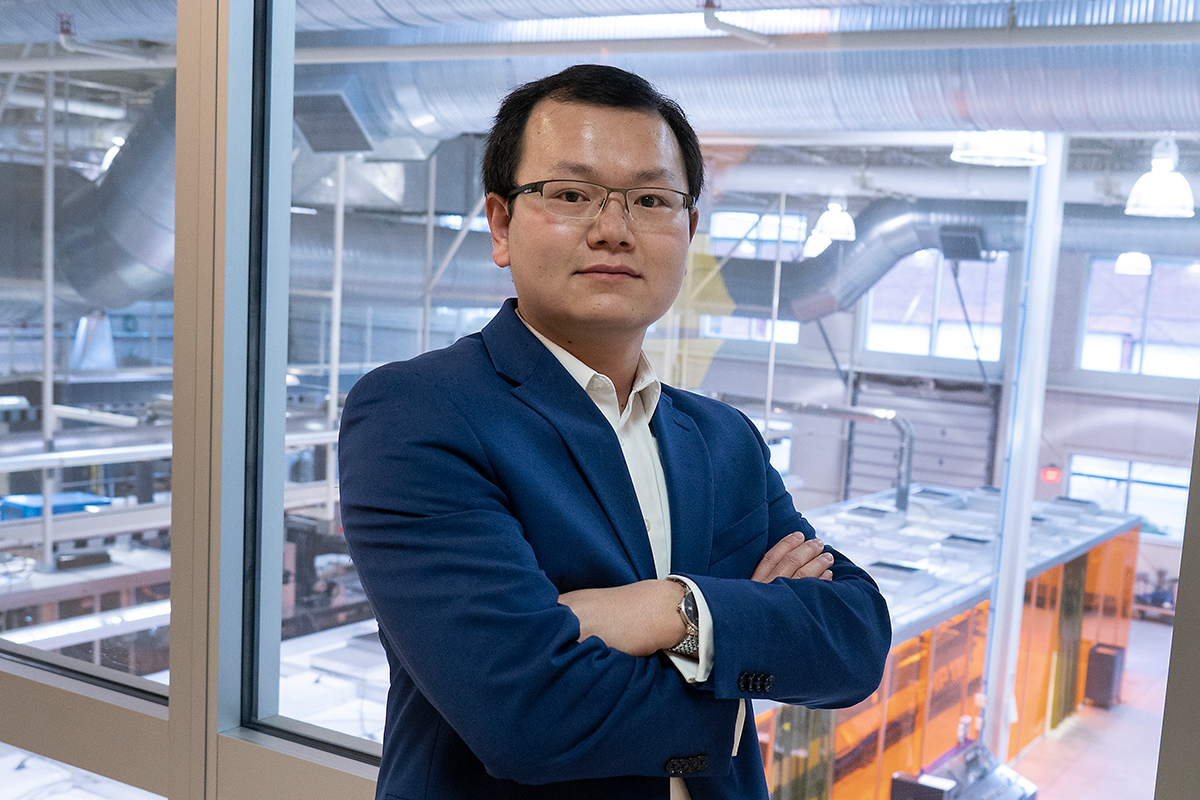 Dr. Weinan Xu
Dr. Weinan Xu, assistant professor in the School of Polymer Science and Polymer Engineering, was awarded the 2022 Polymer Processing Society Early Career Award. This award recognizes researchers who stimulate originality and potential for continuing creativity in the science and technology of all polymer processing related areas.
Describe your research.
My research is focused on changing the design and advanced fabrication of polymer composite or hybrid materials to improve their capabilities. Polymer composites are used everywhere in our lives, from outdoor decking to prosthetic devices and airplane frames.
The next-generation polymer composites with advanced functionalities such as high conductivity and stimuli-responsiveness need to have new types of nanomaterials in them in order to do their jobs. Take graphene, for example, which is a one atomic layer thick carbon sheet. It is 100,000 times thinner than human hair and 200 times stronger than steel. It is an incredible nanomaterial with countless applications, but it has its challenges when used in polymer nanocomposites, such as uncontrolled aggregation and lack of functionalities.
My lab is addressing this issue by changing the design of the surface chemistry of both atomically thin single layer materials (called 2D materials) and the polymer matrix to improve their compatibility and introduce stimuli responsiveness such as to temperature and humidity.
What are the real-world implications of this work?
My research has the potential to be used in next-generation electronics, soft robotics, and lightweight composites for automobile and aerospace.
What challenge were you setting out to address when you started this work?
One of the unique advantages of using atomically thin 2D materials such as graphene in polymer composites is that significant mechanical, electrical and thermal property enhancements can happen at low nanomaterial loadings, often in the range of 0.1-5 weight percent. But in reality, due to the uncontrolled aggregation and incompatibility between graphene and polymer matrix, only limited property enhancement occurs. We aim to overcome that limitation.
Who will benefit from this work?
Researchers in material science, advanced manufacturing, and electronic devices field.
What does it mean to you personally to receive this recognition?
It is encouraging to me as a junior member of faculty. This award shows that our work has positive impact on the polymer processing field.
Is there anything else you would like to share?
I would like to thank my colleagues in the School of Polymer Science and Polymer Engineering for their support and mentoring. I also want to thank my students for their hard work and exciting progress in research.
What is next for your research?
Atomically thin 2D materials can be transformed into 3D structures with the help of surface functionalization and polymer grafting. We aim to develop scalable and precise methods for generating 3D micro/nanostructures with broad applications in energy storage and biomedicine.
---
RELATED CONTENT:
---
Media contact: Cristine Boyd, 330-972-6476 or cboyd@uakron.edu.
Share