Significant airship collection lands on campus
03/07/2018
Alan "AirshipAl" Gross, airship aficionado and collector of all things related to blimps and dirigibles, donated his significant collection of historic airship materials to The University of Akron Archival Services, a division of University Libraries.
The Alan "AirshipAl" Gross Collection, which represents a lifetime of collecting, consists of approximately 100 boxes of rare materials that document the history of lighter-than-air flight in Akron and beyond. It not only documents the history and development of the Goodyear blimps, but also other airships significant in the history of lighter-than-air flight. A small segment of the collection has arrived here, and more is expected later this month.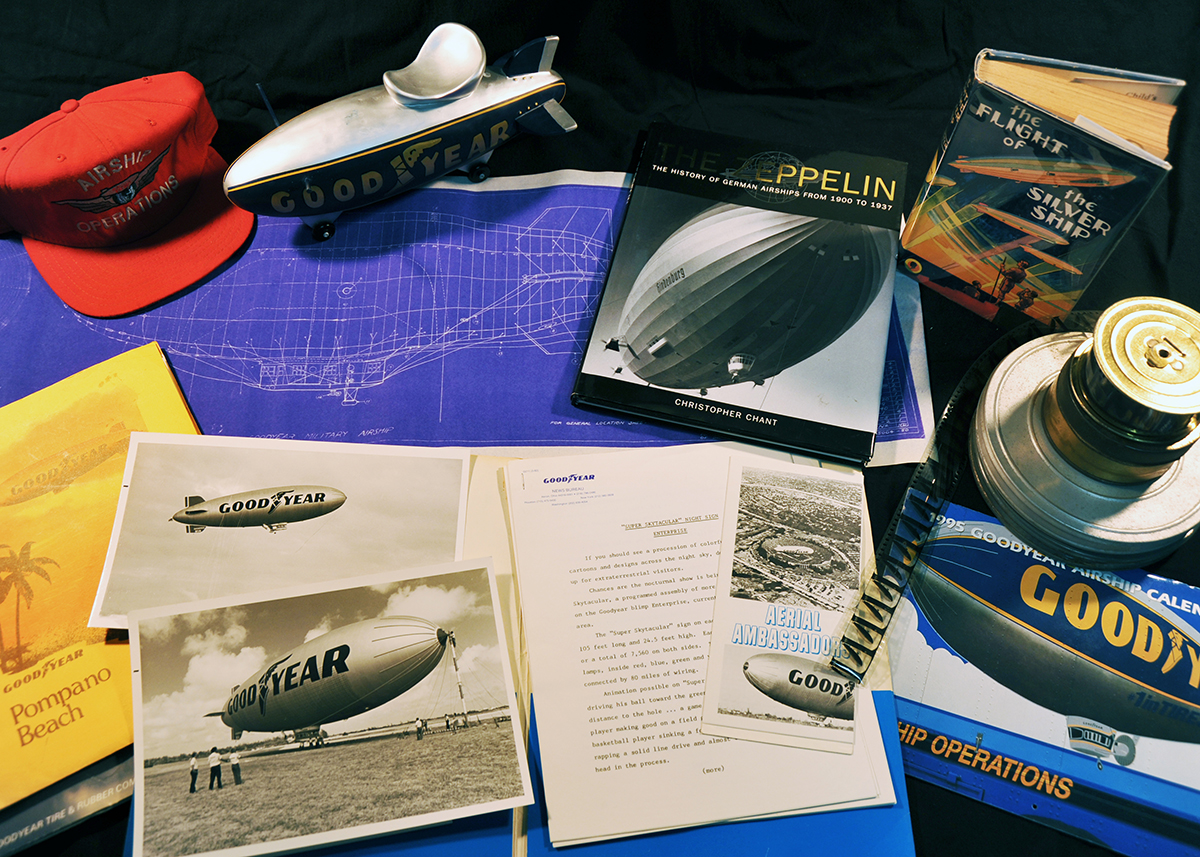 The collection contains a wide variety of materials — from press kits, flight manuals and training notes to magazines, periodicals and books. It even includes clothing, such as blimp pilot uniforms, in addition to inflatable toys and other airship novelty items and collectibles.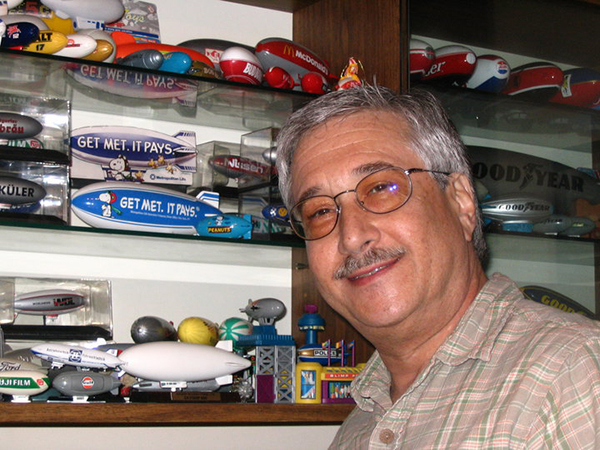 Alan Gross with models in his collection.
Most significant is the rare historic motion picture film and video footage that document various blimps, in addition to the work of Airship International and Airship Enterprises Ltd, says Victor Fleischer, University Archivist and head of Archival Services.
The collection will be useful to a diverse audience ranging from students and faculty to lighter-than-air enthusiasts, historians and scholars. "This donation is incredibly exciting, as it is one of the largest, most significant and most diverse collections of lighter-than-air materials we have ever received," notes Fleischer.
"My life has been dedicated to collecting and preserving lighter-than-air history," notes Gross himself. "I amassed a huge amount of unique material, which I've enjoyed and learned from. I chose The University of Akron because it's the best place to catalog, preserve and utilize these items for a long time to come. This is my legacy!"
About Alan Gross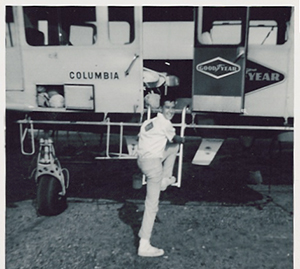 Alan Gross boarding a blimp in 1964, the year his interest in lighter-than-air flight took hold.
Alan Gross first became involved with blimps in 1964, when he watched two Goodyear blimps at Flushing Airport during the New York World's Fair. He spent a great deal of time observing Goodyear's airship operations, and in time took a summer job as a "rope grabber" for the Goodyear blimp crew.
Gross studied electronic journalism and public relations at Syracuse University before embarking on a long career in television, at which time he began amassing a videotape collection featuring his interests in lighter-than-air flight. His extensive collection was later used to create marketing videos for several airship operating companies, including Airship Enterprises Ltd. and Airship International Ltd. Gross currently serves as an airship consultant in Flushing, N.Y. Additional information is available online.
About Archival Services
Archival Services collects, preserves and provides access to historic resources that primarily document the history of The University of Akron and the region. It is known throughout the world for its collections on the history of the rubber industry and lighter-than-air flight. The department, located in Polsky Building LL10, is open to the public, Monday through Friday, 8 a.m. to 5 p.m. Appointments are recommended, but not required. To learn more, visit Archival Services online.
---
Media contacts: Victor Fleischer, 330-972-6253 or svfleis@uakron.ed, or Lisa Craig, 330-972-7429 or lmc91@uakron.edu.
Share