The College of Engineering welcomes new faculty
08/22/2019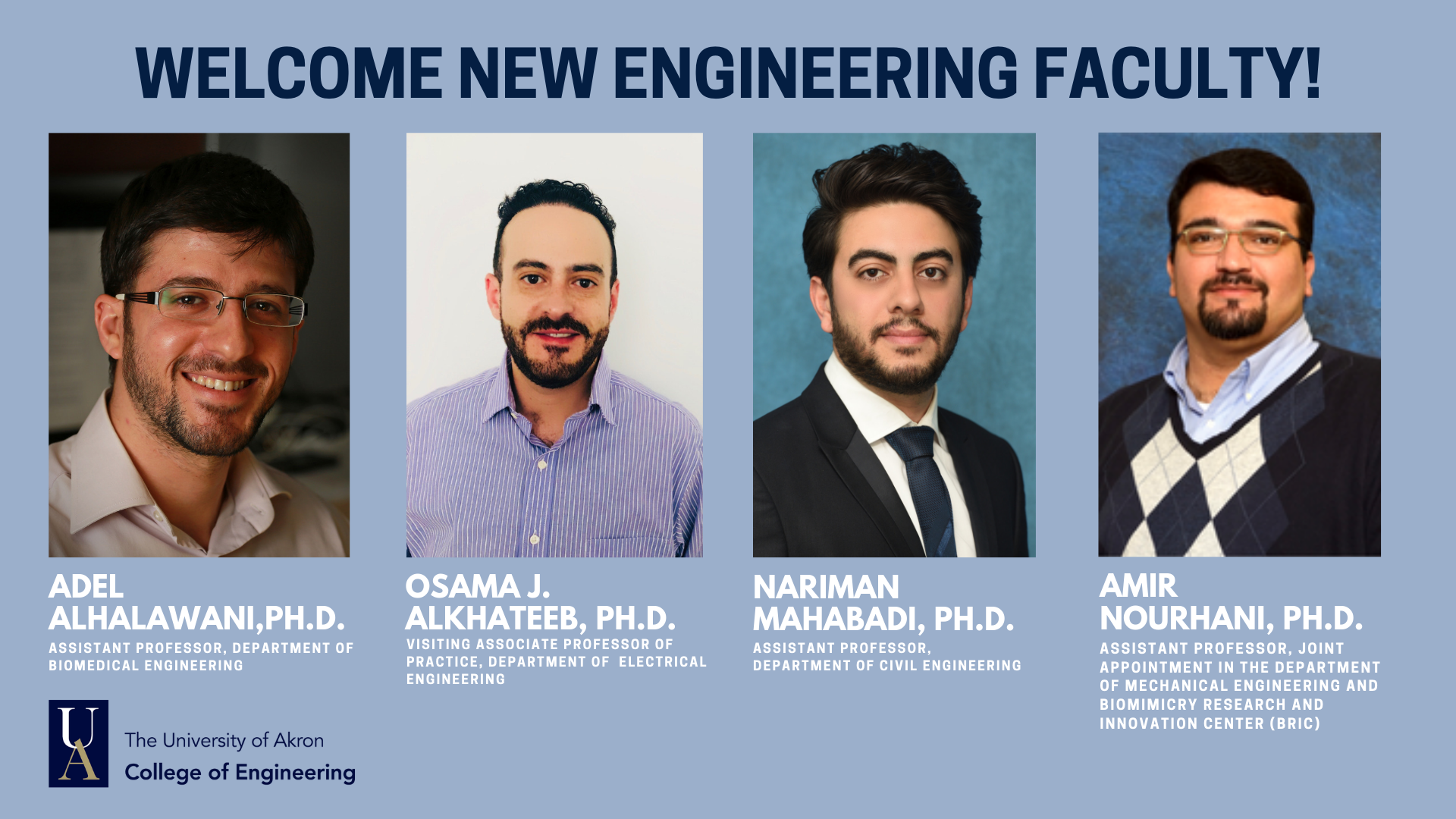 The College of Engineering is pleased to welcome four new faculty members for the 2019-2020 academic year.
Adel Alhalawani, Ph.D.
Assistant Professor, Department of Biomedical Engineering
Dr. Alhalawani was a postdoctoral fellow and sessional instructor at Ryerson University in Toronto prior to joining UA. He has focused on the development of novel medical devices for health care applications in his career. Dr. Alhalawani has a patent (pending) and 18 peer-reviewed publications on a novel bioglass-based material for sternal fixation and stabilization, post median sternotomy surgery. He is a professional engineer in Canada and Jordan and has more than three years of industrial experience in research and development. He obtained three different teaching certificates in 2018 focused on experiential and active learning.
Ph.D. Mechanical Engineering, Ryerson University (Canada)
M.S. Engineering Science, University of Malaya (Malaysia)
B.S. Biomedical Engineering, Mehran University of Engineering and Technology (Pakistan)
---
Osama J. Alkhateeb, Ph.D.
Visiting Associate Professor of Practice, Department of Electrical Engineering
Dr. Alkhateeb's most recent appointment was as a lecturer at Al- Balqa' Applied University in Jordan where he taught courses in Electromagnetics and Antenna Theory. Previously, he was a Research Assistant at The University of Akron while he was completing his Ph.D. His research interests include Computational Electromagnetics, Wireless Communication and Propagation, Antenna and RF design, and Characterization of Nanoscale systems. Before receiving his doctorate, Dr. Alkhateeb worked as an Application Engineer at International Maintenance Technologies in Jordan.
Ph.D. Electrical Engineering, The University of Akron
M.S. Electrical Engineering, The University of Akron
B.A. in Electrical Engineering, The University of Jordan
---
Nariman Mahabadi, Ph.D.
Assistant Professor, Department of Civil Engineering
Dr. Mahabadi was an assistant research professor at the NSF funded Engineering Research Center of Bio-mediated and Bio-inspired Geotechnics at Arizona State University before joining UA. He has been working on developing new ecologically friendly, efficient and sustainable solutions for ground improvement and researching what the chemical and physical interactions of fluids in soils and fractured rocks can tell us about future energy resources. His goal is to develop bio-inspired technologies to mitigate environmental impact and improve the sustainability of the civil engineering practice. Learn more about his work.
Ph.D. Civil Engineering, School of Sustainable Engineering and the Built Environment, Arizona State University
M.S. Civil Engineering, School of Civil and Environmental Engineering, Wayne State University
M.S. Civil Engineering (Hydraulic Structures), Amirkabir University of Technology (Iran)
B.S. Civil Engineering, Azad University (Iran)
---
Amir Nourhani, Ph.D.
Assistant Professor, joint appointment in the Department of Mechanical Engineering and Biomimicry Research and Innovation Center (BRIC)
Dr. Nourhani, who previously was a visiting research scholar at the University of California San Diego before joining UA, conducts research in the areas of theory, simulation, and experimental investigations of microscale fluid dynamics and soft matter with a focus on bio-inspired and biomimetic microrobots, microcyborgs, and autonomous microsensors for potential applications in biomedical, environmental and energy areas. For example, he is working on developing self-propelling microrobots that could be used for future applications like decontaminating water or approaching an unhealthy cell to release a therapeutic drug. Learn more about Dr. Nourhani's work.
Ph.D. Physics, Pennsylvania State University
Ph.D. Chemical Engineering, Pennsylvania State University
M.S. Physics, Sharif University of Technology (Tehran)
B.S. Physics, Amirkabir University of Technology (Tehran)
B.S. Polymer Engineering, Amirkabir University of Technology