UA's Tyler Bennett reaching for the gold at 2016 Paralympic Games
09/06/2016
---
Ask Tyler Bennett his favorite place to be, and he'll tell you a soccer field. Doesn't matter where — he's played in tournaments all over the world — from England and Holland to Germany, Ireland and South America. And this week, the midfielder and his teammates representing the United States begin their quest to triumph on the pitch and medal at the 2016 Paralympic Games in Rio, Brazil.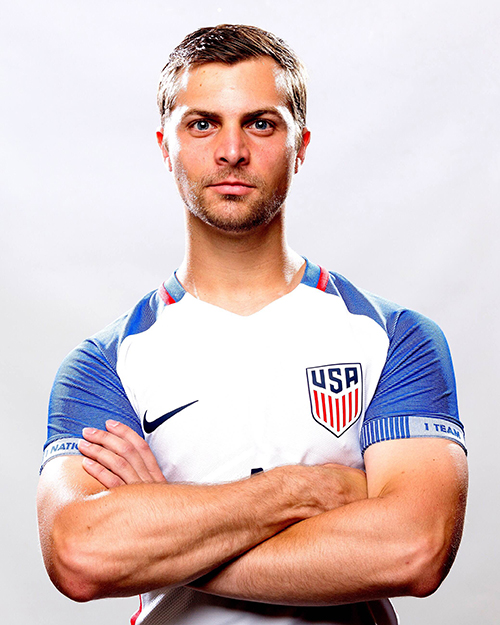 Tyler Bennett
But for Bennett, an exercise science major at The University of Akron, the true triumph is being able to play soccer at all.
He's loved the sport since the age of 4 when his parents registered him for a team. "I was a hyper little kid and they wanted to help me get all my energy out," he recalls with a smile.
Displays early talent
Bennett clearly had a gift for soccer, or football, as it is known throughout most of the world. He worked hard at it and was playing on multiple teams by the age of 7.
Then, at age 12, he was stricken with a sudden, sharp pain that shot down his back — an artery in his brain had ruptured. Multiple surgeries followed, including one to implant a magnetic shunt to ensure that spinal fluid drained properly. The trauma to his brain left him with deficits to overcome.
If returning to soccer seemed like a long shot to those around him, it never occurred to Bennett that he was through with the sport.
Regaining his stride
"Getting back into soccer was hard and slow," admits Bennett, who was in physical therapy for many months to regain the use of his left side. "I was clumsy, but I worked and practiced so much, people can't tell I have any disability at all. I came from not being able to walk by myself and walking with a walker all the way up to playing varsity soccer in high school."
And, he was going to camps and participating in tournaments with the U.S. Paralympic National Soccer Team before he graduated from Wadsworth High School in 2011. It was a trainer for the Grizzlies, who had done some work with the Paralympic team, who paved the way for Bennett to tryout.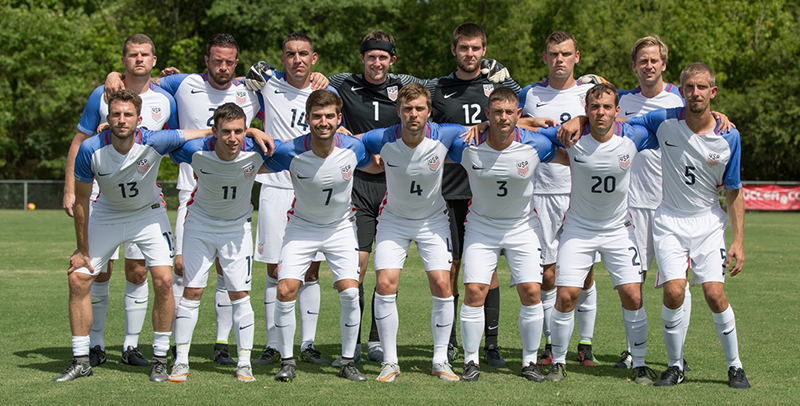 Tyler Bennett, No. 4, is center front in this photo of the 2016 U.S. Paralympic National Soccer Team.
"It's an ongoing thing. It's not like I'm on the team — I have my spot," he explains. "Going to camps and practices qualifies you to be picked for each tournament."
Maintaining an edge on field and in class
"I have to work at it because there are always new people coming in that are getting classified to be on the team. It's pushed the team forward and helped us," says Bennett, who is classified as having a "minimal, one-sided disability."
Summer Paralympic Games
More than 4,300 athletes from across the globe will participate in the 2016 Summer Paralympic Games — a multi-sport event for disabled athletes — scheduled Sept. 7 to Sept. 18 in Rio de Janeiro, Brazil. The U.S. Paralympic Team has 289 members.
The men's soccer team, of which UA's Tyler Bennett is a member, will first face the team representing The Netherlands on Thursday, Sept. 8, at 6:30 p.m. in Deodoro Stadium. The U.S. team also will take on Iran on Sept. 10 at 3 p.m. and Argentina on Sept. 12 at 1 p.m.
Learn more about the 2016 Summer Paralympic Games and follow Team USA online or on Facebook.
The effort on the field extends to his studies at UA, which he manages along with the demands of his travel schedule with the team. "It's hard but I do it, says Bennett. "My teachers are extremely supportive in helping me schedule tests and turning in homework."
"Tyler exemplifies what it means to be a student-athlete," notes Melissa Smith, a visiting instructor in the School of Sport Science and Wellness Education. "He balances hard work in the classroom and on the soccer field extremely well, especially given that his team requires travel for training camps and tournaments throughout the year. Tyler has such a humble spirit that most of his classmates, and maybe even some of his professors, are unaware of his talent on the soccer field. We are absolutely thrilled for him to be able to represent UA and the U.S. in Rio."
Career aspirations
Bennett, who will graduate in spring 2017, says it was the time spent in physical therapy recovering from traumatic brain injury that led him to his major. "I want to help others get better. Eventually, I would really like to be a physician's assistant."
But for now, he's focused on the games ahead in Rio.
He and many of the other players also competed in the 2012 Paralympic Games in London, England. The team didn't come close to winning a medal, but all the hard work and their experiences since then have led the team to be ranked seventh in the world.
And beyond Rio?
"Going forward, soccer will always be in my life," Bennett affirms. "After this year, I'm going to push to be my best, no matter what happens in Rio and after it. I'm always going to push myself. I'm pretty young, compared to some of the teammates I've had. I still have awhile to push and work."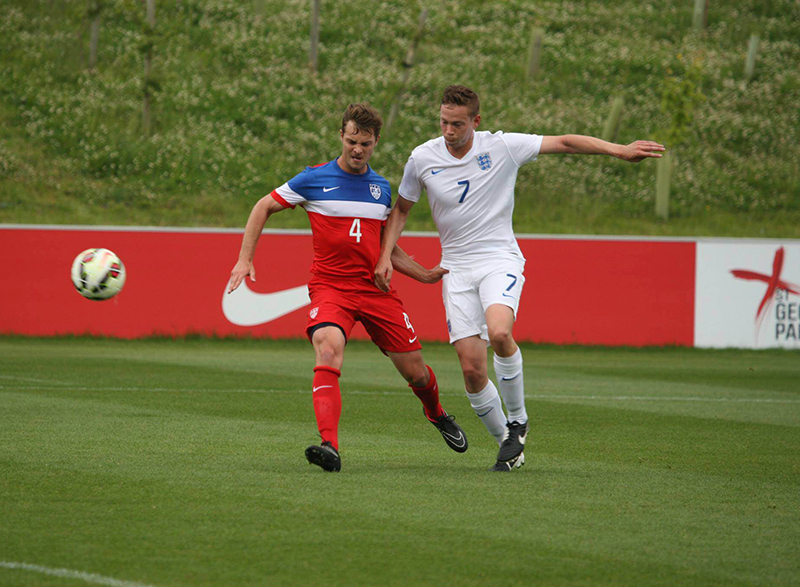 Seen here on the field is Tyler Bennett, left, who plays soccer year round with the U.S. Paralympic National Soccer Team.