Women's Committee supports cybersecurity program
09/12/2019

The UA Women's Committee awarded $12,000 in support for The R.C. Musson and Katharine M. Musson Charitable Foundation Industrial Control Systems Testbed. The testbed is part of the University's cybersecurity efforts to advance knowledge, skills and abilities in the cybersecurity workforce.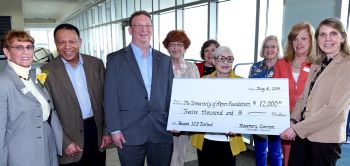 Members of the UA Women's Committee present their gift to faculty and dean Elizabeth Kennedy (far right).
Housed in the College of Applied Science and Technology's Business and Information Technology department, the cybersecurity program teaches ways and methods of protecting manufacturing information systems, aiding Ohio manufacturer's ability to fill high-demand jobs and secure Ohio's public and private infrastructures.
The Women's Committee, founded in 1948, has dedicated countless volunteer hours creating interest in the University by community members. In addition to project-specific grants, the Committee provides annual support to its endowed scholarship, its international college ambassador award, and the Judith A. Read Memorial Leadership Award.