ABC's 'Nightline' interviews Green for segment on Ohio's political climate
11/05/2012
---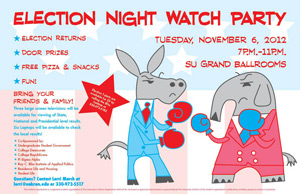 Bliss Institute Watch Party
Student, faculty, staff and their guests are invited to the Bliss Institute's Election Night Watch Party from 7 to 11 p.m. Tuesday, Nov. 6 in the Student Union Ballroom.
Large-screen televisions will deliver results from local, state and federal races.
---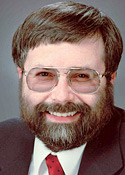 Dr. John Green
---
Dr. John Green, director of UA's Ray C. Bliss Institute of Applied Politics and a distinguished professor of political science, was interviewed last week for the Monday, Nov. 5 edition of the ABC News program, "Nightline."

Bill Weir, a news anchor with "Nightline," interviewed Green on Oct. 31 as they walked along Akron's Main Street and discussed Ohio's importance in the upcoming presidential election.

Weir and the Nightline staff have been touring the "battleground" states and doing segments from each one, going to barber shops, lunch counters and other spots of Americana in Ohio, Wisconsin, Florida and Virginia. The Ohio segment was the last to air prior to the Nov. 6 election.
Related: