'Natural advocate' ready to begin his law career
01/28/2013

Before he crossed the threshold of his first law classroom at The University of Akron, Robert Campbell knew exactly what the role of advocate required. After all, he had learned to fight for his own rights years before.

It was at the age of 16 — when he should have been learning to drive a car — that Campbell started losing his sight to retinitis pigmentosa.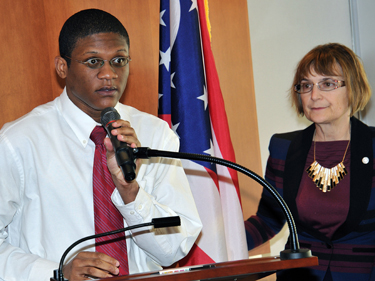 Robert Campbell, who is now studying for the Ohio Bar Exam, speaks at the Board of Trustees meeting as Elizabeth Reilly, interim dean of the School of Law, looks on.
---
"It hit really hard — one day I didn't even need glasses, and the next I was losing my night vision," recalls Campbell. "I needed thicker and thicker glasses and large print textbooks so that I could read."
What hit the 11th grader even harder was the Cleveland City School Board's decision to pull him out of regular classes at Martin Luther King High School and place him in the school's special education classes.
Advocate finds his voice
"My parents didn't know anything about blindness and deferred to the school board, but I knew the difference between special ed and reasonable accommodations," recalls Campbell. He soon convinced his parents to threaten a lawsuit if the board would not reverse its stance.
The threat of legal action worked. By his senior year, Campbell was in advanced placement classes. He was inducted into National Honor Society and graduated fourth in a class of 150.
Campbell's early experience in being judged by his disability and not on his merits is in sharp contrast to his Akron Experience, as he told UA's Board of Trustees as a guest speaker at its Dec. 12 meeting.
"The Office of Accessibility has always been helpful with any concerns I had with transportation or study accommodations," says Campbell. "And there are so many incredible people at the law school who have been generous with their time and advice."
Elizabeth Reilly, now interim dean of the School of Law, is one of them.
"I taught Robert in his first year at the law school, in Torts, and we have kept in touch throughout his career at the school," recalls Reilly. "Every one of my interactions with Robert has been positive. He is that special of a person.
Accomplishments celebrated
"He really wanted to be selected for Akron Law Review, and came by to celebrate the news that he had made it, and later, that he had been chosen as an editor — both high academic and personal achievements," notes Reilly. "Robert sets high goals for himself, is determined and perseveres."
Campbell is the first to admit that it has not always been easy.
As an undergraduate at Bowling Green State University, where he had a full scholarship for the first two years, he tried early on to hide his disability, not willing to come to terms with it.
"Initially, I had enough sight so that I could get around on my own during the day without a cane," says Campbell, who majored in political science. "I wanted to be independent. But my sight just got so bad so fast. This was happening at an important time in my life and it was hard to cope. I would just go to classes. I was pretty isolated and I missed out on a lot.
"Eventually, I got it together in my junior year," recalls Campbell. "It was so much easier when I embraced my blindness and became open about it. It was a real turning point."
One of the highlights of his time at BGSU was being a member of its nationally ranked mock trial team. He won several awards as best attorney and became team captain.
Finding his niche
At UA, Campbell not only made the Akron Law Review, he was on the moot court team. He also gained practical experience, under the supervision of a licensed attorney, litigating criminal misdemeanor cases for the Barberton Prosecutor's Office.
"I loved it — I'm a true trial attorney at heart," says Campbell with a smile. "And, I won all my cases."
Campbell finished his coursework in fall 2012, in the top 20 percent of his class. As he studies for the Ohio Bar Exam, he is eager to begin his law career.
"I know within me is a natural advocate, and now I have the skills to advocate for others," says Campbell. "I look forward to passing the bar and working as an attorney in Cleveland."