C-SPAN's Campaign 2012 Digital Bus on campus Tuesday
10/01/2012

In the 2012 presidential election, the battleground state of Ohio, as usual, is poised to play a key role in deciding whether President Barack Obama will be re-elected or former Massachusetts Gov. Mitt Romney will become the nation's next president.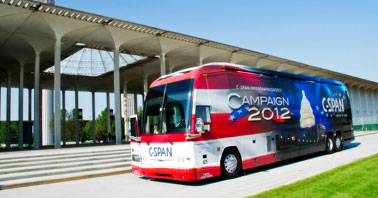 You can tour C-SPAN's Campaign 2012 Digital Bus from 12:30 to 2:30 p.m. Tuesday in the metered parking lot behind UA's Student Union.
---
That's why C-SPAN — the national public affairs network that provides nonpartisan, 24-7 coverage of the U.S. government — will park its educational, interactive Campaign 2012 Digital Bus on the Akron campus on Tuesday, Oct. 2. The bus also stopped on campus June 29.
The free public event, hosted by C-SPAN and its local partner Time Warner Cable, will be held from 12:30 to 2:30 p.m. in Lot 18, the metered parking lot behind UA's Student Union, 303 Carroll St. The lot will close by 7 a.m. Tuesday in order to make room for the bus.
C-SPAN is targeting colleges and universities like UA since it is a presidential campaign year, says Christopher DeManche of C-SPAN marketing. "We are showcasing our diverse resources and looking to encourage first time and seasoned voters to use us to get information on the presidential election and public affairs programming overall," he added.
UA also is one of the few universities with a program specializing in applied politics. The Bliss Institute of Applied Politics was founded in 1986 and named after Ray C. Bliss, an Akron alumnus, trustee and former chair of the Republican National Committee. The institute involves its staff and students in applied and scholarly research, providing a source of up-to-date information for the public, as well as political practitioners and academicians. The institute's executive director, Dr. John Green, is one of the national media's most sought-after and oft-quoted political analysts.
Faculty, staff and students and the public are invited to check out the bus and engage in the 2012 political process with representatives of the network, a nonpartisan, nonprofit company created by the cable television industry in 1979 to provide public access to the political process.
Visitors to the Campaign 2012 bus will have the opportunity to look inside the vehicle, which is equipped with more than $1 million worth of high-tech digital technology. The digital bus crew will demonstrate how to access information through on-board HDTVs, touch-screen computers, laptops and mobile devices. In addition, visitors will be shown how to use social media and C-SPAN's website to access information about the 2012 presidential candidates, as well as Ohio's representatives in Congress.
The bus is designed to host visitors in two main areas, the "classroom" setting in the back and a front interactive section.
---
Video: See inside the bus
---
Aboard the bus visitors will find:
Examples of C-SPAN's campaign coverage in both high and standard definition
Kiosks demonstrating C-SPAN's many web-based offerings including access to the network's 170,000+ hours searchable video archive-Video Library
Campaign 2012 information and trivia
Opportunities to stay connected with C-SPAN on social media platforms
C-SPAN launched the interactive bus program in 1993 as an affiliate and education relations tool and to gather public affairs programming from across the country.
Learn more about the bus from C-SPAN.
---
Media contact: Laura M. Massie, 330-972-6476 or massie1@uakron.edu