Bucking the trend and saving bucks for students
02/06/2013
ABOUT THE SCHOOL OF LAW
Website: www.uakron.edu/law
Law admissions and financial aid: Website.
Ranking: The school is the highest-ranked law school in Ohio by The National Jurist, in its 2012 rankings of Best Value Law Schools.
Who we are: The school promotes justice, the protection of individual liberty and the rule of law through commitment to excellence in teaching, scholarship and service. The law school features renowned programs in intellectual property, professional responsibility and trial advocacy, and is home to one of four Constitutional Law Centers in the United States, established by the U.S. Congress in 1986.
TO AVOID FALLING VICTIM to a national trend hurting law schools around the country, The University of Akron School of Law has developed a proposition that improves the value of a law degree.
The University of Akron is freezing law school tuition for the Fall 2013 entering class until they graduate, and offering out-of-state students the in-state tuition rate (reducing the out-of-state surcharge to $50 per fall and spring semester), creating a value proposition that is unique in Ohio.
The UA School of Law is the highest-ranked law school in Ohio by The National Jurist, in its 2012 rankings of Best Value Law Schools. The rankings, for the first time, included comprehensive employment data. Best Value Law Schools were selected because their graduates have "the best chance of passing the bar and getting a legal job, without taking on a ton of debt" (The National Jurist, September, 2012).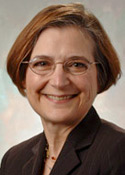 Elizabeth Reilly
---
"Many law schools have shrunk their programs, or lowered their admissions standards, or cut their staffs," says Elizabeth Reilly, Interim Dean. "We've chosen to focus on what we believe will help our students succeed. They still need a great education, and reasonably priced, so they don't suffer under the weight of tremendous debt. They need experience on-the-job, and preparation for practice is infused throughout our program. Finally, they need to get a good job after graduation in their chosen area of expertise."
Akron's annual bar exam pass rate for first-time-takers meets or exceeds the state average, and the job placement rate is over 90 percent with an average salary of $57,856. Akron law graduates incur an average debt that is 15 percent less than those from other public law schools and 43 percent less than those at private law schools.
In the media:

New York Times: "A Call for Drastic Changes in Educating New Lawyers"

Cleveland Plain Dealer: "University of Akron law school freezes tuition, gives break to out-of-state students"
Average debt for an Akron law graduate is $66,283 (compared to $77,640 at other public universities and $116,842 at private law schools). Annual tuition will be $21,375 (for a 30 credit full-time load), and $17,100 (for a 24 credit part-time load) for the Fall 2013 entering class, making Akron one of the most affordable law schools in the state.
"Add to this the value of living in Ohio, where the cost of living is more affordable than many other locations in the nation, and we believe we have an unmatched value proposition," says Dean Reilly.
Around the nation, law school applications are headed for a 30-year low, with a 23 percent decline in applications reported this year. Much of the decline is due to rising student debt and diminishing prospects for lucrative employment, as the New York Times reported recently. In Ohio last year, law school application decreases ranged from -9.3 percent to -31.4 percent (Akron, -12.2 percent) among the 9 schools. The quality of student performance in the entering class at UA School of Law remained strong, however, and UA's 2012 entering class had the smallest enrollment decrease in the state (down 4.6 percent) compared to the -8.8 percent to -29.5 percent enrollment decreases among the remaining 8 Ohio law schools.
"We will continue to buck the trend, while making certain that our students are the ultimate beneficiaries. We are meeting the challenge of the cost of law school head- on, by making our costs predictable throughout and giving access to our high quality legal education at affordable public university tuition for anyone in the country or the world," says Dean Reilly.
---
Media contact: Laura M. Massie, 330-972-6476 or massie1@uakron.edu