Civil engineering students excel at regional competition
04/11/2013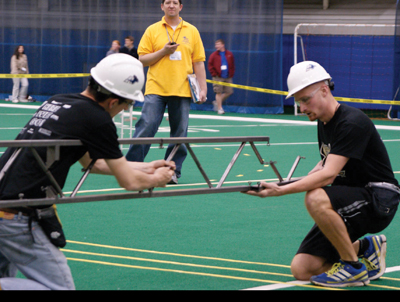 UA steel bridge team members prepare for competition. The team placed second in the regional competition and will advance to compete nationally May 31 to June 1 at the University of Washington.
---
The University of Akron's steel bridge team has advanced to the finals of the 2013 National Student Steel Bridge Competition, which takes place May 31-June 1 at the University of Washington. UA had two student engineering teams place second at The Ohio Valley Student Conference, competing in a steel bridge contest and a concrete canoe competition.

Students on the steel bridge team participated in an intercollegiate competition that encouraged them to combine skills in structural design, fabrication, construction planning, organization, project management and teamwork to design, fabricate and construct a scaled steel bridge judged on stiffness, lightness, construction speed, display, efficiency and economy.

In Hinckley, the concrete canoe team performed against eight schools on April 5, at Hinckley Lake, and the steel bridge team faced 13 competitors in the American Institute of Steel Construction Steel Bridge Competition, April 6, at Cleveland State University.

The concrete canoe team was charged with designing a canoe made from concrete and demonstrating its merit based on race results, a technical paper, an oral presentation, the watercraft's aesthetic quality and its overall presentation.
See also: College of Engineering student design teams.


Story by Tyeal Howell
---
Media contact: Denise Henry, 330-972-6477 or henryd@uakron.edu.