Researcher devises Rx for ailing wellness programs
12/04/2012
---
CORPORATIONS SINK millions into wellness programs that don't work.
They don't work because:
They are not personalized — what motivates one employee to exercise may not motivate her colleague.
Managers lack real-time data to improve program effectiveness.
The programs often strive for optimal goals, when good-enough results would yield broader benefits.
A computer engineering professor at The University of Akron has devised a novel design for future wellness programs. The National Science Foundation praised the proposal and awarded $1.3 million to test and validate the Personal Wellness Management System.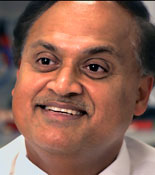 Dr. Shivakumar Sastry
---
"There is a critical national need for cost-effective programs that encourage exercise and healthy lifestyle behaviors," said the professor and principle investigator, Dr. Shivakumar Sastry. "The early results of our design show that it has the potential to fundamentally transform how wellness programs are designed and managed."
Benefits for employers and employees
Sastry said companies and organizations that provide health insurance will be attracted to the Personal Wellness Management System because it will reduce costs. Employees will benefit from the holistic and customized approach.
"Many things must come together to make a person well: you need medical practitioners, nutritionists, exercise specialists, behavioral scientists," Sastry said. "At the same time, these systems need to be rigorous enough, because this is a healthcare business, with serious repercussions on cost for organizations. So if an organization can invest only $30,000 in a wellness program, the Personal Wellness Management system will show how to allocate those dollars precisely throughout a population for the very best outcome."
Setting the 'wellness prescription'
At its core, the Personal Wellness Management System is a professional who serves as the decision maker. He or she is armed with powerful software that allows for rapid adjustments to each participant's "wellness prescription" based on real-time data. The data shows who is meeting prescribed goals in exercising, eating right and meeting medical needs. And significantly — the software, aware of personal preferences, will recommend tailored incentives to keep each participant engaged and on track.
---
---
So sophisticated is the software that it will know over time who the "influencers" are within an organization — that is, the people who have the ability to influence others' behavior. The software might recommend special incentives for the influencers to encourage them to rally others to walk the hallways with them at lunchtime. (To achieve this, Sastry applies the goal-seeking paradigm, a theory better known to explain the spread of diseases and the economies of nations. Never has it been applied to human motivation in a wellness setting.)
---
---
Multidisciplinary team
For the Personal Wellness Management project, Sastry has assembled an impressive and multidisciplinary team of Ph.D.s, professionals and graduate students from across the Akron campus — in nursing, biometrics, health care, psychology, exercise science and computer information systems. The Austen BioInnovation Institute in Akron is also a partner.
"Personalized Wellness Management is focused on helping each individual determine and incorporate the physical and behavioral habits that will improve and sustain good health," said Dr. Frank Douglas, CEO of the Austen BioInnovation Institute in Akron and a co-principal investigator on the grant. "It is the essence of healthy living."
Along with Sastry and Douglas, the other investigators and collaborators are:
Dr. Judith Juvancic-Heltzel, assistant professor of sport science and wellness management;
Dr. Paul Levy, professor of psychology;
Dr. Victor Pinheiro, associate professor of sport science and wellness education; and
Melissa Smith, assistant lecturer in the Department of Sport Science and Wellness Management.
See also:
---
Media contact: Eileen Korey, 330-972-8589 or korey@uakron.edu