Research official honored for advancing innovation and entrepreneurship in higher education
06/15/2017

Entrepreneurship is a key driver of the economy, and a large number of jobs are created by small businesses started by entrepreneurially minded individuals. Understanding this, universities around the country —including The University of Akron — are focused on incorporating entrepreneurship into the curriculum.

A trailblazer in this area is Dr. Barry Rosenbaum, a senior fellow at the The University of Akron Research Foundation, who was recognized June 13 for Outstanding Contributions to Entrepreneurship and Innovation in Higher Education at the 6th annual Deshpande Symposium in Lowell, Mass. This award recognizes an individual who demonstrates extraordinary achievements, service and/or contributions to advancing the field of entrepreneurship in higher education.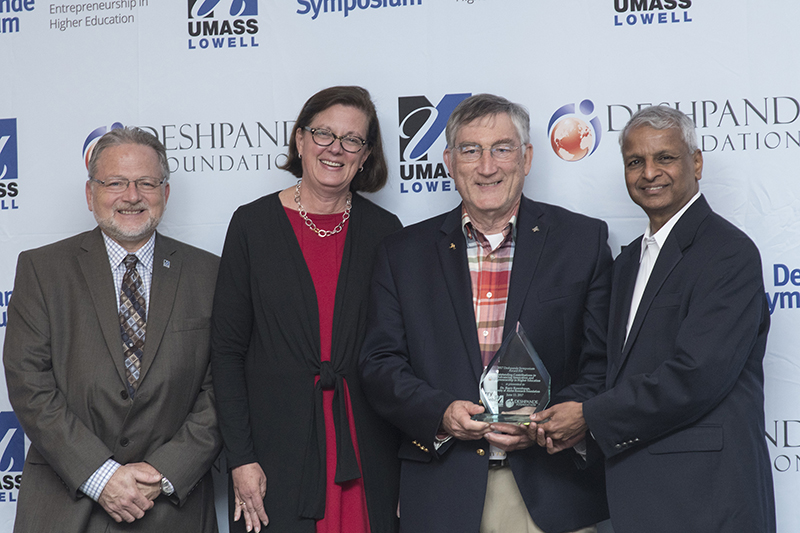 Barry Rosenbaum, senior fellow with the University of Akron Foundation, second from right, received the Outstanding Contributions to Advancing Innovation and Entrepreneurship in Higher Education Award July 13 at UMass Lowell. With him, from left, are event organizer Steven Tello, UMass Lowell senior associate vice chancellor for entrepreneurship and economic development; event emcee Deborah Hoover, president and CEO of the Burton D. Morgan Foundation; and renowned tech entrepreneur Gururaj "Desh" Deshpande, co-founder of the symposium and the Deshpande Foundation. (lPhoto credit: Tory Germann for UMass Lowell).
"It's been a pleasure and my honor to work with the University of Akron Research Foundation and all my friends at The University of Akron to support faculty and students in their innovation and entrepreneurship initiatives," says Rosenbaum. "I am especially pleased with the progress we have made in our I-Corps programs, both at a university site level with Elyse Ball and Dan Hampu, and at the state level with the sponsorship of the Ohio Board of Higher Education for I-Corps@Ohio, the only statewide I-Corps program in the nation. I share this award with the entire entrepreneurship and innovation community at the University and its research foundation."
The National Science Foundation's Innovation Corps (I-Corps) Sites programs enable academic institutions to catalyze teams whose technology concepts are likely candidates for commercialization.
"Barry Rosenbaum is an outstanding example of engagement and innovation in entrepreneurship that would be a great example to its peer organizations and future awardees," says Raj Melville, executive director of the Deshpande Foundation. "Barry has been one of the key drivers that instigated us to launch the symposium and has been a tremendous support in helping it grow."
Rosenbaum has greatly impacted innovation and entrepreneurship at UA through faculty development programs; involvement with seed, angel, and venture capital funders; collaboration with government institutions and private industry; and providing mentorship to faculty and students.
His efforts ripple beyond the University, says President Matthew Wilson. "Barry Rosenbaum has significantly impacted innovation and higher education in Northeast Ohio. He is always looking for new ways to help, not only at UA, but also across the region."
Rosenbaum's contributions include:
The Deshpande Foundation co-hosts the annual Deshpande Symposium on Innovation and Entrepreneurship in Higher Education with the University of Massachusetts Lowell (UMass Lowell). The conference brings together hundreds of higher education and business leaders from across North America to discuss how colleges and universities can best teach the next generation of entrepreneurs and champion the work of inventors to fuel business and economic development.
During the symposium, individuals, colleges and universities that are at the vanguard of promoting entrepreneurship are recognized for their accomplishments with awards.
"These awards highlight the significant commitment that colleges and universities across North America make in support of innovation and entrepreneurship," says Steven Tello, co-chairman of the conference and UMass Lowell's senior associate vice chancellor of entrepreneurship and economic development. "Successful businesses and entrepreneurs don't just happen; they are supported by networks of people and organizations that believe in their concept and energy and provide guidance, support and resources along the path to success."
---
Media contact: Lisa Craig, 330-972-7429 or lmc91@uakron.edu.