Vice Presidents
Dr. Rex Ramsier
Senior Vice President and Provost
Dr. Rex Ramsier is UA's senior vice president and provost. As UA's top academic officer, Ramsier has oversight of academic planning and budgeting, curriculum development and assessment, among other areas.
Prior to taking on this role, Ramsier served as interim senior vice president and provost, and as senior vice provost. Throughout his UA career, Ramsier has served in a number of positions, including vice provost for academic programs and operations; associate provost for academic policies, procedures and reviews; director of the Institute for Teaching and Learning; associate professor of physics, chemistry, and chemical engineering; and assistant professor of physics. After earning his Ph.D., Ramsier was a senior scientist in stress corrosion cracking and advanced energy conversion at Westinghouse Electric Corporation Bettis Atomic Power Laboratory.
Ramsier graduated summa cum laude from The University of Akron with a B.S. in physics. He earned an M.S. in physics from UA and a Ph.D. in physics from the University of Pittsburgh. Learn more.
---
Kimberly M. Cole
Vice President of Development
Executive Director, The University of Akron Foundation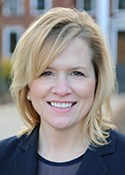 In her role as vice president of development for the University and executive director of the Foundation, Kimberly M. Cole oversees all central fundraising staff, partners with the University's academic leaders, and collaborates with key community volunteers to increase support for UA.
Her work encompasses all aspects of fundraising, including the development and management of campaigns; solicitations via major gifts, the Center for Gift and Estate Planning, and the Annual Fund; and the reporting and recording of all gifts to the University and the Foundation. Her work with the foundation includes overseeing its endowed investments, working closely with its board of directors, and stewarding gifts to ensure donor wishes are always honored.
Additionally, Cole oversees all staff members in the Office of Alumni Relations. They, together with members of the Department of Development, support the needs of the University while engaging alumni and other stakeholders in the mission of the University.
Cole, who joined UA in 1997, is an alumna who earned a master's degree in public administration and a bachelor's degree in psychology here.
---
Ted A. Mallo
Vice President and General Counsel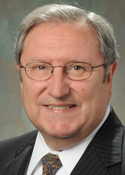 As General Counsel to The University of Akron, and subject to the authority of the Ohio Attorney General, Ted A. Mallo has coordinated and directed the legal affairs of the University since 1976.
He is the chief legal adviser to the Board of Trustees, president, and the University's officers and administrators.
Mallo began serving UA in a legal capacity in 1972, becoming its first director of legal affairs in 1976. In 1989, he became the first General Counsel among state universities in Ohio and was made Vice President and General Counsel in 1996. He has been an Assistant Attorney General since 1983.
Mallo served as secretary of The University of Akron Board of Trustees from 1994 to 2015. Today, he is assistant secretary. Mallo is also an adjunct associate professor in the College of Education, and has served as adjunct faculty in the School of Law.
Mallo earned bachelor's, master's and Juris Doctor degrees at The University of Akron.
---
Dr. John A. Messina
Vice President for Student Affairs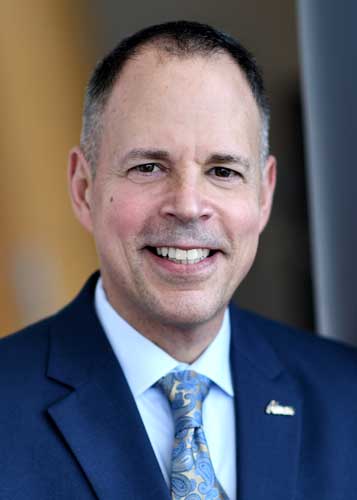 In his role as vice president for student affairs, Dr. John A. Messina oversees the many programs and services designed to educate, engage and enrich the lives of students through social, personal, health and wellness development, academic engagement and retention within UA's Student Affairs and Student Success units.
Departments in these areas are Academic Achievement Programs (TRIO), Accessibility, Career Services, Center for Academic Advising, Counseling and Testing, Dean of Student's Office, Learning Communities, New Student Orientation, Registrar, Residence Life and Housing, Student Academic Success, Student Life, Student Union, Student Conduct and Community Standards, Student Recreation and Wellness Services and ZipAssist.
Messina, who joined UA in 2004, earned a Doctor of Education in 2011 at UA. He holds an MBA and a B.S. from Rider University and an M.S. in Instructional Leadership from Robert Morris University.
---
Nathan J. Mortimer
Vice President of Finance and Administration and Chief Financial Officer

Nathan Mortimer serves as UA's vice president of finance and administration and its chief financial officer.
Mortimer joined UA in 2003 as chief audit executive, leading UA's internal auditor's Office. In 2011, he added associate vice president for institutional and operational effectiveness duties.
Prior to his UA service, Mortimer served the Office of the Ohio Auditor of State in positions of progressively increasing responsibility, including assistant chief deputy auditor of the Canton region, senior audit manager and audit manager.

Mortimer earned a B.B.A. in Accounting at Kent State University and has been a CPA registered in the state of Ohio since 1996.
---
Dr. William M. "Mike" Sherman
University Vice President of Innovation and Economic Development
Chief Operating Officer of The University of Akron Research Foundation
Dr. William M. "Mike" Sherman assumed the roles of university vice president of innovation and economic development as well as chief operating officer of The University of Akron Research Foundation on Jan. 1, 2016.
Since joining UA in 2010, Sherman had served as senior vice president, provost and chief operating officer. Previously, he was the vice provost for academic planning and professor of sport and exercise science at The Ohio State University.
---