Vice Presidents
UA's Senior Vice President, Provost and Chief Operating Officer
Dr. William M. "Mike" Sherman
Dr. William M. "Mike" Sherman is UA's senior vice president, provost and chief operating officer. As UA's top academic officer, Sherman has oversight of academic planning and budgeting, curriculum development, assessment, human resources and information technology services.
Sherman joined UA in 2010, having arrived from The Ohio State University, where he served as vice provost for academic planning and professor of sport and exercise science.
At Ohio State, Sherman led strategic planning for OSU's colleges, with a primary focus on academic facilities and resources. He helped launch OSU's academic facilities planning initiative, and he helped set the stage for implementing the university's global agenda. Sherman held reporting responsibilities for four regional campuses, University Libraries, the John Glenn School of Public Affairs, and the P-12 Project, among others. Read more about Sherman.
Lawrence J. Burns
Vice President for Advancement
Lawrence J. Burns leads the integration of external and internal initiatives to broaden awareness and reputation, and accelerate the growth of UA. Burns is responsible for enrollment services, including admissions and financial aid; development and University of Akron Foundation activities; marketing, branding and communication programs; and community, government and alumni relations. He also hosts a weekly radio show on WAKR 1590AM, primarily about the university.
Prior to his position in Akron, Burns served as The University of Toledo's vice president for external affairs. During that time, he provided strategic leadership for all university marketing and communication initiatives and also oversaw all of UT's equity, diversity and community engagement activities through the division of external affairs.
A native of Detroit, Burns earned a bachelor's in Interpersonal and Public Communication in 1978 at Central Michigan University.
---
Ted Curtis, AIA, NCARB
Vice President for Capital Planning and Facilities Management
Ted Curtis — a registered architect in 10 states, including New York, California and Ohio — joined The University of Akron in 1998. Since 2000, he has led the "New Landscape for Learning" campus enhancement building program. To date, UA has added 22 new buildings, 18 major additions or renovations and 34 acres of green space.
In addition, Curtis has responsibility for University Police, Office of Environmental Health and Safety, and the Physical Facilities Operations Center.
Curtis, who holds a B.S. in architecture from Kent State University, also has done graduate coursework at Harvard and Pepperdine universities. He is president of AIA & Associates Architectural Construction Consultants. Curtis previously worked for Hilton Hotels Corporation and Conrad International and Kent State.
---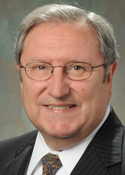 Ted A. Mallo
Vice President and General Counsel
As General Counsel to The University of Akron, and subject to the authority of the Ohio Attorney General, Ted A. Mallo has coordinated and directed the legal affairs of the University since 1976.
He is the chief legal adviser to the Board of Trustees, president, and the University's officers and administrators. Mallo began serving UA in a legal capacity in 1972, becoming its first director of legal affairs in 1976. In 1989, he became the first General Counsel among state universities in Ohio and was made Vice President and General Counsel in 1996. He has been an Assistant Attorney General since 1983.

Mallow served as secretary of The University of Akron Board of Trustees from 1994 to 2015. Today, he is assistant secretary. Mallo is also an adjunct associate professor in the College of Education, and has served as adjunct faculty in the School of Law.

Mallo earned bachelor's, master's and Juris Doctor degrees at The University of Akron.
---
Nathan J. Mortimer
Vice President of Finance and Administration and Chief Financial Officer

Nathan Mortimer serves as UA's vice president of finance and administration and its chief financial officer.
Mortimer joined UA in 2003 as chief audit executive, leading UA's internal auditor's Office. In 2011, he added associate vice president for institutional and operational effectiveness duties.
Prior to his UA service, Mortimer served the Office of the Ohio Auditor of State in positions of progressively increasing responsibility, including assistant chief deputy auditor of the Canton region, senior audit manager and audit manager.

Mortimer earned a B.B.A. in Accounting at Kent State University and has been a CPA registered in the state of Ohio since 1996.
---