Top Hat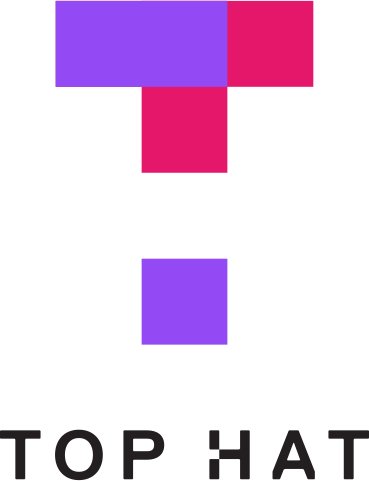 The University of Akron has an official partnership with Top Hat as a supported active learning technology.
Top Hat is a student engagement system (like clickers) that can help instructors facilitate active learning before, during and after class in online, blended, and face-to-face classes. Top Hat is a bring-your-own-device solution, which means that students can use any web-enabled device (laptop, tablets, smartphones) to ask questions, take polls, give quizzes, and receive feedback from your students during class. With Top Hat, answers can be submitted via text messaging so that students can use older cell phones as well.
Top Hat is for student engagement
Have you considered using clickers in class? Instead of requiring students to purchase a clicker, students log into Top Hat with their laptop or cell phone.
While Top Hat is free for faculty and staff, students pick a subscription level based upon how many semesters they will use the platform, regardless of how often or how many different courses will use Top Hat in that time period:
1 semester ($28)

1 year ($43)

4 years ($90)
Top Hat Features
Choose from fourteen different interactive question types such as multiple choice, matching, sorting, short-answer, numeric answer, click-on-target, fill in the blank and more
All responses and participation grades are captured in the Top Hat gradebook for students to access any time. Professors receive regular data-driven insights to help identify at-risk students
Grades and participation data can be easily exported to Blackboard
Automatically take attendance (in-person or remotely)
Securely administer quizzes, tests and exams on students' devices
Top Hat is an all-in-one platform that includes the above features and more in one place
Getting Started with Top Hat
Faculty:
To schedule a personalized demonstration or learn more about implementing Top Hat in your course, please contact Danielle Murray at danielle.murray@tophatmonocle.com. You can also schedule a meeting directly with her at https://go.oncehub.com/TopHatDanielleMurray.
Faculty Helpful links:
Students:
Visit our student's webpage at https://tophat.com/students/ for more information.
If you need assistance with your Top Hat account or subscription please contact Top Hat's support team directly at support@tophat.com or call 1-888-663-5491.
Information for students:
If you have any questions please contact Top Hat's support team directly at support@tophat.com or call 1-888-663-5491.