About the School of Law
Top 50
Rankings for IP Law, trial advocacy, and part-time studies; U.S. News & World Report, 2020
Over 92%
Employment within 10 months of graduation
(Spring 2021 J.D. recipients)
Just Over
$25,000
Annual tuition & fees for both Ohio residents and non-residents
100%
Students in good standing that keep scholarships after first year
Top 10
For legal-skills competitions; American Bar Association, 2019
Five
Live-client clinics for
hands-on social justice experience
Living in Akron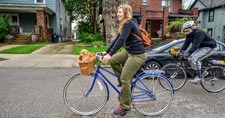 The city of Akron offers a vibrant downtown, serene parks, and events and venues that appeal to almost every interest.
Akron Law Review
The Akron Law Review is a scholarly legal publication of the School of Law that produces an annual volume of four issues for use by scholars, practitioners, and judges.
Viewbook
Read about our affordable and top-ranked programs, our live-client clinics, our national championship-winning legal-skills teams and more.