'The Return of the Patent Office and the Power Politics of Patents'
Professor R. Polk Wagner, University of Pennsylvania Law School
Wednesday, Nov. 7, 2018, 12:15 p.m.
The University of Akron School of Law, Brennan Courtroom 180
Registration deadline is Thursday, Nov. 1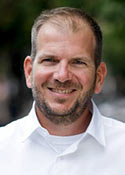 FOR DECADES, the U.S. Patent and Trademark Office has been sidelined: denigrated as a weak (at best) administrative agency, starved for funds, and generally ignored as a player in policy debates.
In the last five years, however, the PTO has emerged as the single most important player in the modern patent system, taking on new responsibilities, flexing its jurisprudential muscles, and now under Director Iancu, weighing into some of the most important legal-policy debates of the day. Does this portend a new golden era for the PTO? Will the Courts, patentees, Congress or other players reassert themselves? What does this all mean for the future of the patent system? I'll offer some preliminary thoughts on what I think is one of the most significant developments in patent policy since the institution of the Federal Circuit.
Prof. Polk Wagner focuses his research and teaching in intellectual property law and policy, with a special interest in patent law. He has written over 20 articles on topics ranging from an empirical analysis of judicial decision-making in the patent law to the First Amendment status of software programs. His work has appeared in the Stanford Law Review, Columbia Law Review, and the University of Pennsylvania Law Review, among several others. He is the author (with Professor Craig Nard) of Patent Law: Concepts and Insights (Foundation Press 2008). He is a frequent lecturer on intellectual property topics worldwide. Prior to joining the Penn Law faculty in 2000, Wagner served as a clerk to Judge Raymond C. Clevenger III of the U.S. Court of Appeals for the Federal Circuit. He holds degrees from Stanford Law School, the University of Michigan, the College of Charleston, and was the 1994-95 Roger M. Jones Fellow at the London School of Economics.
Registration:
$5 Registration/Lunch
One hour CLE credit requested
Free parking
Save-the-dates
CIPLA Meeting: January 31, 2019, Akron Law hosts the Cleveland Intellectual Property Law Association
Featured Speaker: Hon. David Kappos, former Director, United States Patent and Trademark Office
21st Annual Symposium in IP Law and Policy: March 4, 2019, all-day CLE
Keynote Speaker: Hon. Andrei Iancu, Director, United States Patent and Trademark Office