Christopher A. Crull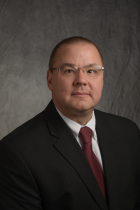 Title: Assistant Director of Academic Success Programs
Dept/Program: Law Dean's Office
Office: Room 217B
Phone: 330-972-7262
Email: cac170@zips.uakron.edu

---
Biography
Christopher A. Crull is a graduate of the University of Akron School of Law and is licensed to practice law in the State of Ohio. He joined the Law School in May of 2016 as the Assistant Director of Academic Success Programs. Mr. Crull has six years of teaching experience at Kent State University and The University of Connecticut.
Mr. Crull earned a Bachelor of Science degree in English and Philosophy from Ball State University in 1996, and a Master of Arts degree in Philosophy from Kent State University in 2000.
As a student at the University of Akron, Mr. Crull served as an intern in the Akron office of Community Legal Aid, and in the Prosecutor's Offices of the City of Barberton, Summit County Ohio, and the City of Akron. He also clerked at an area law firm.
Mr. Crull is a veteran of the United States Navy. He now works on veterans' issues through his service as a member of the Board of Directors for Warriors Journey Home, a nonprofit dedicated to helping veterans deal with the invisible wounds of war.
---
Education
Bachelor of Science degree in English and Philosophy, Ball State University
Master of Arts degree in Philosophy, Kent State University
J.D. University of Akron
---