Michael Gentithes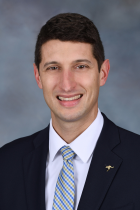 ---
Biography
Dean Gentithes joined the Akron faculty in 2019. Previously, he was a visiting assistant professor at Chicago-Kent College of Law and an adjunct professor at Loyola University Chicago School of Law. Dean Gentithes practiced as an assistant appellate defender in the Office of the State Appellate Defender, where he represented indigent clients in criminal appeals throughout Illinois. Dean Gentithes was also a judicial clerk on the Illinois Appellate Court, an assistant corporation counsel for the City of Chicago Law Department, and a litigation associate for Kraus & Zucklewski LLP.
Dean Gentithes's teaching and research focuses on criminal procedure, constitutional law, legal theory, and legal research and writing. He has published more than 20 articles in law reviews across the country, including the Boston College Law Review, Iowa Law Review, University of Pennsylvania Journal of Constitutional Law, Harvard Civil Rights-Civil Liberties Law Review, William & Mary Law Review, Georgia Law Review, Houston Law Review, Missouri Law Review, Tennessee Law Review, Washburn Law Journal, Akron Law Review, and Willamette Law Review. He also make frequent presentations to bar associations on topics in constitutional law, criminal law, and appellate practice. Dean Gentithes was voted Outstanding Professor of the Year in 2022. Dean Gentithes was elected Chair of the Criminal Procedure Section of the American Association of Law Schools in September of 2022
Dean Gentithes earned an LL.M. degree in legal theory from New York University School of Law, his J.D. degree from DePaul University College of Law, and his B.A. from Colgate University. He was born and raised in Warren, Ohio, is an avid swimmer, and enjoys spending time with his wife and three daughters.
---
Education
LL.M., New York University School of Law
J.D., DePaul University College of Law
B.A., Colgate University
---