Donna K. Palmer, Esq.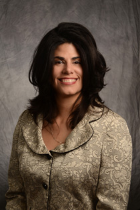 Title: Assistant Dean for Academic Success
Office: 316
Phone: 330-972-8065
Email: dpalmer1@uakron.edu

---
Biography
Donna K. Palmer, Esq. joined University of Akron's School of Law in 2012. Ms. Palmer is the School of Law's Assistant Dean for Academic Success. Ms. Palmer's extensive experience in higher education began in 1999, both as faculty and as an administrator. She has dedicated her career to maximizing student success.
Ms. Palmer received her AB in English and History from Duke University, where she graduated Phi Beta Kappa, Magna Cum Laude and with Distinction in History. She obtained her Juris Doctorate from the University of Pennsylvania School of Law. While at the University of Pennsylvania, Ms. Palmer acted as Legal Writing Instructor and earned Finalist in the Keedy Cup Moot Court Competition. She also served as an extern for the United States Department of Justice in her final year at the law school.
From 2010 through 2011, Ms. Palmer served as member of the board of the Ohio Association of Career Colleges and Schools, and as president of the board for the Ohio Workforce Tuition Scholarship Foundation. From 2006 through 2011, Ms. Palmer also acted as a Program Specialist for ACICS peer review accrediting teams. She is also an active member of the American Bar Association and the Ohio Bar Association.
---