Akron Law duo earns highest ranking for 2L team in Top Gun National Mock Trial Competition
06/24/2014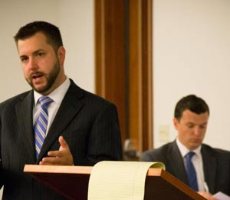 Two law students from The University of Akron School of Law placed sixth overall in the Top Gun National Mock Trial Competition, held June 5-8, 2014. The invitation-only Top Gun competition is sponsored by Baylor Law School and is limited to 16 of the best law schools in trial advocacy. The University of Akron has been invited every year since the tournament's inception in 2010.
Akron Law second years Justin Workman and Scott Kamenitsa represented Akron Law, arguing a case involving copyright law. Workman was selected to be lead counsel and was in charge of presenting both sides of the case. Kamenitsa played a key role in preparing material and making in-trial adjustments.
The duo, coached by Dan Leister ('12) of Sutter O'Connell, went up against some of the top teams in an already stellar field of competition. They won their first two cases 3-0 against Chiacago-Kent and 2-1 against South Texas, before losing their next two in highly contested rounds, including a case against Yale in round 3 that was decided in a split decision by a single point. Akron Law's sixth place finish was the highest ranking for a 2L team.
Congratulations to Justin and Scott! Well done!