LAW STUDENTS SUCCESSFULLY COMPETE FOR SCHOLARSHIP AWARDS IN STATEWIDE COMPETITION
10/28/2013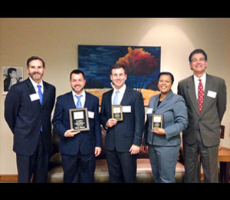 2013 OHIO LAW STUDENT CLOSING ARGUMENT COMPETITION
CLEVELAND – Thursday evening, October 24, 2013, The Landskroner Foundation for Children hosted its 15th Annual Law Student Closing Argument Competition in the courtroom of the Honorable Hollie Gallagher at the Cuyahoga County Justice Center. The twelve students participating in the event were selected from a pool of applicants from law schools across the state of Ohio. The participants included second-and third-year law students from The University of Akron, Cleveland State University, University of Toledo, Ohio Northern University College of Law, University of Dayton School of Law and Case Western Reserve University School of Law.
In the competition, each student was given 15 minutes to argue on behalf of a child exposed to school bullying. Each student presented the case of their 13 year-old client to a jury comprised of experienced trial lawyers, esteemed Judges from the Court of Common Pleas, in Cuyahoga County, media representations, and child advocates. This year taking home first place was Justin Workman, from University of Akron, Colin Beisel, from University of Akron finished second, while Lavell Payne, from University of Akron, finished third. These top three finishers received scholarship awards in the amount of $750, $500, and $200 respectively.
Since the inception of this program over 180 law students from across Ohio have competed and over $24,000 in scholarship awards have been distributed to the competition winners.
The Landskroner Foundation for Children is a nonprofit child advocacy organization founded as an outgrowth of the personal injury law practice of the Cleveland-based law firm of Landskroner · Grieco · Merriman, LLC TeamLGM. The Foundation's mission includes promoting safe and positive environments for children as well as protecting the rights of children through education and recognition of children's needs. The Law Student Closing Argument Competition was created to encourage law students to consider public interest work after graduation from law school and to remind these future lawyers of their civic responsibility to the communities in which they choose to practice law.
For more information contact Anathea Brynak at 216-522-9000.