Ohio Supreme Court Chief Justice Maureen O'Connor Spoke at Akron Law Commencement May 19
04/29/2013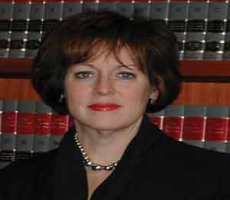 The University of Akron School of Law held its 89th Commencement Ceremony at 2 p.m. on Sunday, May 19 at E.J. Thomas Performing Arts Hall. The 2013 UA School of Law commencement speaker was Ohio Supreme Court Chief Justice Maureen O'Connor.
"Chief Justice Maureen O'Connor is an exemplar of the lawyer as public servant. Her deep and wide experience in high-level executive and judicial roles have enabled her to advocate effectively for improving the administration of our justice system and access to justice," says Professor Emerita Elizabeth Reilly. "We are honored that she will speak at our commencement as our graduates make the transition from student to professional."
Chief Justice Maureen O'Connor is the tenth Chief Justice in Ohio history and is the first woman to lead the Ohio judicial branch.
She first joined the Supreme Court of Ohio as an associate Justice in January 2003. She was re-elected in November 2008 and was elected Chief Justice in 2010. Her first statewide judicial election in 2002 made her the 148th Justice to the Court, the sixth woman to join the Court.
Born in the nation's capital, but raised in Strongsville and Parma, Chief Justice O'Connor's career in public service and the law spans three decades and includes service as a private lawyer, magistrate, common pleas court judge, prosecutor, and Supreme Court Justice.
She earned her bachelor of arts at Seton Hill College in 1973 before going on to earn her law degree from Cleveland-Marshall College of Law, 1980.
While gaining experience in practice as an attorney during the early 1980s, Chief Justice O'Connor created a home for her family and her legal career in Northeast Ohio. Appointed a magistrate in Summit County in 1985, she served in that capacity until becoming a common pleas court judge in 1993. As a busy trial judge, Chief Justice O'Connor was selected by her peers to serve as the administrative judge — a testament to her ability to build coalitions and maintain collegiality while administering to the business of the courts.
She resigned from the bench to become the Summit County prosecuting attorney in 1995. There, she aggressively prosecuted repeat offenders, violent criminals, and public officials who committed ethical violations or improprieties, and lobbied for tougher laws on rape and gang-related offences. Her untiring work received accolades from victims' rights groups and educational institutions, and earned awards from Mothers Against Drunk Driving and Cleveland State University. As prosecutor, Chief Justice O'Connor also lobbied the General Assembly on important criminal justice reforms.
In 1998, she was elected lieutenant governor — the second-highest official in the state. She became the governor's chief advisor on criminal justice issues, serving as director of the Ohio Department of Public Safety, and as chair of Ohio's Security Task Force and the State Building Security Review Committee.
In the wake of the Sept. 11 attacks, she led the state in its response to new threats of terrorism by working with law enforcement, Ohio EMA and The Department of Homeland Security, efforts that garnered the praise of federal homeland security officials.
Chief Justice O'Connor also has raised two adult sons, Alex and Ed Kipp, who both married lovely intelligent women, much to her surprise and delight.
Since being sworn in as Chief Justice in January 2011, Chief Justice O'Connor has pursued an extensive agenda for strengthening the third branch of Ohio government in a number of key areas including budget, diversity, death penalty, impartial courts, community involvement, internal effciencies, CLE, and commercial dockets.
Learn more about Chief Justice O'Connor at http://www.supremecourt.ohio.gov/SCO/justices/oconnor/default.aspx .
About The University of Akron School of Law
The University of Akron School of Law promotes justice, the protection of individual liberty and the rule of law through commitment to excellence in teaching, scholarship and service. The law school features renowned programs in intellectual property, professional responsibility and trial advocacy, and is home to one of four Constitutional Law Centers in the United States, established by the U.S. Congress in 1986.To learn more, visit www.uakron.edu/law.