Dr. Thomas Neal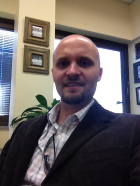 Title: Associate Professor
Dept/Program: Modern Languages
Phone: 330-972-4615
Fax: 330-972-6908
Email: tneal@uakron.edu

---
Biography
Dr. Thomas Neal earned his Ph.D. in Hispanic Literature from Indiana University in 2013. His research and teaching interests include 18th- and 19th-century Spanish and Latin American literature and culture.
---
Publications
"Reimagining Criollos and Indianos in Spanish Enlightenment Literature: Jovellanos's El delincuente honrado and the Literary Circle of Pablo de Olavide." Dieciocho: Hispanic Enlightenment 36.2 (2013): 311-328.
Writing the Americas in Enlightenment Spain: Literature, Modernity and the New World, 1773-1812. Lewisburg, PA: Bucknell University Press, 2017.
---