Congratulations to Eleanor Plaster
Eleanor Plaster, French major, represented the UA DML and won the second prize at the 2019 Cleveland Maison Française annual French competition for colleges in Northeast Ohio
The UA French students have been consistently winning the competition since 2003. Maison Française de Cleveland is affiliated with the Federation of the Alliances Françaises in the United States, a nonprofit organization that promotes Franco-American cultural activities. Schools participating in the competition include private, highly-selective colleges such Oberlin College, College of Wooster, as well as Baldwin Wallace University and John Carroll University.
Here is what Eleanor said about her experience:
"A couple of weeks ago, I participated in a French contest at John Carroll University held by La Maison Française of Cleveland, a non-profit organization dedicated to the promotion of French and Franco-American culture. This competition consisted of a written portion in French discussing one of the prompts provided, where I choose to write about the film Rue Cases-Nègres directed by Euzhan Palcy from Martinique. For the oral portion, I had the opportunity to talk to four members of La Maison Française in French about my experiences with French, my interests, and my future plans.
I competed against other students from colleges in Northeast Ohio, and I was honored to have received second prize. On Sunday April 7, I was invited to the ceremony for this competition where I had the opportunity to meet the other winners of the competition, as well as get further acquainted with the members of La Maison. I had the opportunity to present my experiences in French along with the other students while celebrating with my family. I am very thankful to have had this opportunity, and I am looking forward to competing again next year!"
French Conversation Partner - Spring 2019
French Conversation Partners provide a unique opportunity for students to practice speaking and listening with native speakers.
This semester's Partner is Lucas Gontier. He is a 24 year old student at the University of Akron and currently attending the Transportation Engineering Master of Science program. He comes from Lille, in the north of France, and arrived in the US in August 2018. Join him during the French coffee hour every Monday and Thursday to talk about anything you like!
The schedule is as follows:
Mondays 11:45 - 12:45 pm
Thursdays 11:45 - 12:45 pm
All meetings will be held in Olin 303.
Study Abroad in France
Summer 2019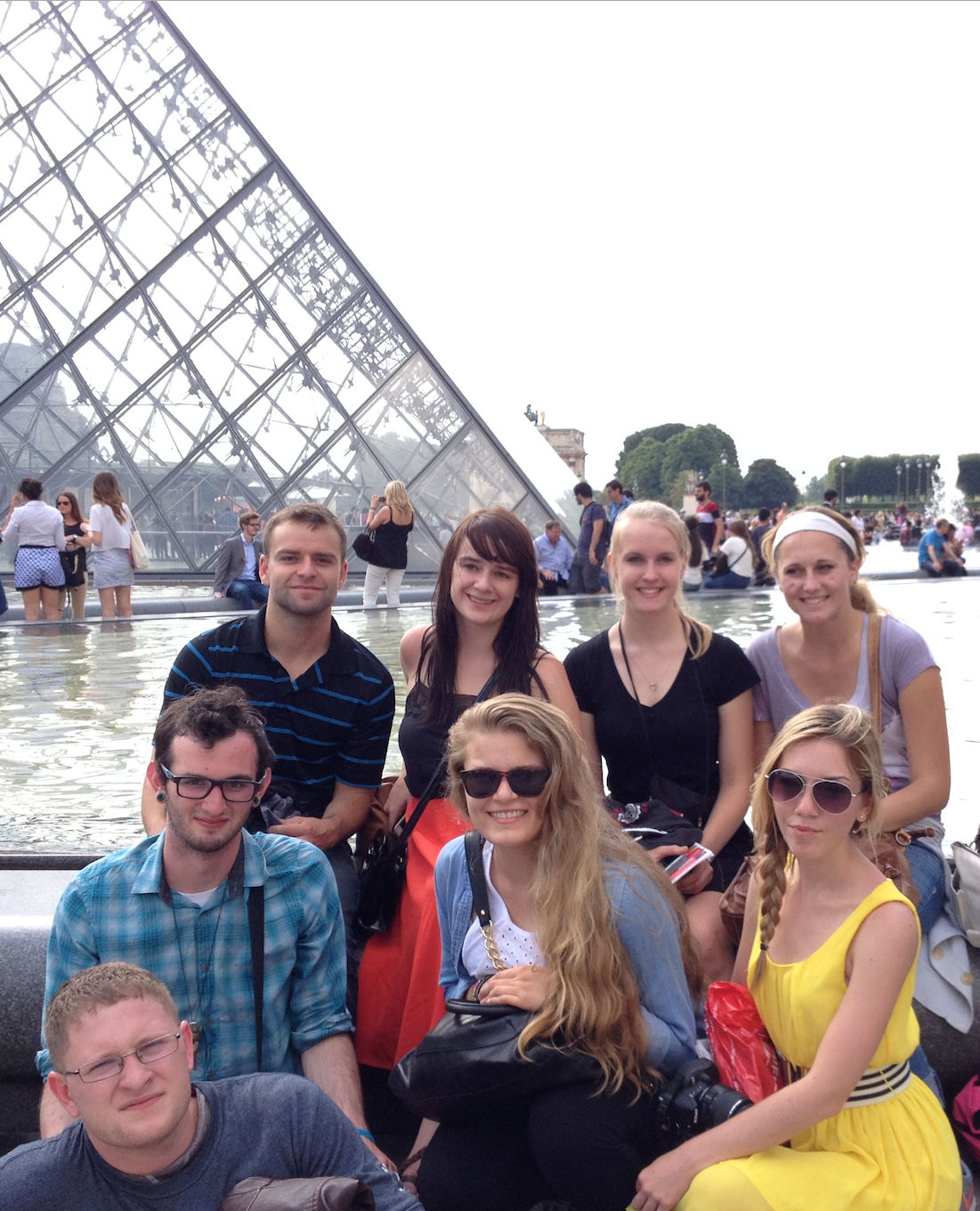 WHAT: 4-weeks Summer program at the Université du Maine, in Le Mans, France.
WHERE: Le Mans is the city internationally known for its 24 Hours endurance car race. A bit smaller than Akron, it has a beautiful medieval quarter and is centrally located: one hour by train from Paris, close to Normandy and Brittany, as well as to the châteaux of the Loire Valley.
WHEN: June 24 to July 20, 2019 (dates to be confirmed).
HOUSING: Students will be housed in a residence hall on campus in single rooms with a bathroom. Common kitchens are available on each floor.
CREDITS: You will have a chance to earn between 4-6 credits in French. Classes offered are the equivalents of the University of Akron's Elementary French (101 or 102) or Intermediate French (201 or 202). For those who are at the intermediate level, there will also be a possibility to earn credits at the 300-level that can count towards French minor.
Before the trip, you will need to take 1-credit class, 3520: 422 Special Topic: Going Global, Preparation for Study Abroad in France, taught by Dr. Maria Adamowicz-Hariasz at the UA during one week of the intersession.
ESTMATED COST: $1500 that includes all the credits from Le Mans (up to 6), transportation in and around Le Mans, lodging, insurance, a banquet in a restaurant, cooking class, charter bus excursions (Mont Saint Michel and Saint Malo, and one of the châteaux de la Loire), local site visits: museums, cathedral, etc.
ADDITIONAL COST: 1-credit class at the UA; round-trip plane ticket; on your own additional travel and entertainment; most meals; souvenirs and miscellaneous.
For more information, contact Dr. Maria Adamowicz-Hariasz at madamow@uakron.edu
French Language Student Wins Award
Josh Dang, who is majoring in French and Biology, won the fifth prize ($400) at the annual Northeast Ohio competition organized by the Maison Française de Cleveland, held this year on May 1, 2016. It is affiliated with the Federation of the Alliances Françaises in the United States, a nonprofit organization that promotes Franco-American cultural activities. He is pictured at the event with Dr. Maria Adamowicz-Hariasz, a UA associate professor of French.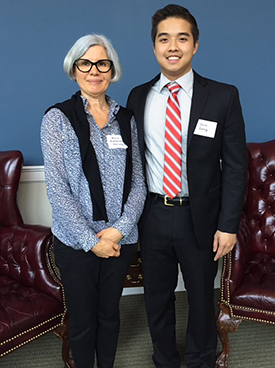 The 2016 edition of the competition saw participants from such schools as Oberlin College, College of Wooster, and Baldwin Wallace and John Carroll universities. Many have studied in France. Dang honed his speaking and writing skills during two years of classes taken through the Department of Modern Languages.
UA French majors have consistently won prizes at the Maison Française competition since 2003.
French Major Travels with Zips for Haiti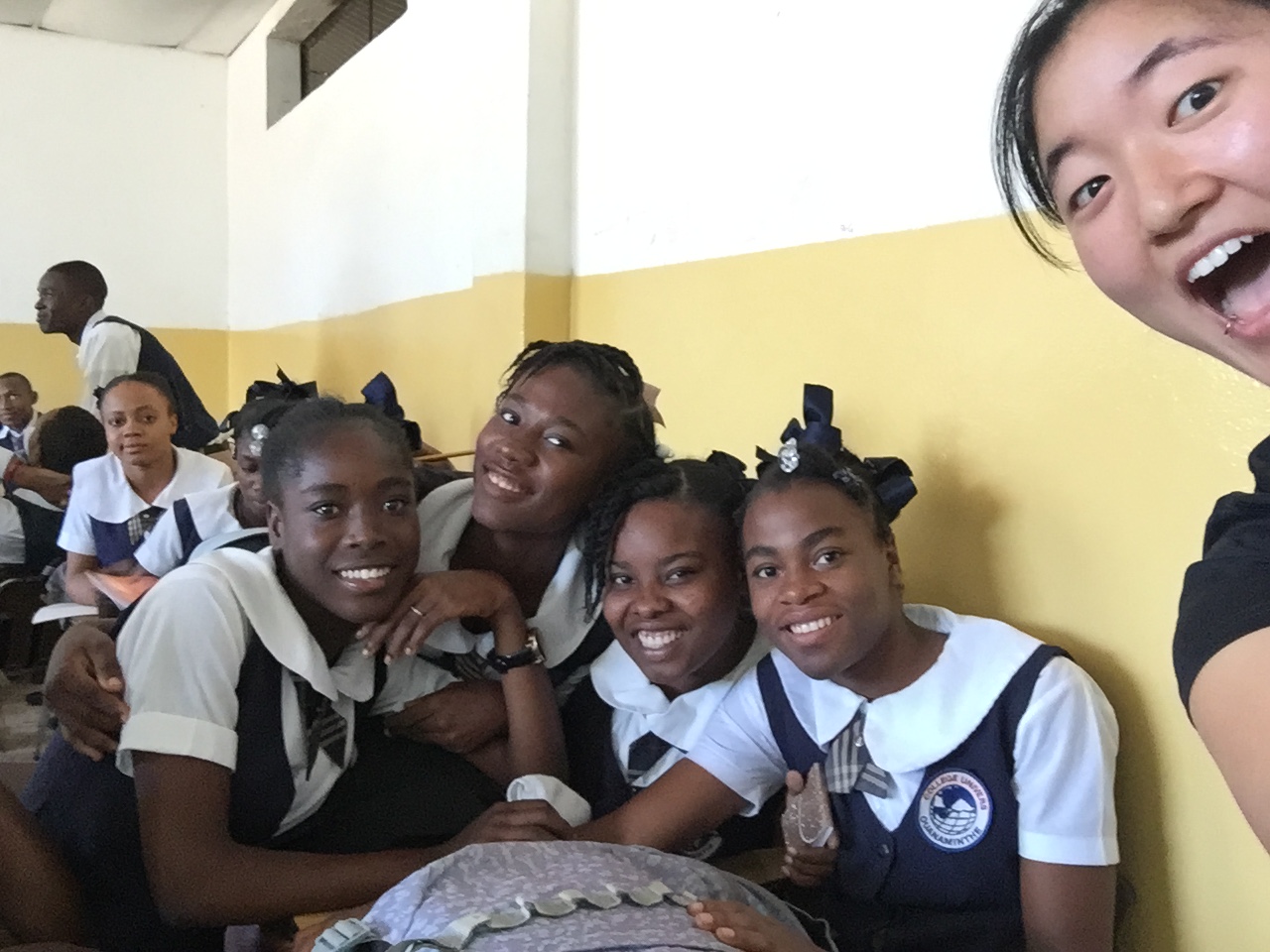 Esther Chung, arecent UA graduate with a French and Political Science major, participated in the service learning in Haiti in January 2016. The following is a brief description of her experience.
"Zips for Haiti is a wonderful opportunity to serve and to break out of one's comfort zone. A week is hardly ever enough, but it can still have a significant impact. Our team consisted of 25 members and our week at Institution Univers in Ouanaminthe was spent constructing mosquito net frames for the mission houses, building a new basketball hoop, and teaching English from 3rd to 13th grade. In addition to serving, our team was able to explore the community and its surroundings. We also experienced Haiti's rich history by climbing the path towards the Citadelle, which was constructed to protect Haiti from France after Haiti had declared its independence.
Haiti is a francophone country, so I had many opportunities to use French. I was able to provide instructions for the younger students in the classroom. I could effectively communicate with the older students if they did not understand a word or phrase in English. Surprisingly, knowing French also helped me to learn a little Haitian Créole. Haiti is so much more than the common misperceptions one tends to hear about in regards to developing countries. I learned from the students I spent time with that Haiti is a resilient country filled with young, intelligent people who one day aspire to make a difference. I encourage anyone who is willing to be challenged in thought, in skill, and in life to consider joining Zips for Haiti."
La Gazette
2016