BCAS spotlights new Spanish course for Health Care Professionals
08/14/2013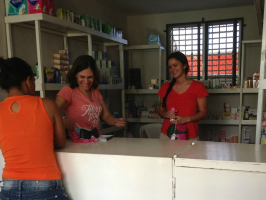 Most people wouldn't delight in listening to strangers complain – day after day, in graphic detail – about personal health issues, but Rachel Neugebauer, 20, is a bit different. She found it thrilling. The UA junior, who is double majoring in biochemistry and Spanish, spent the early summer as a pharmacy intern in the Dominican Republic, a Caribbean nation on the Island of Hispaniola.
And thanks to a new UA course -- which is gaining the attention of area health care providers -- Rachel not only understood the woes brought into the "Botica" by her Spanish-speaking customers, she knew the names of the "medicinas" used to treat them.
Rachel credits an entirely different sort of prescription written by another kind of doctor for helping her make the most of her internship.
That powerful potion was Spanish Conversation for Health Care Professionals and First Responders, a course launched this past spring by Parizad Dejbord, associate professor of modern languages at UA.
Read more at the Buchtel College of Arts and Sciences website.