UA Spanish graduate to give presentation on Spanish and International Business
03/05/2013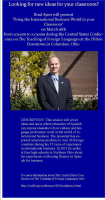 University of Akron Spanish graduate Brad Ayers will be presenting "Bring the International Business World to Your Classroom" in Columbus, Ohio on March 16th at 9:30am as part of the Central States Conference on the Teaching of Foreign Languages. This conference will be taking place at the Hilton in downtown Columbus.
Ayers' session will cover ideas and areas where educators of Spanish can expose students to how culture and language proficiently work in the world of international business. Ayers has exported American products to over 36 foreign countries during his 15 years of experience in international business. In 2011, he spoke at four high schools in northern Ohio, including the Akron area, about his experiences with using fluency in Spanish for business.
For more information about the Central State Conference on The Teaching of Foreign Languages, visit their website.