No More Deaths - No Más Muertes
No More Deaths is a humanitarian organization based in southern Arizona. Volunteers hike the trails and leave water, food, socks, blankets, and other supplies for migrants crossing the desert.
Program applications due Jan. 24, 2020. Program runs Sat. March 21 - Fri. March 27, 2020.
Information Sessions: Tuesday 1/14, Bierce 154, 2:00 pm
Wednesday 1/15, Bierce 274. 11:30 am
Friday 1/17, Bierce 154, Noon
contact Professor Sarah Kildow: shughson@uakron.edu
SPANISH TUTORING for Elementary 101 and 102 (SPRING 2020)
304 OLIN
This is a free service offered by the Department of Modern Languages. No appointment needed.
Drop by anytime during these hours:
Mondays 1:00 – 2:00 PM
Tuesdays 1:30 – 2:30 PM
Wednesdays 1:00 – 3:00 PM
Thursdays 1:30 - 2:30 PM
Spanish Conversation Partners
Spanish Conversation Partners provide a unique opportunity for 300 and 400 level students to practice speaking and listening with native Spanish speakers. Our conversation partner this semester is Arturo Seijas.
The SPRING 202 schedule for the Spanish conversation partners are as follows:
Tuesdays and Thursdays:
9:00 - 10:00 am
11:30 am - 12:30 pm
3:00 - 4:00 pm
All sessions will take place in Olin 303, which is just outside of the Modern Languages main office on the 3rd floor of Olin Hall.
Felicidades a Ariana Williamson
Ariana Williamson, majoring in Nursing and Spanish, was crowned Homecoming Queen 2019 this past Saturday at the football game against Kent.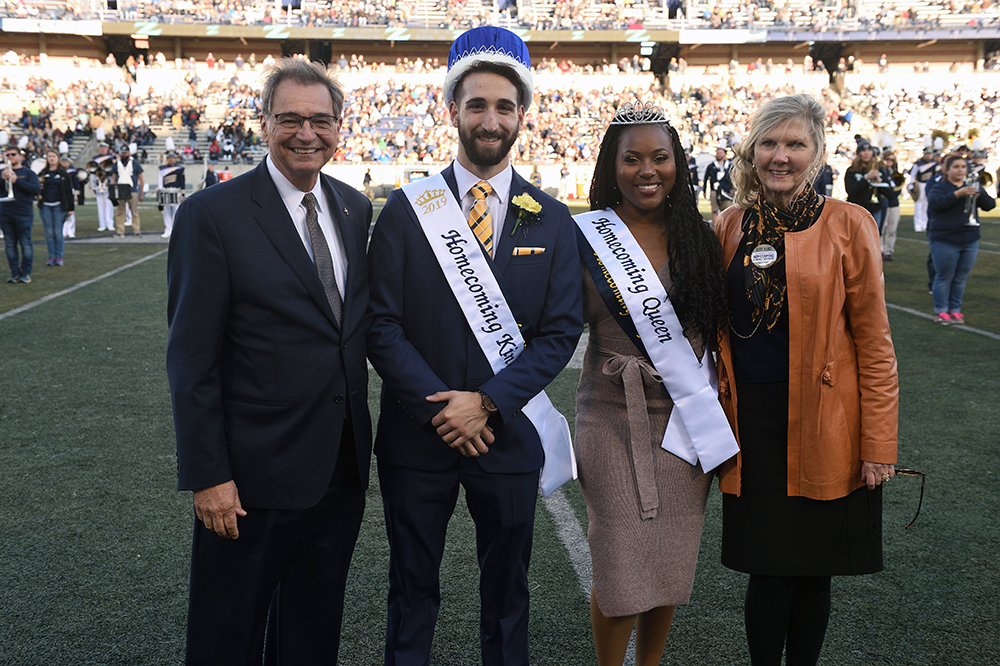 She was nominated by her sorority, Alpha Kappa Alpha Sorority, Inc. Ariana has been a member of numerous student organizations here, including Student Nurses Association, Omicron Delta Kappa, Sigma Delta Pi, School of Nursing Student Executive Board, National Pan-Hellenic Council, mentor for Choose Ohio First STEM and Alpha Kappa Alpha Sorority. From the day Ariana chose to attend UA, she knew she "wanted to leave a mark and make an impact while on campus." She has been proud to represent UA in nursing, in Spain — where she studied abroad, and now as the 2019 Homecoming Queen.
Mesa Hispana
Join other students, staff, faculty, and members of the community to practice Spanish conversation. All levels are welcome. Grab a coffee and bring your friends!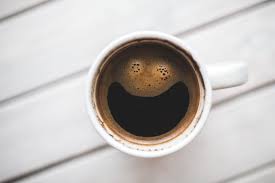 FALL 2019 meeting dates:
Wednesday, September 11th 4:30-5:30 pm
Friday, September 27th 2-3 pm
Thursday, October 10th 5:30-6:30 pm
Friday, October 25th 3-4 pm
Monday, November 4th 4:30-5:30 pm
Friday, November 22nd 1-2pm
We will meet in the café area of Bierce Library.
Three UA Students Won Scholarships to Study Abroad in Spain
In 2019, Ms. Tayler Gill, Ms. Morgan Suponcic, and Ms. Ariana Williamson won a scholarship from Sigma Delta Pi to study abroad. Both Ms. Gill and Ms. Williamson participated in UA's DISSTA: The Spanish Experience Study Abroad program in Valladolid, Spain while Ms. Suponcic studied in the Instituto Franklin at the Universidad de Alcalá de Henares, Spain.
Here is what they have to say about their experiences.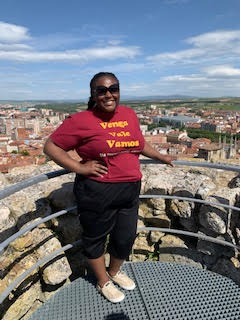 Tayler Gill-
"Esta oportunidad a estudiar en el extranjero ha cambiado mi vida. No solamente he mejorado mis habilidades españolas, sino he experimentado muchas cosas nuevas que nunca pensaría que pudiera hacer. Por ejemplo, en los Estados Unidos, siempre conduzco a cualquier lugar en la comunidad o campus. Pero, en España, caminaba a todos los lugares: a la universidad (30 minutos en camino); muchas subidas de montañas altas; etc. Es bueno que haya tenido la oportunidad a sumergirme en la cultura española.
Finalmente, tengo más confianza que nunca a causa de esta experiencia. He perdido mucho peso porque la comida española es mucho más saludable, y tenía que caminar entre cinco y diez millas diariamente. Estoy emocionada para continuar a vivir un estilo de vida más sano cuando regreso a los Estados Unidos. Además, ya no tengo miedo de probar cosas nuevas. Antes de este viaje, siempre hacía la misma cosa cada día, y no quería estar incómoda. Pero, ahora conozco que la incomodidad es importante para el crecimiento personal. Si no probara cosas desconocidas, nunca crecería ni cambiaría mi vida. Estoy muy agradecida que podía viajar y estudiar en Valladolid, España."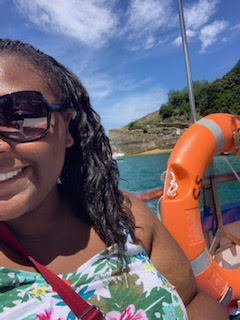 Ariana Williamson -
"Un día en una clase de español, mi profesora me recomendó que debo ir a España para desarrollar un nivel alto de español. Entonces, después un semestre, yo decidí viajar a España. Y he dado cuenta que esta decisión era una del mejore decisiones he hecho. España era una experiencia de toda la vida. Era el primer vez que yo viajé afuera de los Estados Unidos. Los museos, los castillos, las esculturas eran estupendos. También, yo he aprendido sobre la cultura y la literatura de España en detalle.
Mi parte favorito mientras estaba viajando en España era como la gente habló conmigo. Muchas personas me dijeron que yo hablo al nivel. Era increíble porque antes de llegar en España, no creo que hable al nivel alto. Usualmente soy una perfeccionista, y no me doy crédito. Pero, me sentí mejor después muchas personas estaba sorprendidas cuando hablé. Ahora, yo tengo confianza cuando yo hablo en español, porque yo sé que estoy mejor que antes y soy orgullosa de mi progreso."
Morgan Suponcic -
"This past July I studied abroad in Alcalá de Henares, Madrid, at The University of Alcalá's Franklin Institute. Thanks to my scholarship from Sigma Delta Pi, I was able to have an enriching experience in such a historical city. During my time in Alcalá I took two classes: Traducción Médica and Español para Profesionales de Salud. I learned about medical translation and interpretation as well as Spain's universal healthcare system. Paired with my Español para Professionales de Salud course was a shadowing experience in a local hospital, where I observed a dermatology resident in the operating room and in the clinic. Prior to traveling to Alcalá, I received my Certificate of Advanced Spanish for the Health Professionals and First Responders, and I was able to apply what I learned at UA during my time abroad. I am very grateful for this experience and I am excited to see how I will utilize these new skills in my future career."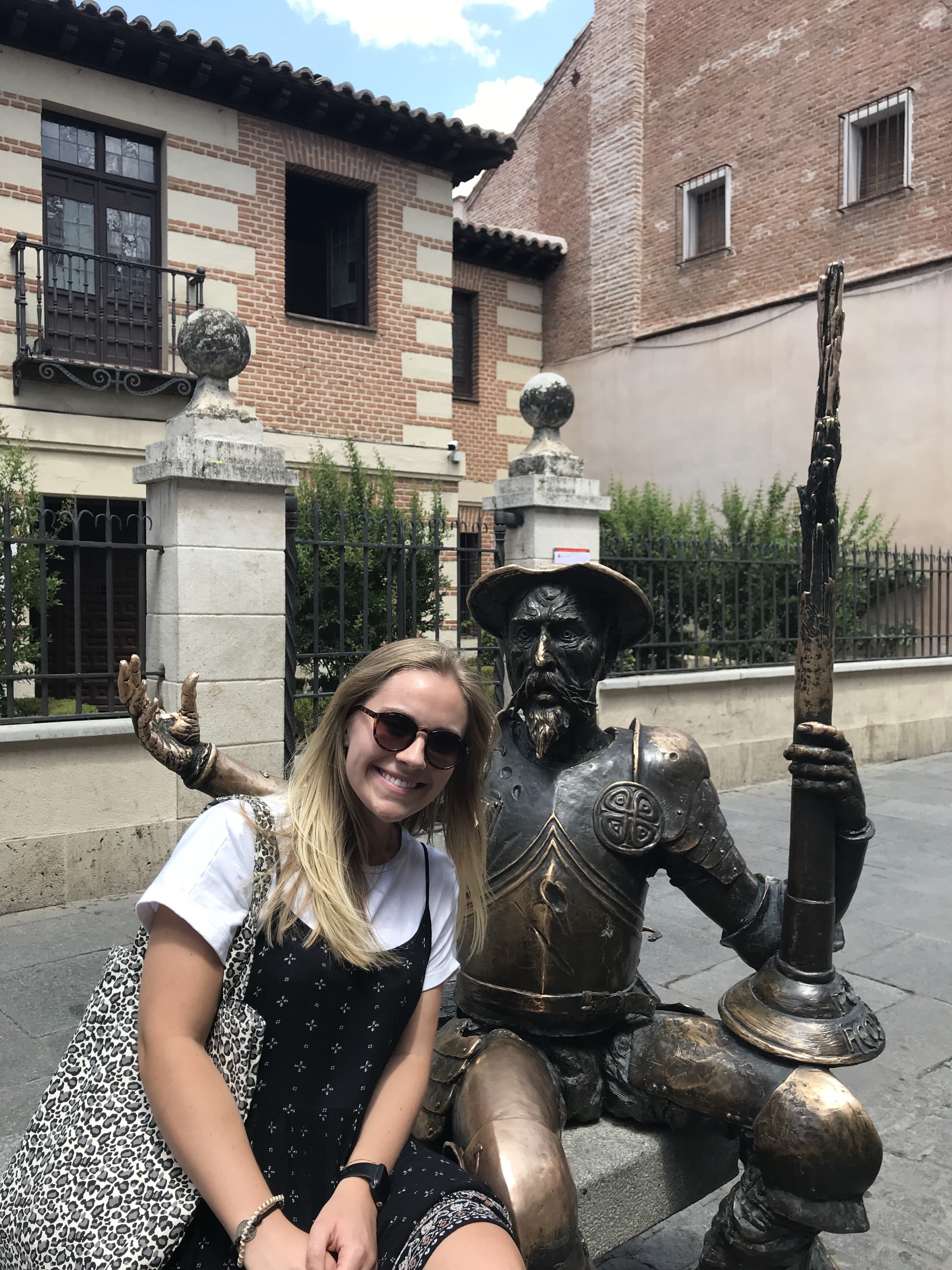 Congratulations to Allie and Claire!
Spanish students were recognized this semester for the LIFE Awards. The LIFE (Legacy, Integrity, Fellowship, Excellence) Awards are held annually, honoring students, faculty, and campus organizations that have demonstrated the LIFE Values.
Allie Stanley has received the Alumni Association Student Recognition Award and Top 10 Senior Award.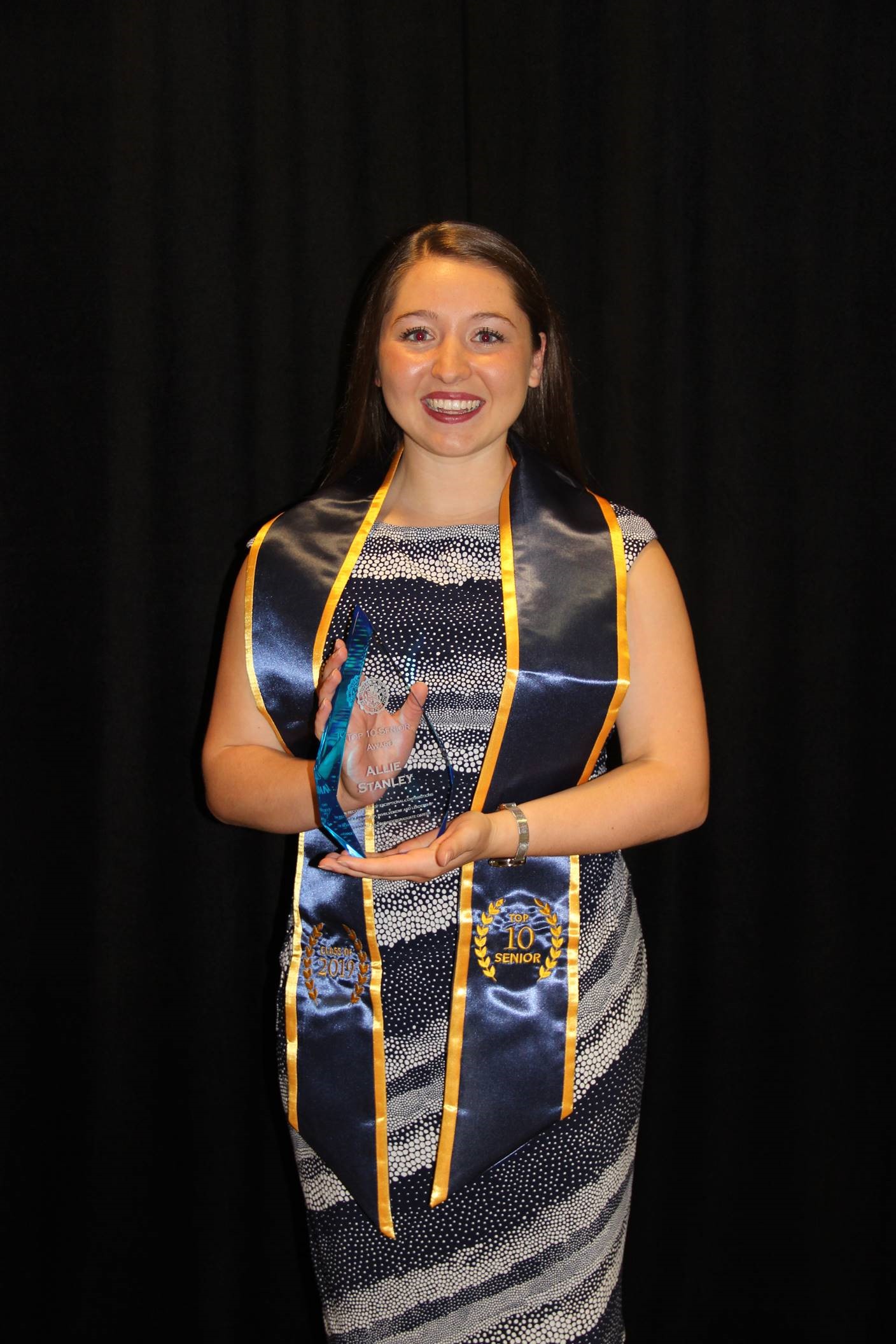 Claire DeBruin has received the A-Key Gold Award, Notable Zip Award, and Top 10 Senior Award.
Felicitaciones chicas!
Kudos to Kim Jones for her volunteer activity in the Dominican Republic!
Business/Spanish major 'felt called to go' on medical mission

While many business students spend their summer days interning in corporate offices, senior Kimberly Jones, a double major in supply chain management and Spanish, found herself in a somewhat different learning environment.
Last summer, Jones volunteered to spend two weeks in the Dominican Republic translating for a team on a medical mission trip.
"At first, I didn't want to go on the trip because I'm terrified of everything medical," Jones admitted. "Seriously, I can't even put a Band-Aid on a kid, but I felt called to go…I ended up with a physical therapist and an occupational therapist and bounced between the two of them, which was the best possible situation."
While it seems more like an experience that would be taken by a pre-med or nursing major, the trip fit perfectly with Jones' goals. She said she chose to study business with the primary goal of doing good.
Feministas Unidas Inc.
Dr. Maria Alejandra Zanetta is the editor of the magazine of the international organization Feministas Unidas. This issue includes an interesting interview with the writer, journalist, editor and feminist activist Laura Freixas.
Congrats to New Sigma Delta Pi Members
Eta Kappa Chapter of Sigma Delta Pi, the National Spanish Honorary, inducted 17 new members during the 2017-2018 academic year. The newest
socios
are:
Fall 2017:
Elizabeth Bark
Nancy Cabrera
Kelly Claridge
Kimberly Jones
Austin Ladany
Megan Lear
Corinne Plas
Kayla Pretzer
Benjamin Shaub
Morgan Suponcic
Emily Tully
Abigail Watson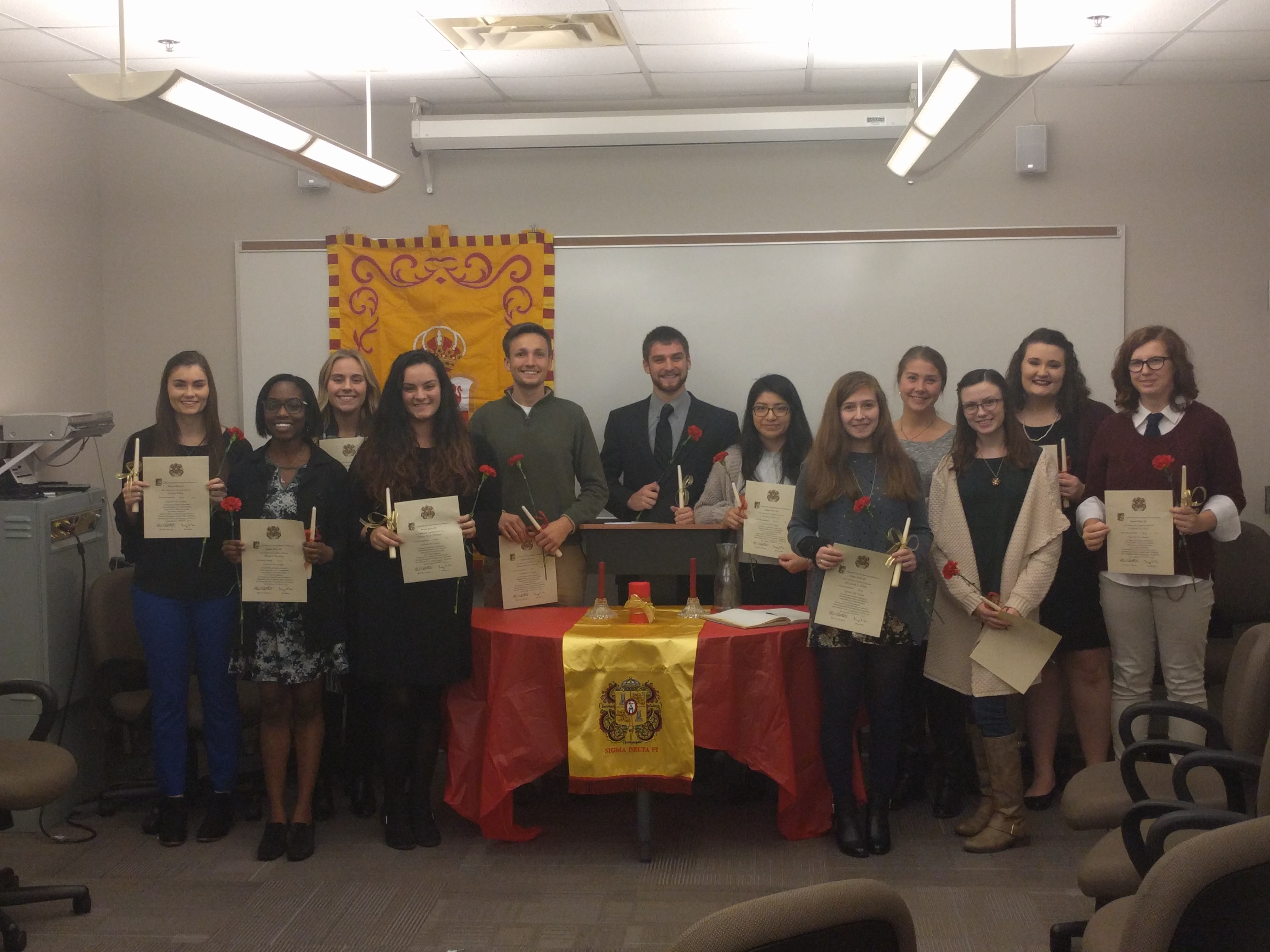 Spring 2018:
Hannah Eberly
Lily Hunger
Dylon Kolbe
Anna Nyszczy
Arianna Williamson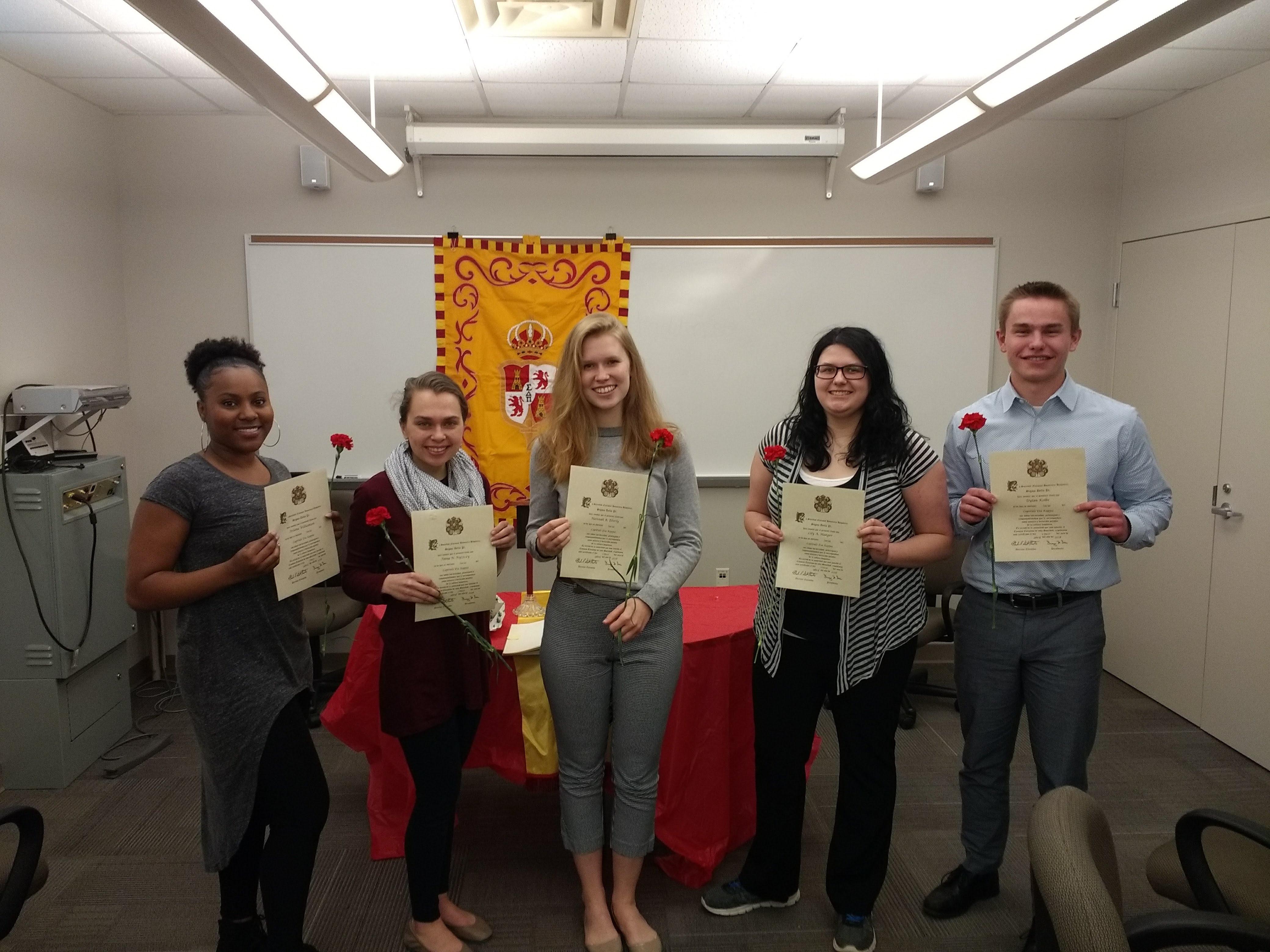 Sigma Delta Pi Induction
The UA Eta Kappa Chapter of Sigma Delta Pi, the National Collegiate Hispanic Honor Society (La Sociedad Nacional Honoraria Hispánica), inducted seven new members on Friday, March 6 at a ceremony held in the College of Arts and Sciences Building. New members (pictured in the photo from left to right) inducted during the ceremony were Lisa Mickley, Andrew Baek, Amrita Pandey, Rachel Mealy, Nick Glavin, Audrey Fliegel and Garrett Scherba.
Sigma Delta Pi was established on November 14, 1919, at the University of California Berkeley. The Eta Kappa Chapter dates to 1969. The purpose of the society can be summarized briefly as the following: To foster excellence in the study of the Spanish language, Hispanic literature and Hispanic culture; To honor individuals whose efforts have better acquainted English speaking peoples with Hispanic contributions to modern culture; To encourage greater scholastic interest and/or orientation of students in the Hispanic culture; To foster friendly relations and mutual respect between Spanish speaking peoples.
To qualify for membership, students must have taken advanced Spanish courses, including a culture course, and maintain a rigorous GPA.
Congratulations to our new members on their accomplishments!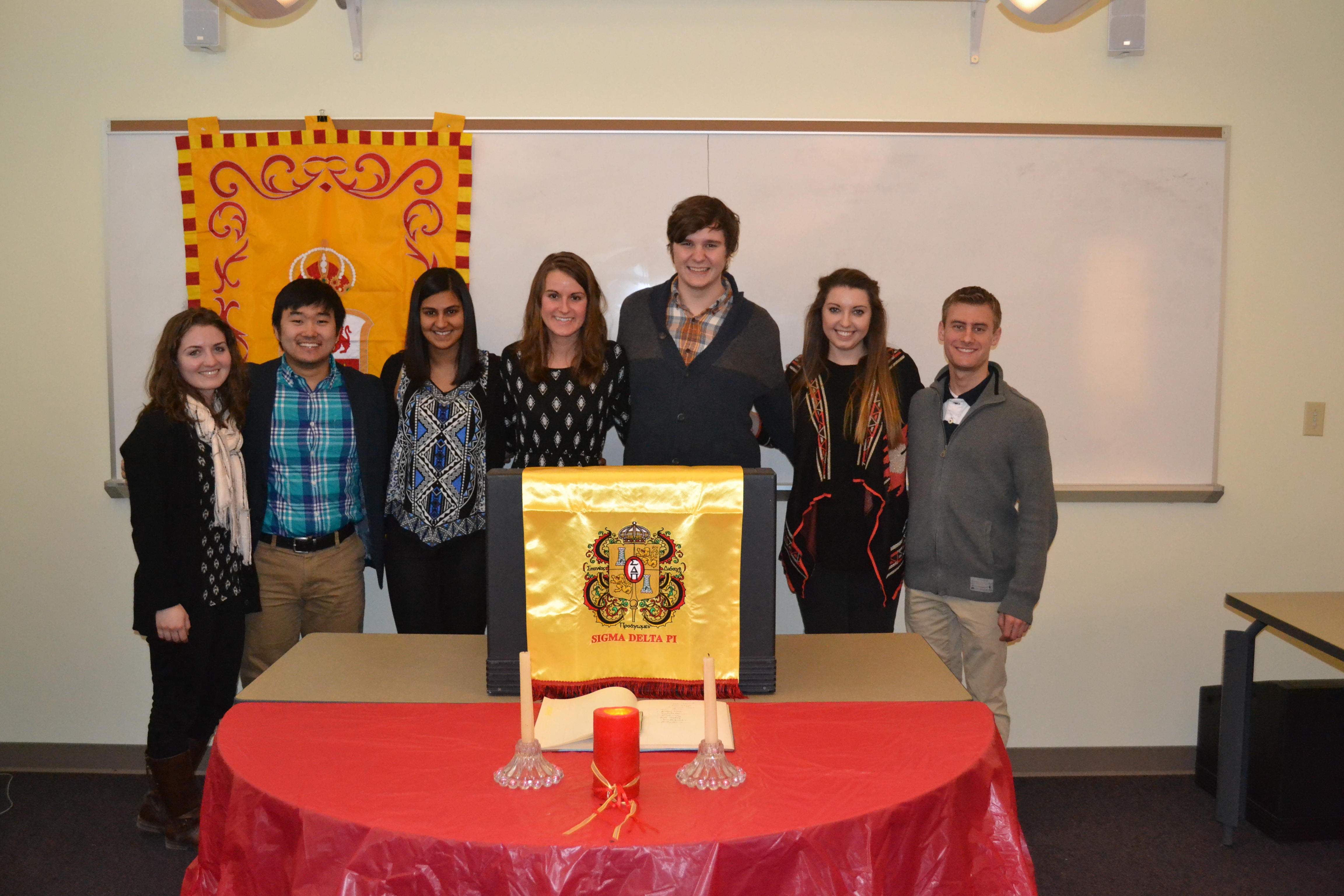 Broadcast Journalism major and Spanish minor, Kara Riccardi, creates a story about the Spanish Study Abroad program: DISSTA
Kara is part of ZTV, the local tv station that plays on campus. In Fall semester 2014 she created a story for "Lights, Camera, Akron" about the very popular DISSTA Study Abroad program offered by the Spanish Section. In the video below, she interviews former Spanish major, Brad Millard, and Amanda Ritchie, former Spanish faculty member who co-directed the summer experience in Valladolid, Spain. This program provides students with a one month (6 credits) or two month (12 credit) immersion experience spent studying at UVa University and living with a Spanish host family. Kara participated in the program summer 2015. ¡Gracias, Kara!
For more information about the Spain Study Abroad Program, check out the DISSTA page.