Meet Dr. Maria Alejandra Zanetta, Distinguished Professor of Spanish
Dr. Maria Alejandra Zanetta
Name: Dr. Maria Alejandra Zanetta
Title: Distinguished Professor of Spanish
Department: Department of Modern Languages
Zanetta is as much at home in her art studio as she is in the classroom. Tell us about some of your latest works.
My latest work was selected to be featured as a mural in the One World mural project in the Short North district in Columbus, Ohio. Some of My prints on collage are part of the Akron-Summit County Art Library collection and the Odom Boulevard Branch Library, and can be checked out for four weeks. I have also been featured in the Relief Podcast series of the Akron Art museum and the museum has recently commissioned her to design a postcard as part of the Akron Art Mail initiative.
What brought you to The University of Akron?
Both my husband and I pursued our doctoral studies at The Ohio State University and, after we both graduated, he was offered a position at Bridgestone Americas here in Akron. That year, a position in my field, Spanish literature and art, opened up at The University of Akron. What was most exciting about the position was the possibility to restructure the entire curriculum, changing its existing emphasis on literary studies to a more interdisciplinary approach that included art, music, film and popular culture. I applied, was hired and started my career here in fall 1995.
How did you come to choose your career?
In my case I would have to talk about two careers instead of one.
Since I was a child I knew I wanted to study art and become an artist. There were several women artists in my family. My maternal grandmother was a very good painter and she was also an art collector. So I was surrounded by art from an early age and I was deeply influenced by it. After high school, I studied painting at the National Academy for the Arts in Buenos Aires, Argentina, and graduated with a B.A. in Art with an emphasis in painting. I taught art in Argentina for a year. In the meantime, my sister came to The Ohio State University as a Fulbright Scholar. When I visited her in Columbus, I learned that one of the professors in the Department of Spanish and Portuguese was starting a new program that was cross-cultural and interdisciplinary in nature with an emphasis on the interrelations between literature and the visual arts. This was very exciting to me given my background in the arts. I applied and started my doctoral studies in this interdisciplinary field.
Areas of research — what problem do you most hope to solve?
The combination of a background in visual arts with the academic training in literature has enabled me to deal with equal ease in the fields of visual and literary production. My current research focuses on the artistic and literary production of Spanish avant-garde women painters and writers. In my research, I comparatively analyze the visual and literary production of these painters and writers that result from the competing theories of gender and sexuality central to the various ideological struggles of their period.
During my professional career I have successfully incorporated these combined skills not only in my research but in my teaching as well. One of the most frequent comments on both my teaching and research is precisely the ability to generate more interest in the subject by exploring the interrelations between literature and the visual arts. Because of my background in the arts and my own personal way of learning, I actively rely on the principle of creative thinking to employ various ways of teaching to adapt to the different styles of learning of my student population. With this approach my students use other forms of knowledge acquisition besides formal logic and words. These imaginative thinking tools, such as visual thinking, imaging and dramatization, enable my students to combine their personal knowledge of images, patterns, emotions, intuitions, etc., with logical thinking, broadening the spectrum of the subject they are learning.
Tell us about your art and how you strike a balance between it and your teaching?
The process of teaching and creating are complementary. As a professor at the University I focus on teaching while connecting it to my creative and artistic side. The creative, interdisciplinary and explorative process that I use to create my own art is the same that shapes my research and my teaching, so, in that way everything is interconnected and builds on each other.
As with my research, I have always been very interested in experimenting with different media. This is reflected in my fascination and love of color, and the interplay of texture and color as the fundamental building blocks of my art. In recent years, alongside with my mixed media pieces, I have been exploring the creative options related to printmaking and collage.
Examples of my work are online.
The process of art making for me is very meditative. My studio at home allows me to find balance and respite.
What does the next 10 years hold for your field?
I believe the need for building bridges between disciplines, and cultures will grow to be even more important. More and more, curriculums will be more interdisciplinary in nature and will have a global focus. Students will be able to study across the University's subject areas, including politics, sociology, history, philosophy, literature, art history and languages, according to their individual interests. This emphasis on an interdisciplinary approach will enable students to develop a unique and wide ranging perspective on their studies. Open, flexible boundaries are likely to become increasingly important for academics and students.
What books are on your nightstand?
Right now I am having a lot of fun reading the humorous satirical detective novels of Spanish writer Eduardo Mendoza.
Is there one book you recommend to everyone?
This is such a difficult question! I love Alice Munro's short stories and novels, Isabel Allende's novel "The House of the Spirits," Elena Ferrante's Neapolitan novels and Julio Cortázar's short stories.
Outside the classroom, what do you enjoy doing for fun?
Clearly painting but also getting inspired by visiting museums and traveling; and most of all spending time with family and friends.
Looking back on your own time in college, what advice do you have for UA students?
I always advise my students to explore different things and to travel and study abroad. Studying abroad is a transformative and an enlightening experience that should be at the core of any academic experience. All the students who have participated in the programs we have in Spain, France and Japan have come back with a completely new perspective of the world and themselves, and they cannot wait to start planning their next trip.
Meet Dr. Parizad Dejbord-Sawan, Associate Professor of Spanish
Dr. Parizad Dejbord-Sawan, an associate professor of Spanish in the Department of Modern Languages, joined UA in 1995. Recently, a textbook she wrote — "Beginning Medical Spanish: Oral Proficiency and Cultural Humility" — was published by Routledge.
How did the publication of the textbook you created come about, and what audience does it serve?
The collaboration between Akron Children's Hospital and the Spanish section of the Department of Modern Languages took place through my design and implementation of a 9-credit Certificate of Beginning Medical Spanish for hospital professionals and supporting medical staff with no prior knowledge of Spanish. There was a proven need to develop linguistic proficiency and cultural humility for hospital employees so that they could offer quality health care to their Hispanic patients and families with limited English proficiency. Since there were no textbooks out in the market that suitably taught cultural humility and Spanish oral proficiency for first-time adult language learners in a clinical setting, I decided that I would redirect my research focus to fill this lack. "Beginning Medical Spanish: Oral Proficiency and Cultural Humility" has been shaped by teaching the program for seven years, by the many conversations I held during those years with my hospital students and by my research on cultural humility and the impact of language access and cultural sensitivity on quality health care. Reviewers have stressed the impact that this book will have on national and international health care delivery systems as medical programs like the one established at Akron Children's Hospital continue to emerge with the continued growth of the Hispanic population in the United States and outside.
What brought you to The University of Akron?
I traveled to Akron in 1975 as a foreign student from my native Palma de Mallorca, Spain. My uncle, Dr. Ali Fatemi, was the chair of the Department of Economics at UA at the time and I came to stay with him and his family as I wanted to improve my English. During those first months, I informally sat in on some university classes and fell in love with the American educational system because there was such interaction and student engagement in the classroom. I had been enrolled at university in Spain prior to my arrival in Akron, but classes there were conducted in very large lecture halls with little or no student participation and barely any contact between faculty and students outside of the classroom. I chose to stay in Akron to pursue my undergraduate degree in French and my M.A. in French Literature at this university. After graduation, I taught French as an adjunct instructor for many years at UA and other area institutions before heading off to Middlebury College and to the University of Michigan to continue my doctoral studies in Latin American literatures and culture.
How did you come to choose your career?
I came from a multilingual family where my parents and grandmother interacted daily in a number of languages (Farsi, Spanish, French, English and Russian) switching back and forth depending on who they were addressing. Akron was not a particularly linguistically or ethnically diverse community in the 70s and most of my peers only spoke English. As my plans to reside in this country solidified, I naturally leaned toward learning new languages and toward a career teaching languages and culture in the U.S.
Areas of research — what problem do you most hope to solve?
My first area of research has been Latin American literature, feminism and cultural studies. I published my first book on the topic of exile and articles on the poetry, novels and short stories of writer Cristina Peri Rossi, who fled her native Montevideo during the military dictatorship of 1973-1985 and established herself in Barcelona, Spain.
While my scholarship on feminism, film and cultural studies continues, in the last five years my research has expanded in a new direction. This new trajectory is very connected to my teaching and to my research in Medical Spanish and Spanish for the Health Professionals, two programs that I direct at the University. It is also a result of my continued professional engagement with local Hispanic communities. The problem that most concerns me is the disparity and inequity in health care that Hispanics of limited English proficiency receive today. Ineffective language access and lack of cultural humility training for health professionals and supporting staff in the U.S. health care delivery system continue to be obstacles to underserved communities that already carry very high chronic disease burdens, like hypertension, diabetes and obesity. As a current participant of the Eugene Washington Engagement Award funded by the Patient Centered Outcomes Institute (PICORI), my work has been directed toward offering research-based solutions that may eliminate some of these linguistic and cultural barriers. I have also been invited to become a co-investigator for the DECIMOS Trial (Decision Enhancement through Comparison of Interpreting Modalities in Ohio for Spanish speakers). This project seeks to conduct comparative effectiveness research between in-person, video remote and telephonic interpreting modalities among Spanish-speaking patients with multiple co-morbid chronic conditions. The trial involves researchers from the health sciences, social work, humanities and linguistics from multiple institutions throughout Ohio, including The Ohio State University, the Cleveland Clinic, the University of Toledo and the University of Cincinnati as well as from Ohio-based industry partners, including MARTTI/Cloudbreak health (a video remote interpreting service agency). In addition, the project has enlisted co-investigators from Baylor University, University of California at Merced and Wichita State University. The DECIMOS trial is proposed as a $3 million regional test case that will later be scaled to a national level trial.
Recently, my concerns for the health of our Hispanic community and the research that it generates has expanded to our current Covid-19 crisis because this crisis amplifies the limited access to prevention and care that this minority already experiences. The fight for equality in the U.S. health care delivery system and the need to train hospital employees working in emergency rooms and hospitals in cultural humility has become even more urgent in light of this pandemic. Fortunately, our hospital employee-students at Akron Children's Hospital and our Spanish Certificate for the Health Certificate students on campus will be charting the compassion and humility course for others to follow.
What books are on your nightstand?
A collection of Pablo Neruda's poetry and "Citizen: An American Lyric," by Claudia Rankine.
Is there one book you recommend to everyone?
"The Shock Doctrine" by Naomi Klein.
Outside the classroom, what do you enjoy doing for fun?
I enjoy reading, listening to music, doing yoga and watching films.
SPANISH TUTORING for Elementary 101 and 102 (SPRING 2020)
304 OLIN
This is a free service offered by the Department of Modern Languages. No appointment needed.
Drop by anytime during these hours:
Mondays 1:00 – 2:00 PM
Tuesdays 1:30 – 2:30 PM
Wednesdays 1:00 – 3:00 PM
Thursdays 1:30 - 2:30 PM
Felicidades a Ariana Williamson
Ariana Williamson, majoring in Nursing and Spanish, was crowned Homecoming Queen 2019 this past Saturday at the football game against Kent.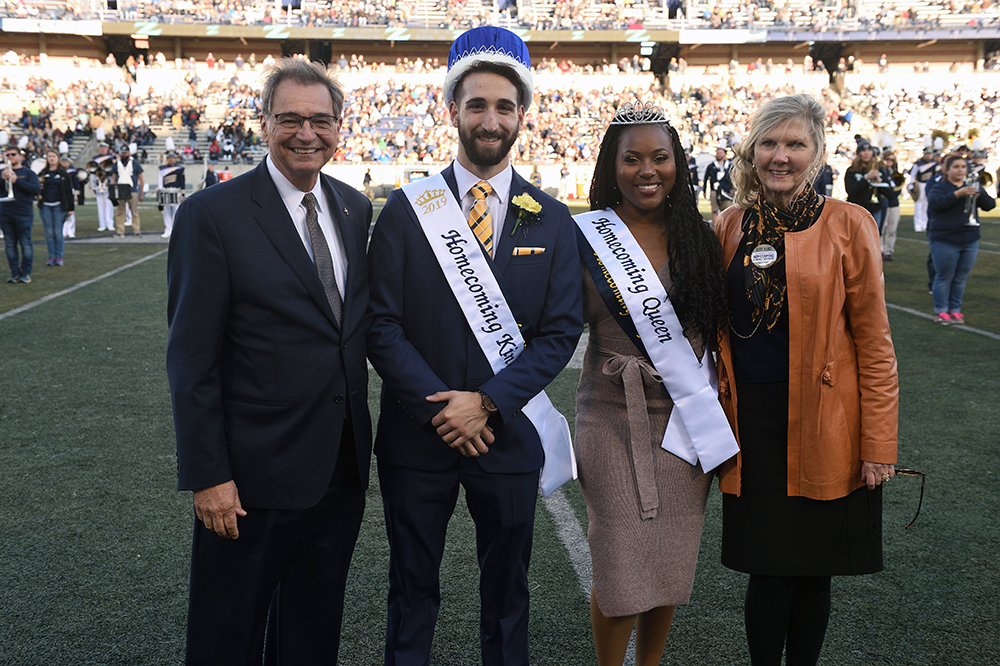 She was nominated by her sorority, Alpha Kappa Alpha Sorority, Inc. Ariana has been a member of numerous student organizations here, including Student Nurses Association, Omicron Delta Kappa, Sigma Delta Pi, School of Nursing Student Executive Board, National Pan-Hellenic Council, mentor for Choose Ohio First STEM and Alpha Kappa Alpha Sorority. From the day Ariana chose to attend UA, she knew she "wanted to leave a mark and make an impact while on campus." She has been proud to represent UA in nursing, in Spain — where she studied abroad, and now as the 2019 Homecoming Queen.
Three UA Students Won Scholarships to Study Abroad in Spain
In 2019, Ms. Tayler Gill, Ms. Morgan Suponcic, and Ms. Ariana Williamson won a scholarship from Sigma Delta Pi to study abroad. Both Ms. Gill and Ms. Williamson participated in UA's DISSTA: The Spanish Experience Study Abroad program in Valladolid, Spain while Ms. Suponcic studied in the Instituto Franklin at the Universidad de Alcalá de Henares, Spain.
Here is what they have to say about their experiences.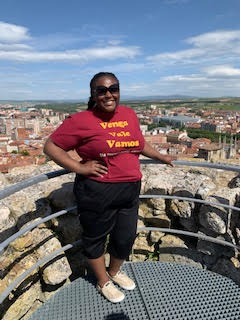 Tayler Gill-
"Esta oportunidad a estudiar en el extranjero ha cambiado mi vida. No solamente he mejorado mis habilidades españolas, sino he experimentado muchas cosas nuevas que nunca pensaría que pudiera hacer. Por ejemplo, en los Estados Unidos, siempre conduzco a cualquier lugar en la comunidad o campus. Pero, en España, caminaba a todos los lugares: a la universidad (30 minutos en camino); muchas subidas de montañas altas; etc. Es bueno que haya tenido la oportunidad a sumergirme en la cultura española.
Finalmente, tengo más confianza que nunca a causa de esta experiencia. He perdido mucho peso porque la comida española es mucho más saludable, y tenía que caminar entre cinco y diez millas diariamente. Estoy emocionada para continuar a vivir un estilo de vida más sano cuando regreso a los Estados Unidos. Además, ya no tengo miedo de probar cosas nuevas. Antes de este viaje, siempre hacía la misma cosa cada día, y no quería estar incómoda. Pero, ahora conozco que la incomodidad es importante para el crecimiento personal. Si no probara cosas desconocidas, nunca crecería ni cambiaría mi vida. Estoy muy agradecida que podía viajar y estudiar en Valladolid, España."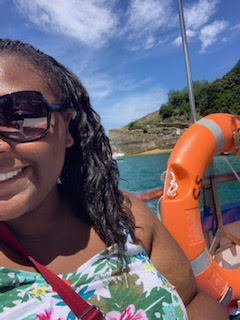 Ariana Williamson -
"Un día en una clase de español, mi profesora me recomendó que debo ir a España para desarrollar un nivel alto de español. Entonces, después un semestre, yo decidí viajar a España. Y he dado cuenta que esta decisión era una del mejore decisiones he hecho. España era una experiencia de toda la vida. Era el primer vez que yo viajé afuera de los Estados Unidos. Los museos, los castillos, las esculturas eran estupendos. También, yo he aprendido sobre la cultura y la literatura de España en detalle.
Mi parte favorito mientras estaba viajando en España era como la gente habló conmigo. Muchas personas me dijeron que yo hablo al nivel. Era increíble porque antes de llegar en España, no creo que hable al nivel alto. Usualmente soy una perfeccionista, y no me doy crédito. Pero, me sentí mejor después muchas personas estaba sorprendidas cuando hablé. Ahora, yo tengo confianza cuando yo hablo en español, porque yo sé que estoy mejor que antes y soy orgullosa de mi progreso."
Morgan Suponcic -
"This past July I studied abroad in Alcalá de Henares, Madrid, at The University of Alcalá's Franklin Institute. Thanks to my scholarship from Sigma Delta Pi, I was able to have an enriching experience in such a historical city. During my time in Alcalá I took two classes: Traducción Médica and Español para Profesionales de Salud. I learned about medical translation and interpretation as well as Spain's universal healthcare system. Paired with my Español para Professionales de Salud course was a shadowing experience in a local hospital, where I observed a dermatology resident in the operating room and in the clinic. Prior to traveling to Alcalá, I received my Certificate of Advanced Spanish for the Health Professionals and First Responders, and I was able to apply what I learned at UA during my time abroad. I am very grateful for this experience and I am excited to see how I will utilize these new skills in my future career."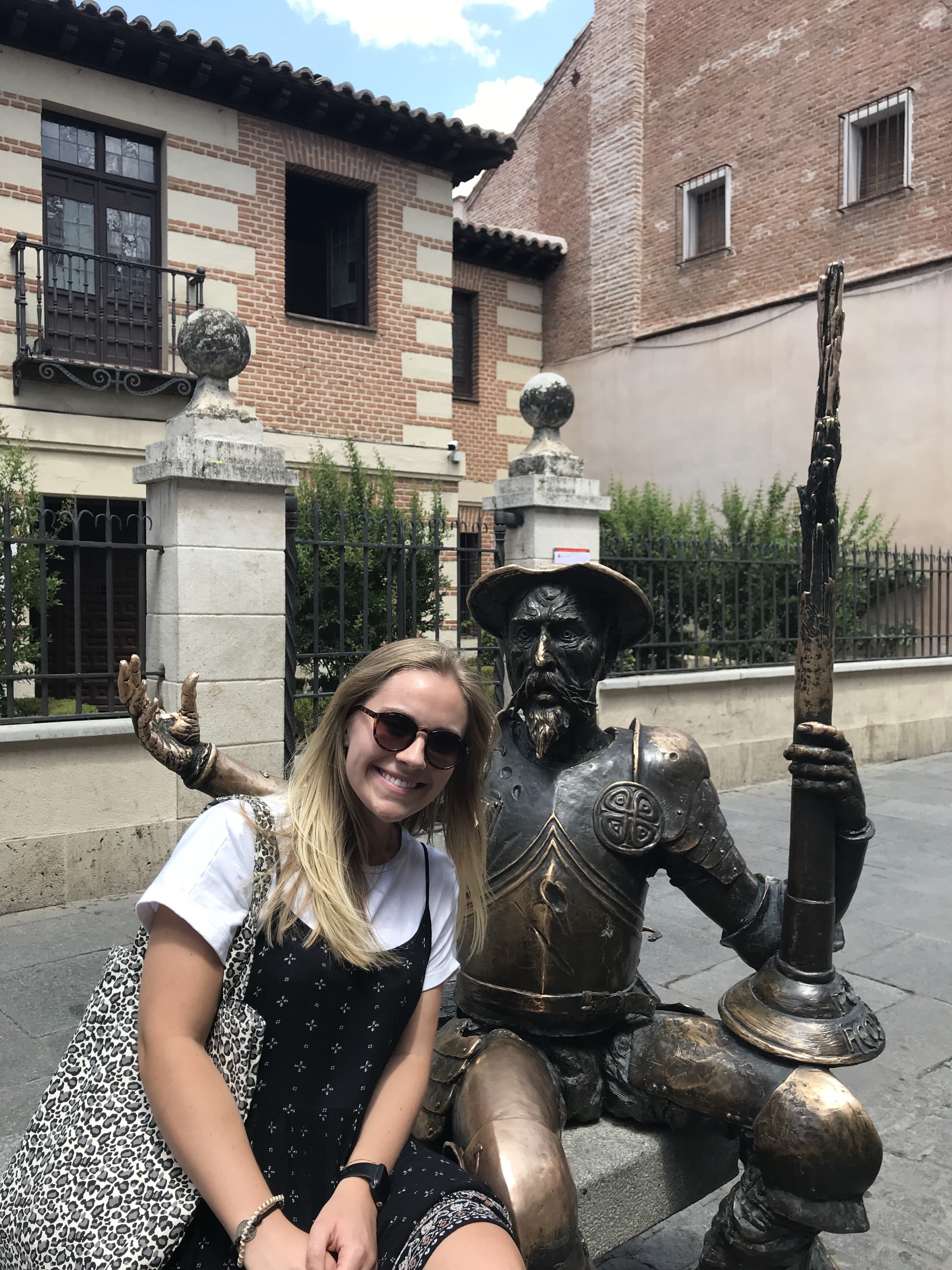 Congratulations to Allie and Claire!
Spanish students were recognized this semester for the LIFE Awards. The LIFE (Legacy, Integrity, Fellowship, Excellence) Awards are held annually, honoring students, faculty, and campus organizations that have demonstrated the LIFE Values.
Allie Stanley has received the Alumni Association Student Recognition Award and Top 10 Senior Award.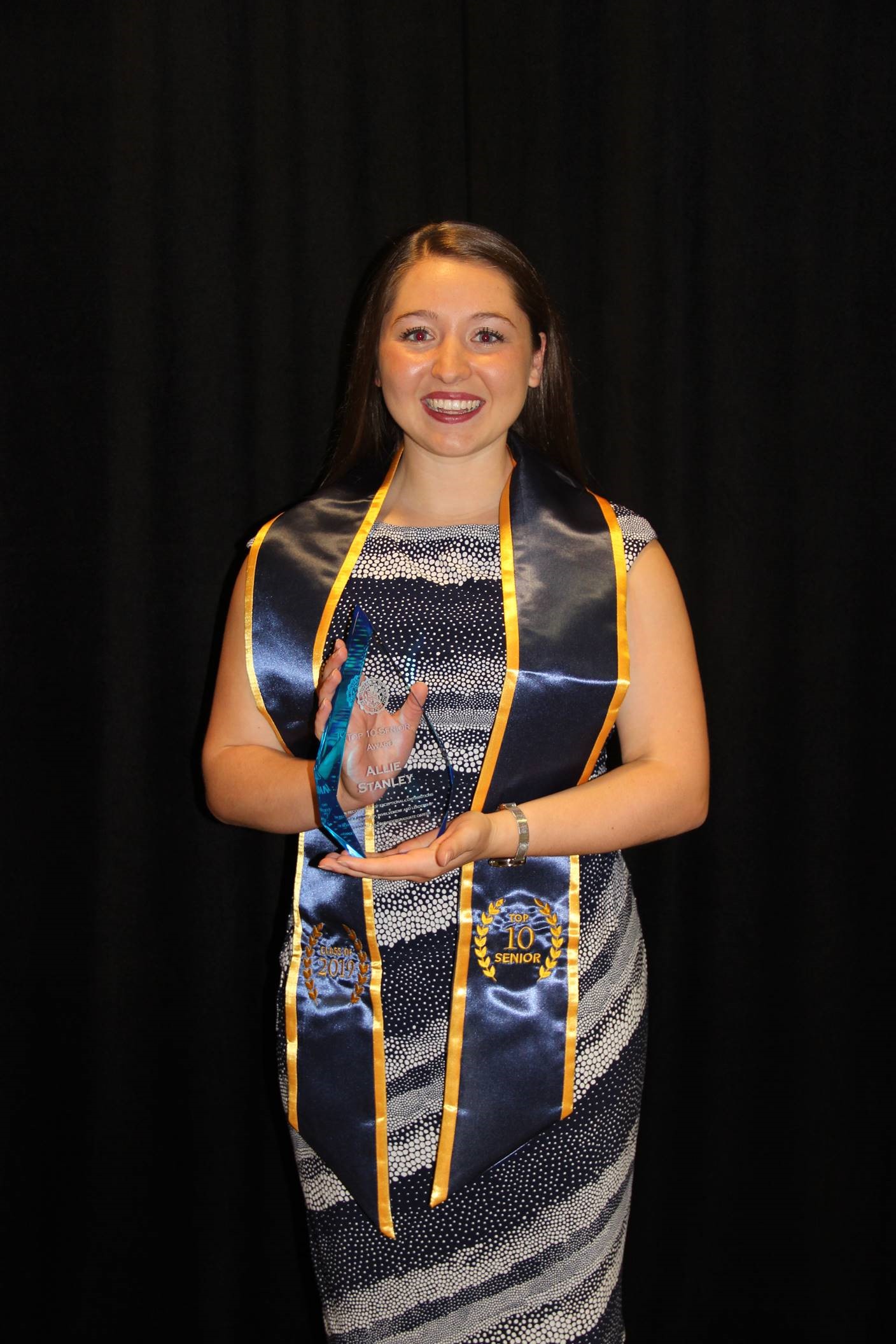 Claire DeBruin has received the A-Key Gold Award, Notable Zip Award, and Top 10 Senior Award.
Felicitaciones chicas!
Kudos to Kim Jones for her volunteer activity in the Dominican Republic!
Business/Spanish major 'felt called to go' on medical mission

While many business students spend their summer days interning in corporate offices, senior Kimberly Jones, a double major in supply chain management and Spanish, found herself in a somewhat different learning environment.
Last summer, Jones volunteered to spend two weeks in the Dominican Republic translating for a team on a medical mission trip.
"At first, I didn't want to go on the trip because I'm terrified of everything medical," Jones admitted. "Seriously, I can't even put a Band-Aid on a kid, but I felt called to go…I ended up with a physical therapist and an occupational therapist and bounced between the two of them, which was the best possible situation."
While it seems more like an experience that would be taken by a pre-med or nursing major, the trip fit perfectly with Jones' goals. She said she chose to study business with the primary goal of doing good.
Feministas Unidas Inc.
Dr. Maria Alejandra Zanetta is the editor of the magazine of the international organization Feministas Unidas. This issue includes an interesting interview with the writer, journalist, editor and feminist activist Laura Freixas.
Congrats to New Sigma Delta Pi Members
Eta Kappa Chapter of Sigma Delta Pi, the National Spanish Honorary, inducted 17 new members during the 2017-2018 academic year. The newest
socios
are:
Fall 2017:
Elizabeth Bark
Nancy Cabrera
Kelly Claridge
Kimberly Jones
Austin Ladany
Megan Lear
Corinne Plas
Kayla Pretzer
Benjamin Shaub
Morgan Suponcic
Emily Tully
Abigail Watson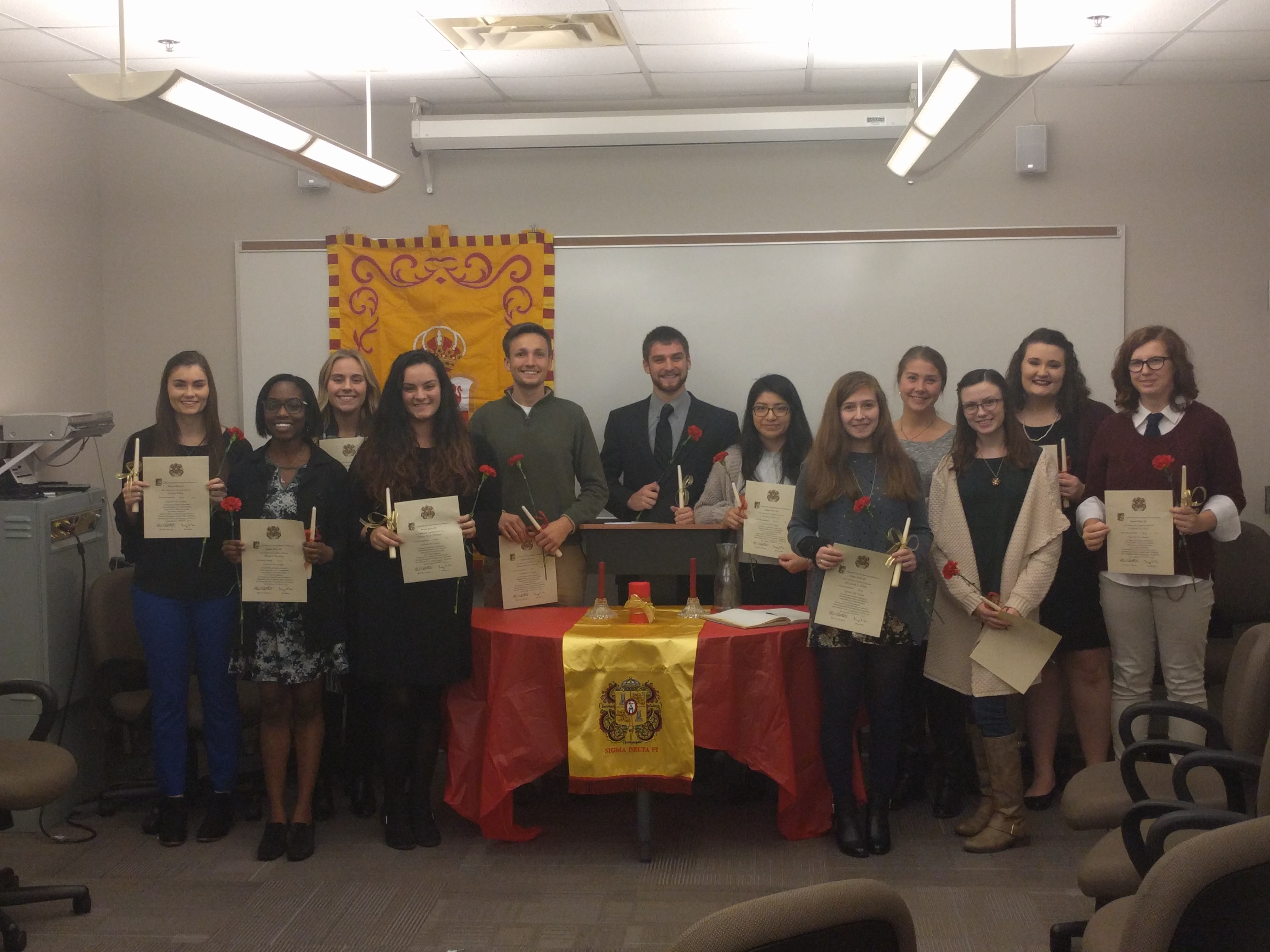 Spring 2018:
Hannah Eberly
Lily Hunger
Dylon Kolbe
Anna Nyszczy
Arianna Williamson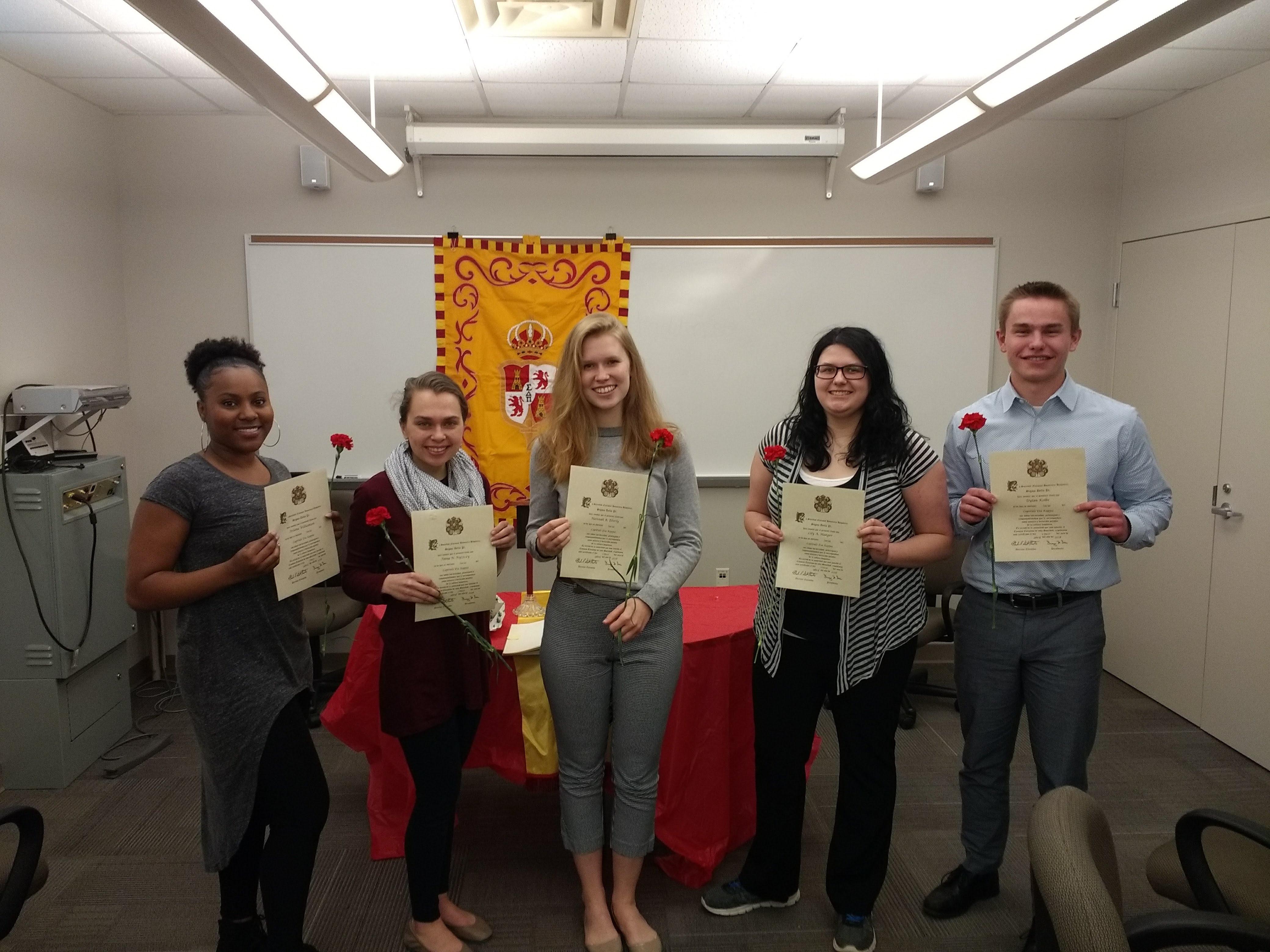 Sigma Delta Pi Induction
The UA Eta Kappa Chapter of Sigma Delta Pi, the National Collegiate Hispanic Honor Society (La Sociedad Nacional Honoraria Hispánica), inducted seven new members on Friday, March 6 at a ceremony held in the College of Arts and Sciences Building. New members (pictured in the photo from left to right) inducted during the ceremony were Lisa Mickley, Andrew Baek, Amrita Pandey, Rachel Mealy, Nick Glavin, Audrey Fliegel and Garrett Scherba.
Sigma Delta Pi was established on November 14, 1919, at the University of California Berkeley. The Eta Kappa Chapter dates to 1969. The purpose of the society can be summarized briefly as the following: To foster excellence in the study of the Spanish language, Hispanic literature and Hispanic culture; To honor individuals whose efforts have better acquainted English speaking peoples with Hispanic contributions to modern culture; To encourage greater scholastic interest and/or orientation of students in the Hispanic culture; To foster friendly relations and mutual respect between Spanish speaking peoples.
To qualify for membership, students must have taken advanced Spanish courses, including a culture course, and maintain a rigorous GPA.
Congratulations to our new members on their accomplishments!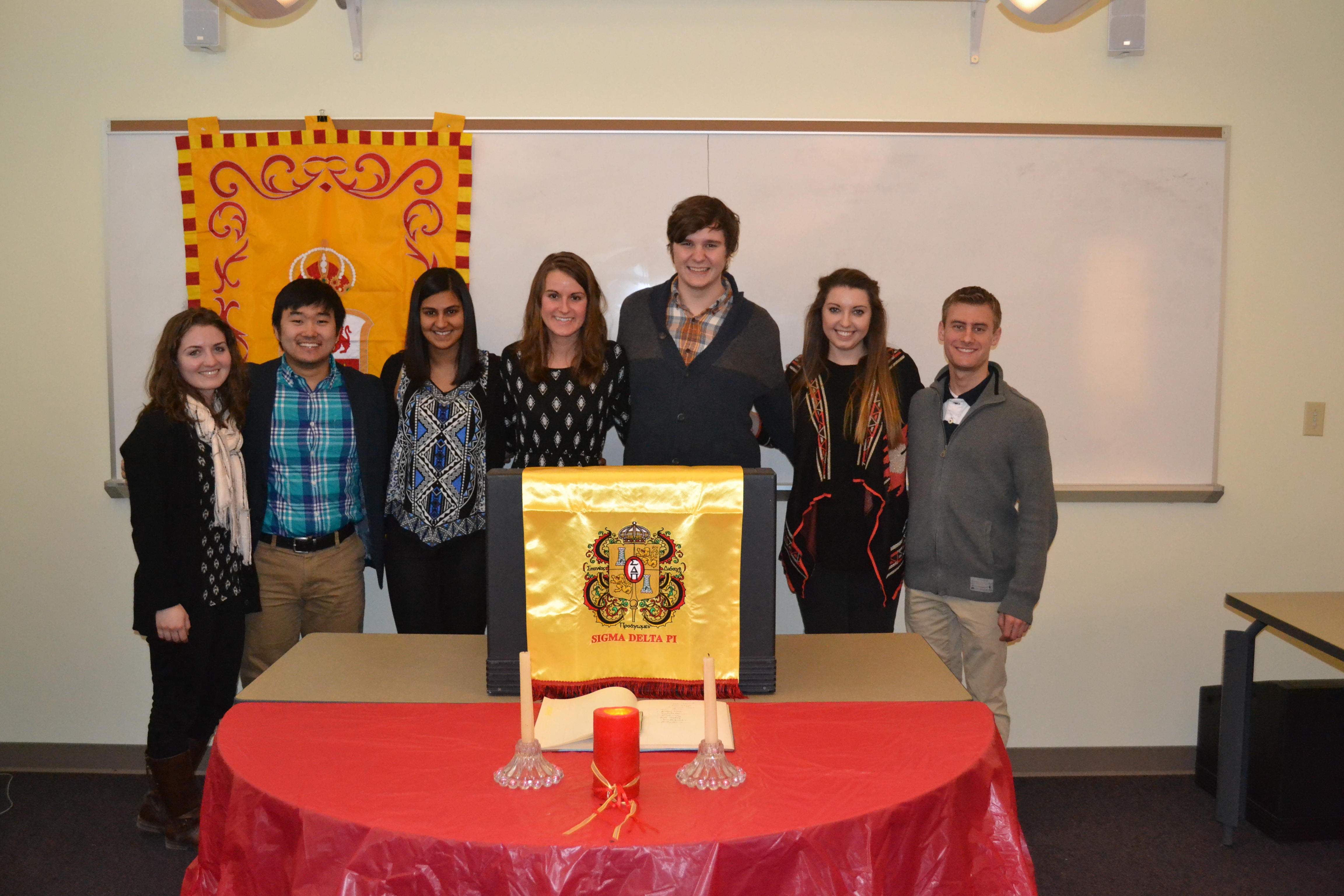 Broadcast Journalism major and Spanish minor, Kara Riccardi, creates a story about the Spanish Study Abroad program: DISSTA
Kara is part of ZTV, the local tv station that plays on campus. In Fall semester 2014 she created a story for "Lights, Camera, Akron" about the very popular DISSTA Study Abroad program offered by the Spanish Section. In the video below, she interviews former Spanish major, Brad Millard, and Amanda Ritchie, former Spanish faculty member who co-directed the summer experience in Valladolid, Spain. This program provides students with a one month (6 credits) or two month (12 credit) immersion experience spent studying at UVa University and living with a Spanish host family. Kara participated in the program summer 2015. ¡Gracias, Kara!
For more information about the Spain Study Abroad Program, check out the DISSTA page.