Materials Characterization
Materials Characterization labs offer analytical instrumentation for liquid, powder, surface and bulk materials analysis and characterization. These resources are available to UA faculty members and students, outside researchers and industry.
Capabilities
Corrosion analysis
Elemental analysis
3D imaging
In-air and in-liquid imaging
Thermal processing and analysis
Chemical composition
Crystal structure
Organic, inorganic, soft/hard materials, and coatings
Spectroscopy
Auger Electron Spectroscopy (AES)
X-Ray Photoelectron Spectroscopy (XPS)
Microscopy
Infinite Focus Microscope (IFM)
Confocal Laser Scanning Microscopy (CLSM)
Scanning Electron Microscopy/Energy Dispersive X-Ray (SEM/EDX)
Atomic Force Microscopy (AFM)
Kelvin Probe Force Microscopy (KPFM)
Stereomicroscopy
Fluorescence Microscopy
Phase Contrast Microscopy
X-Ray Diffraction (XRD)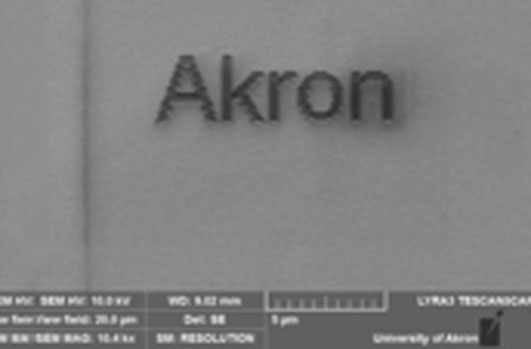 The word "Akron" has been etched onto a sample using Focused Ion Bean technology on NCERCAMP's SEM. At only 10 μm, this etching is about 1/5 the thickness of a human hair.
Contact NCERCAMP
Address
264 Wolf Ledges Parkway
Akron, Ohio 44325
NCCS | Apr. 7-8
Telephone
Office: 330-972-6978
Fax: 330-972-5141