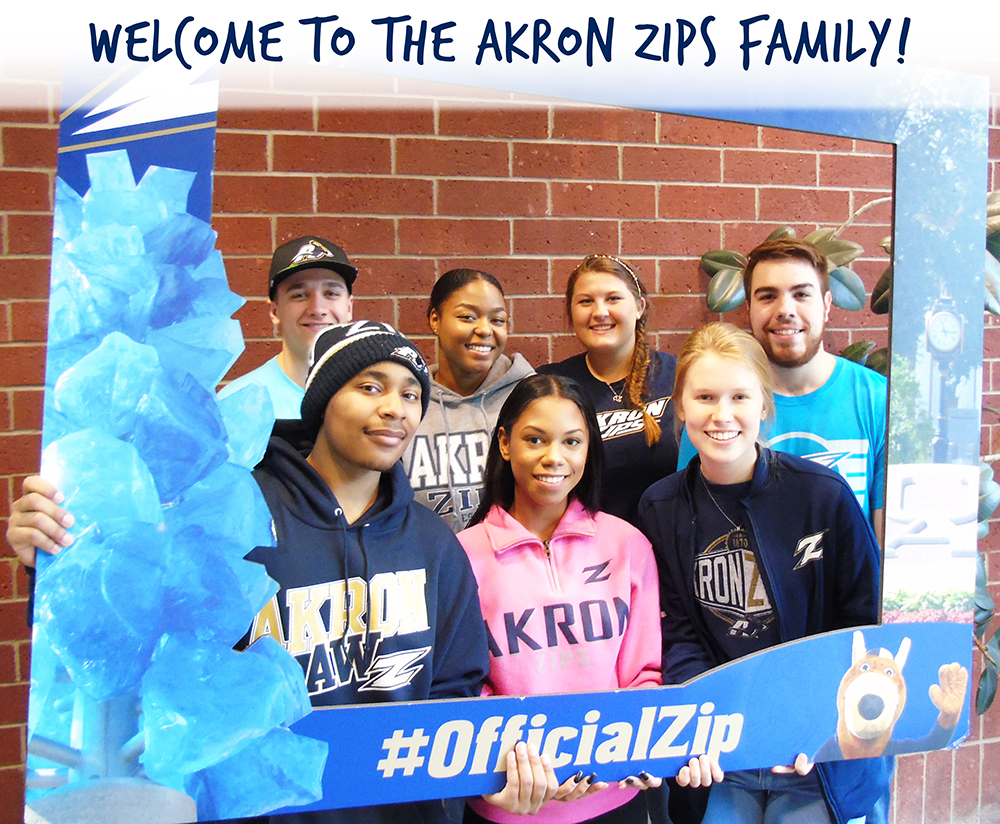 WELCOME FRESHMEN
If you have applied to The University of Akron, but have not received your admission, please visit The Office of Admissions.
If you have been admitted and have not yet confirmed your enrollment, please visit the Accepted Students' page for your next steps.
You're one step closer to becoming an Official Zip!
Wondering what your next step is? You've come to the right place. You will find all of your important information for starting here at UA right here on this page!
Pre-Orientation Tasks
Your Advising & Registration Program is coming up! We are excited for your arrival and to ensure everything goes smoothly, we ask you take a look at the following list of tasks.
You should have received a confirmation Email to all registered Email accounts (your UA Email included) with your scheduled date. If you did not receive this Email and have paid the confirmation fee, please contact us.
Once you've received your Email with your scheduled date and listed major, please see the tasks below. By visiting this check list, you help us make your Orientation: Advising & Registration Program a great one!
Make your travel plans

Print out the valid parking permit included in your email and place it on the dashboard of your vehicle. This pass is valid for any commuter designated lot or deck. Visit the travel information page for more information.

Verify your major

Ensure the major listed in your confirmation Email is correct. An incorrect major could impact your scheduled date. If it is incorrect, please fill out the change of major form and we will communicate any changes to your program if they occur.


Complete placement testing

Did you receive information about completing a placement test? Please visit our testing page for more information and to answer your questions.

Log in to your MyAkron account

Ensure you are able to log into your MyAkron account for computer related tasks. Please contact Computer Support if you need assistance prior to.

Review the schedule

Please review the schedule ensure you've made plans to be present at the entire program.
Summer Check List
You've had your Advising & Registration Program, but now what? You're probably eager to start classes, but until that time comes, take a look at a few of the things we'd like for you to explore prior to that.
Pay your bill

Your bill is due in early August! Make sure you log onto My Akron to pay it by the due date.

RSVP for New Roo Weekend

New Roo Weekend is August 25-26! An RSVP link will be sent to you in early August, so check your UA email.


Go on an Akron Adventure

Ready for adventure? Akron Adventures is an exclusive outdoor experience for all first year students. Visit Akron Adventures to sign up and learn more!

Complete Think About It

Complete the required "Think About It" program prior to New Roo Weekend. Explore contemporary issues important to your fellow Zips such as hooking up, substance abuse, sexual violence, and college relationships through this interactive online module.

Purchase textbooks & request your parking permit

Make sure you get your textbooks and request your parking permit. You can do both through your My Akron account when available!
New Student Orientation
The University of Akron
Office of New Student Orientation
Simmons Hall 201
Akron, OH 44325-4716
Phone: 330-972-2622
Fax: 330-972-5278
Email: orientation@uakron.edu
---
Follow us