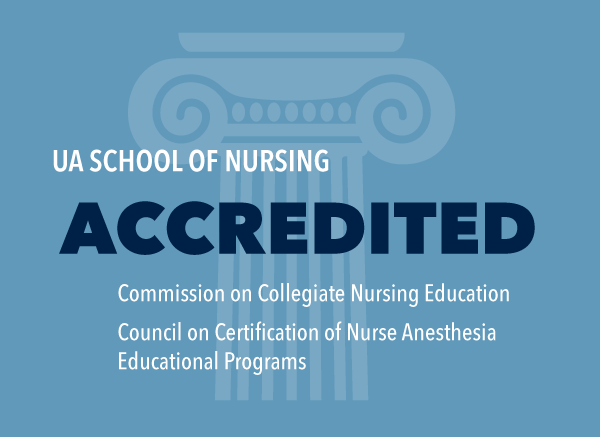 School of Nursing Accreditation
The Bachelor's Degree in Nursing, Master's Degree in Nursing, Doctor of Nursing Practice, and postgraduate APRN certificate program at The University of Akron are accredited by the Commission on Collegiate Nursing Education
The nurse anesthesia track is also accredited by the Council on Accreditation (COA) of Nurse Anesthesia Educational Programs, a specialized accrediting body recognized by the Council for Higher Education Accreditation and the U.S. Department of Education.
Date of last review 2015. Date of next review 2025.
---
What is accreditation?
Accreditation is a nongovernmental process conducted by representatives of postsecondary institutions and professional groups. As conducted in the United States, accreditation focuses on the quality of institutions of higher and professional education and on the quality of educational programs within institutions. Two forms of accreditation are recognized: one is institutional accreditation, and the other is professional or specialized accreditation. Institutional accreditation concerns itself with the quality and integrity of the total institution, assessing the achievement of the institution in meeting its own stated mission, goals, and expected outcomes. The University of Akron has full accreditation from Higher Learning Commission of the North Central Association of Colleges and Schools.
Professional or specialized accreditation is concerned with programs of study in professional or occupational fields. Professional accrediting agencies assess the extent to which programs achieve their stated mission, goals, and expected outcomes.
In addition, consideration of the program's mission, goals, and expected outcomes is of importance to the accrediting agency in determining the quality of the program and the educational preparation of members of the profession or occupation. Accreditation organizations make regularly scheduled evaluation visits to programs to document that programs continue to meet criteria.
The University of Akron School of Nursing has maintained full professional accreditation since its inception in 1967.
The Commission on Collegiate Nursing Education (CCNE) is an autonomous accrediting agency, contributing to the improvement of the public's health. A specialized/professional accrediting agency, CCNE ensures the quality and integrity of baccalaureate and graduate nursing programs. CCNE serves the public interest by assessing and identifying programs that engage in effective educational practices.
As a voluntary self-regulatory process, CCNE accreditation supports and encourages continuing self-assessment by nursing programs and supports continuing growth and improvement of collegiate professional education. Because the accreditation process is a voluntary enterprise, institutions that seek CCNE accreditation of their baccalaureate and/or graduate nursing programs are viewed to have a cooperative relationship with CCNE in seeking ways to improve and enhance the educational programs for professional nursing students.
---