Bachelor of Science in Nursing (for LPN's)
Program Overview
Curriculum Guide (Degree Requirements)
The University of Akron School of Nursing offers a career pathway to meet the needs of Licensed Practical Nurses who are interested in earning the baccalaureate degree in nursing.
The sequence is designed for LPNs who completed a practical nursing curriculum, as well as LPNs with bachelor's degrees in an area other than nursing. The pathway provides learning activities that build on prior knowledge and experience.
---
LPN education: The LPN to BSN option
The LPN/BSN sequence is designed for nurses who wish to obtain a baccalaureate degree in nursing.
The program itself, after completion of the prerequisites, is 3 years in length, full-time. A part-time option is available.
---
Highlights of the LPN/BSN program
Completion of the baccalaureate degree in three years after prerequisites are finished
Builds on prior learning and clinical experience
Fall semester start
Credit by exam given for previous LPN experience
---
Admission requirements
Graduation from an accredited LPN program
An active unrestricted LPN license
Admission to the University of Akron and School of Nursing
A grade of "C" or above average in all prerequisite courses. Courses taken at other colleges may be transferred to receive credit towards prerequisite requirements
Complete a Progression to Major form with their academic Advisor.
Achieve a minimum of 2.75 GPA in the science pre-requisite courses.
A minimum grade point average of 2.75. Grades for transfer work are combined with those earned at The University of Akron in the computation of the admission GPA
All LPN students are admitted directly to the School of Nursing as undergraduate students. School of Nursing advisers will provide guidance as to the prerequisite courses needed and a plan of study that will best meet your needs.
Prenursing and Nursing Student Baccalaureate Handbook
---
Background check
The college requires entering students to submit to a background check.
For current LPN/BSN students
To use the online payment option for credit-by-exam for 8200:211 after completion of 8200:216, follow the Cashnet link below.
MAKE A PAYMENT
Follow the link below and you will be redirected to the Cashnet site, where you will be able to make a payment, sign up for installment payment plan, view your electronic bills or setup a parent/authorized user account.
Note: You may have to disable your pop-up blocker to access the Cashnet site.
This link will expire is 30 seconds. If you are not successfully redirected, exit the page and try again.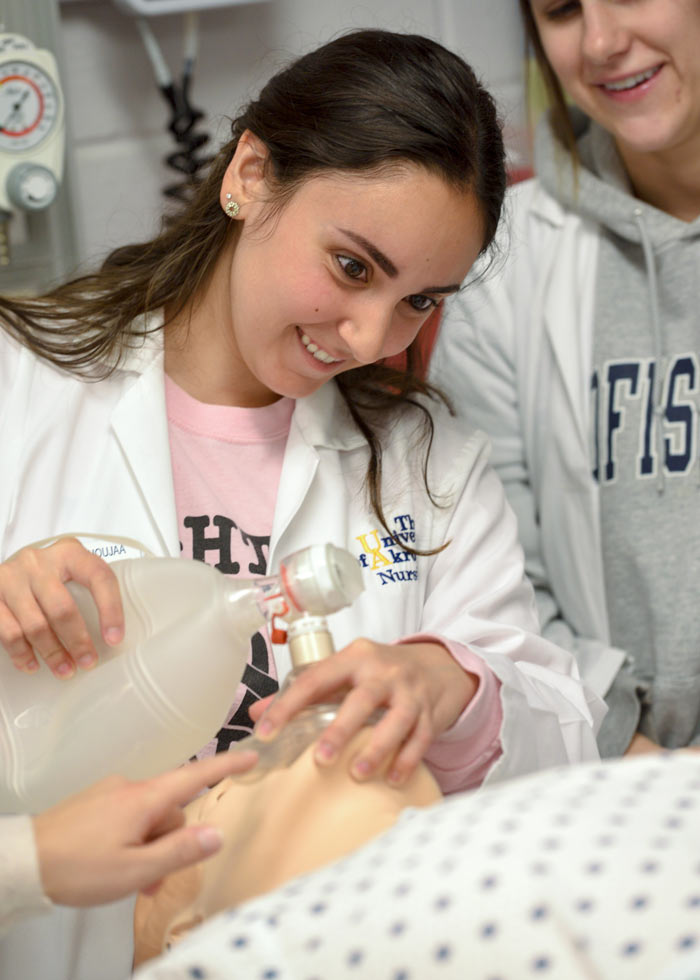 For more information about our undergraduate programs, fill out this form, or call 330-972-6061 during normal business hours.